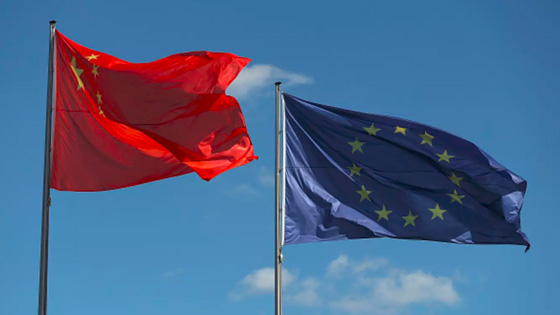 China-Europe relationship was for a long time determined by the overall US-Soviet relations during the Cold War. It became one emphasizing trade and business ties after the Cold War ended. In more recent years, however, the two sides showed increasing willingness to move their ties beyond that pattern. In 2017, both China and the EU took a new look at the relationship and gave it a few more dimensions. International changes made the China-Europe relationship more important.
In 2016, two "black swan" events, Brexit and Donald Trump's election took the world by surprise. All of sudden, the future seemed increasingly uncertain. Europe was overwhelmed by a heightened sense of crisis, because the two strategic pillars of post-WWII Europe - European integration and the transatlantic alliance - came under severe stress. European integration brought the region prolonged peace, stability and prosperity. With Brexit, one of the EU's most important members turned its back on the group. For European countries, maintaining a close alliance with the United States was a top diplomatic priority since the end of WWII, but Trump's presidency has shaken that alliance. For decades, successive US administrations pledged support for European integration, but that notion, as well as the international multilateralism that Europeans held dear, is at odds with the Trump administration. Trump's attitude towards NATO, international organizations, and multilateral agreements has baffled European capitals. In fact, the US' decision to quit the Paris Climate Accords and its threatened withdrawal from the Iran nuclear deal has prompted Europe to move closer to China. By holding identical positions on these issues of critical importance, China and Europe have found in each other a staunch partner in global governance. President Emmanuel Macron of France made his debut visit to China in January 2018, which some say was due to China's role in combating climate change. As for the Iran nuclear deal, both China and the EU see it as an outstanding success of multilateralism and cherish its important role in maintaining the international non-proliferation regime and securing a peaceful and stable Middle East.
In the face of rising populism in America and Europe, China and the EU stand together to maintain global free trade. In his January 2017 address at the Davos World Economic Forum, President Xi Jinping of China voiced strong support for economic globalism and opposition to protectionism. Though anti-globalization forces become increasingly vocal in many European countries, extreme rightwing populism failed to win the French presidential election and German parliamentary elections. President Macron of France and Chancellor Angela Merkel of Germany believe that countries cannot develop and prosper behind closed doors. A joint statement between China and France pledged their concerted efforts to build an open world economy, resist all forms of protectionism to ensure a fair environment of competition, and push for an open, inclusive, and balanced globalized economy that benefits all countries. It pointed out that both sides supported a stronger G20 as the main forum of international economic cooperation while encouraging it to play a more positive role in international economic and financial governance. No one should underestimate the significance of this statement. In fact, since President Trump came to office, cooperation within the G20 has increased steadily.
Trade and investment between China and EU maintained a growth momentum. According to statistics by China's Customs Office, bilateral trade totaled $616.92 billion, of which China exported $372.05 billion and imported $244.87 billion. The EU remains China's top trade partner, while China is the EU's second largest. Both sides have undoubtedly gained a lot from their cooperative trade relations. Yet we still hear complaints. France and some European countries are unhappy about their big trade deficit with China, urging a quick solution. According to statistics from the EU side, trade during the first 11 months of 2017 was €523.3 billion, with China enjoying a €161.9 billion surplus. Many European countries urged China to give them "equal openness" in market accessibility. Namely, they wanted their China-based firms to enjoy the same degree of openness as the Chinese firms operating in their countries. What is more, urging China to expand its service market accessibility has become a main topic in economic dialogue between China and many European countries.
For its part, China voiced concerns about increasing security checks on proposed Chinese investment in Europe. Mutual investment between China and Europe has always been unbalanced, with Chinese investment in Europe falling far behind European investment in China. But Chinese investment has sped up since 2015 and, as Chinese investment gets bigger, Europe has got into a heated debate on whether examinations and clearance are necessary. Former Danish Prime Minister Anders Fogh Rasmussen wrote in the Financial Times in December 2017 that urged by Berlin, Paris, and Rome, the European Commission was proposing the establishment of an examination mechanism to sound the alarm about Chinese investment in sensitive European industries.
A major challenge to China-EU economic relations in the future may be a new EU law targeted at alleged Chinese dumping and subsidies. Since the end of 2016, China and EU have been locked in a heated controversy on the issue of anti-dumping and anti-subsidy taxes on Chinese imports. China is of the view that as of December 11, 2016, the end of the 15-year transition period provided in China's WTO accession agreement, the EU should have terminated its practice of using a substitute country to calculate the degree of dumping in China-related anti-dumping cases. Under such circumstances, EU has decided to revise its anti-dumping law. On December 20, 2017, the new EU legislation came into effect. There is no substantive change in the provisions, except in conditions of the law's applicability it replaces "non-market economy countries" with "countries with seriously distorted markets". That is to say, when the EU determines that a country is guilty of having a "seriously distorted market" it can continue using the price of a third country to judge if dumping exists. Hence China-EU frictions over the anti-dumping issue are likely to increase.
In addition, although China is well known for being a strong supporter of European integration, some Western European countries have in recent years expressed worries that the ongoing "16 + 1" cooperation between China and some Central and Eastern European countries might lead to the Union's dismemberment. In his visit to France in August 2017, German Foreign Minister Sigmar Gabriel called on Europe to get united and formulate a unified China strategy. What is more, he alleged that China should observe a "one Europe" principle and refrain from "splitting" Europe. Obviously, China and EU need to take steps to dispel any misunderstanding on the "16+1" mechanism. The sooner the better.