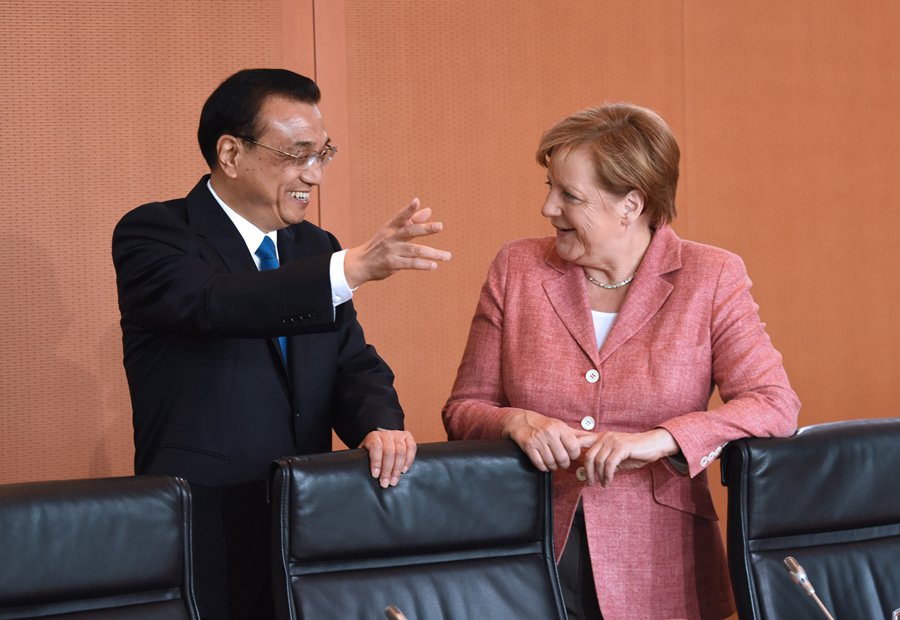 From May 31 to June 2, Chinese Premier Li Keqiang visited Germany and Belgium. A week before, US President Donald Trump's first European trip had just ended in discord. Li's visit has thus attracted much attention of international media, European outlets in particular.
Generally speaking, the visit has brought China and Europe closer, which is manifest in two aspects: expanded bilateral cooperation and reconfirmed common position in dealing with global challenges.
The relationship between China and Europe as two major global powers has maintained its development momentum primarily because of its strong internal driving force. Compared with other sets of relationships between powers, this one has unique advantages. There is no geopolitical conflict between China and Europe, and the two economies are highly complementary. The EU has been China's largest trading partner for over a decade and China is the EU's second-largest trading partner. Take China-Germany cooperation as an example. Germany supports and is ready to engage in China's Belt and Road initiative. The two sides have decided to promote e-commerce cooperation on the basis of logistical convenience facilitated by the scheduled trains between China and Europe and the digital economy. Moreover, the two sides have decided to jointly support the Small and Medium Enterprises (SME) cooperation, and China Development Bank will designate a special line of credit for SMEs. Additionally, the two sides have agreed to enhance exchanges and cooperation on transforming and upgrading old industrial bases and seek balanced development of city clusters. And last, the two governments expressed support for third-party market cooperation between enterprises. They find the trilateral cooperation on joint mine training in Afghanistan a successful model and agree to explore similar cooperation in Africa.
Besides the fact that the two economies need each other, there is also an external force that has driven China and Europe closer: the outstanding difference between Europe and America since Trump taking office. China has long held the same positions as the EU and its member states on maintaining the global trade regime centering on WTO and safeguarding the Paris Climate Agreement. But as the election of Trump as US president triggered greater differences with Europe, China and Europe have further realized the importance of sticking to their common positions. The German Cchancellor and EU leaders publically expressed strong disappointment with President Trump. Merkel now has more knowledge of Trump after the NATO Summit in Brussels and G7 Summit in Sicily. She has been frequently quoted by world media as saying 'the times in which we could fully count on others are somewhat over as I have experiences in the past few days…we Europeans must really take our destiny into our own hands'. Obviously the 'others' here refers to the US. The Trump administration threatened a trade war with Germany, announced its withdrawal from the Paris Agreement, avoided any express support for NATO's mutual assistance clause and bashed European allies of not absoring a fair share in NATO's defense spending, causing tension with Europe. As US-Europe divisions becomes increasingly apparent, EU and German leaders have expressed a desire to safeguard existing international order and deal with global challenges through increased cooperation with China. In the lists of outcomes of meetings between leaders of China, Germany and the EU, each side stressed determination to safeguard multilateralism with the UN at its center, stick to WTO rules and develop an open world economy. While meeting the press together with Li, Merkel made it clear that in a world of growing uncertainties Germany and China have a responsibility to strengthen their strategic partnership and increase cooperation and that Germany stands ready to work together with China to create an open world economy and safeguard free trade.
Before Premier Li's visit, two issues had attracted the attention of observers on both sides: the EU fulfilling its obligation under Article 15 of the Protocol on China's Accession to the WTO and negotiation of a bilateral investment agreement. These were not resolved during the visit, but the two sides had a candid exchange of views and demonstrated a desire for resolution. China's demand for the EU to fulfill its obligations has been perfectly reasonable and legitimate. EU knows very well the critical importance of supporting multilateralism and global trade regime in the current international situation. This also bears on EU's attitude towards WTO rules. On this point, Premier Li won the support of Chancellor Merkel but differences with the EU remain. According to some media reports, China and the EU did not issue a joint statement because they had failed to agree on this question. With regard to the bilateral investment treaty, the European side hopes to resolve the question of 'market access' for European enterprises in China with this treaty. The Chinese side is also increasingly aware of the importance of such a treaty for future economic relations with Europe, but the negotiation is very complex. So long as the two sides respect each other and both demonstrate a spirit of compromise, however, conclusion of negotiations and the signing of agreement can be expected soon.
In this world of increased uncertainties, as cooperation advances and with their shared position on climate change, China-EU relations are likely to maintain a momentum of steady growth, and cooperation will become increasingly important.
Tweets by ChinaUSFocus