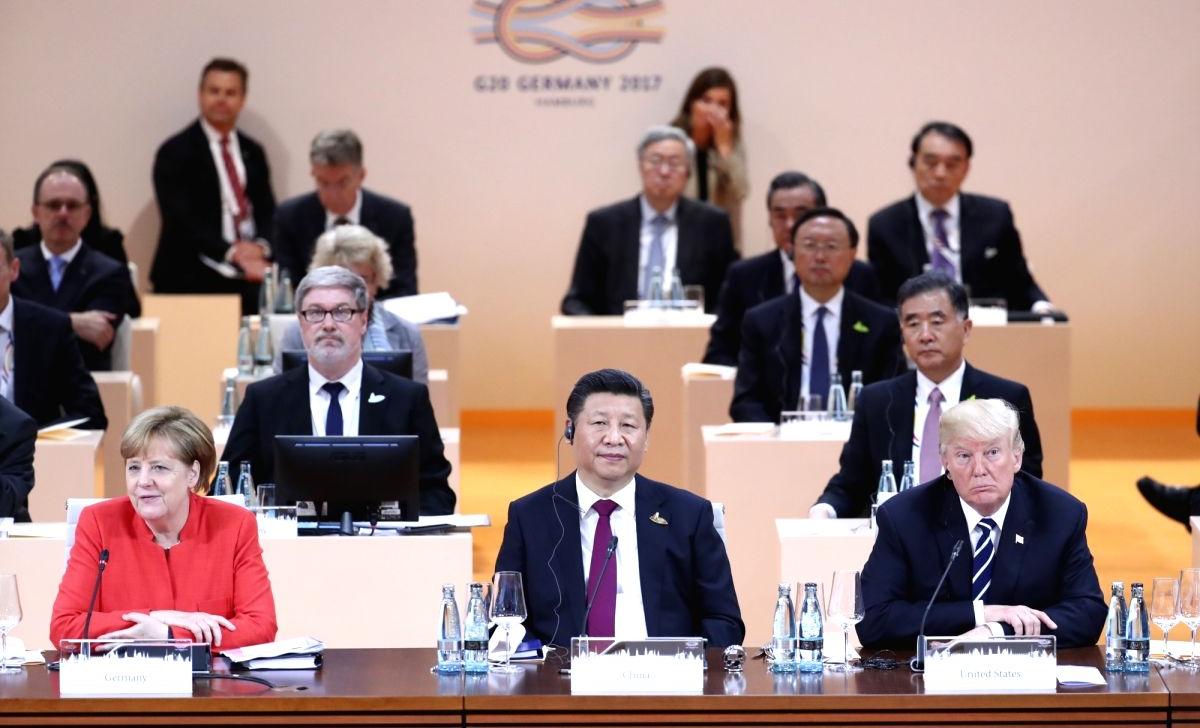 HAMBURG, July 7, 2017 - Chinese President Xi Jinping (C front) attends the 12th Summit of the Group of 20 (G20) major economies in Hamburg, Germany, July 7, 2017.

Chinese President Xi Jinping paid state visits to Russia and Germany and attended the G20 Summit in Hamburg from July 3 to 8. The three diplomatic events as well as bilateral meetings during the summit proved China's sincerity for peace.
First, all bilateral and multilateral activities were arranged and executed under the principles of "peace, development, cooperation and win-win outcome". A firm stance on anti-terror and on non-proliferation of nuclear weapons is the manifestation to safeguarding peace, and the best way to promote development is to make a big pie out of common economic prosperity. Under the banner of cooperation, all countries are encouraged to effectively and efficiently "connect" their development strategies with one another for growth. For the purpose of win-win outcomes, openness and inclusiveness should be stressed, and protectionism and isolationism should be firmly opposed.
Second, all multilateral and bilateral activities were aimed to build a community of shared destiny for mankind. President Xi advocated to construct an open world economy, to find new growth engines, to achieve a more inclusive growth and to continue to improve global economic governance.
Third, all multilateral and bilateral activities demonstrated that China, as a big power in the world, is responsible, trustworthy and persistent.
Xi's visit to Russia boosted bilateral relations to a new high. In the past five years, Xi and his Russian counterpart Vladimir Putin have met more than 20 times. Such a high frequency of meetings is really unprecedented in the history of international relations.
The two leaders signed a joint statement on further deepening comprehensive strategic partnership of coordination, the joint statement on the current world situation and major international issues, and ratified the 2017-20 implementation guideline for the China-Russia Treaty on Good-Neighborliness, Friendship and Cooperation. The foreign ministries of the two nations issued a joint statement on the Korean Peninsula, and departments of the two signed and exchanged 15 cooperation documents on economy, trade, agriculture, energy, infrastructure construction, finance, culture and innovation.
The statements and documents reflect the mutual political trust, economic complementarit, cultural interconnectivity, military interaction and diplomatic consultation. By all standards, China-Russia relations have reached a new high.
President Xi while being awarded the Order of St. Andrew the Apostle said: "President Putin and I have decided, no matter how the outside environment changes, the China-Russia relationship will not be affected."
Some may ask: China and Russia have established such a close relationship, could China and the US do the same? In fact, when China proposed to build a new model of major-country relationship with the US, it was actually intended to develop a model similar to China-Russia relations.
Xi's state visit to Germany was aimed to expand bilateral cooperation and connectivity, and to upgrade the China-Germany comprehensive strategic partnership to a higher level. China not only focuses on developing relations with Germany, but also sets an eye on strengthening ties with the European Union. China hopes that Sino-German relations could play the role of "bellwether" and "stabilizer" in China-EU ties, and could help lift China-EU relations.
Many Germans have voiced objective and fair comments and assessment on the achievements and impact of Xi's visit to Germany. Fan Xuan, editor-in-chief of Europe Times, said on July 7 that Xi's visit to Germany not only showed China's wisdom and readiness to shoulder its responsibility as a big country, but also demonstrated its sincerity and honesty as an old friend of Germany. The visit helped lift pragmatic Sino-German cooperation in all fields to a higher level.
The theme of the G20 Summit in Hamburg was "Shaping an Interconnected World". Considering the fact that the G20 has a balanced membership of both developed and developing nations — distributed among all regions, the G20 has evolved into an effective multilateral mechanism in jointly coping with global issues.
The theme for this year's G20 Summit was well-designed. Interconnection is rooted in the needs for development, therefore interconnection should take openness as a prerequisite. The efficacy of openness is decided by inclusiveness, therefore it is a must to oppose protectionism and isolationism. German Chancellor Angela Merkel said in a speech to the nation's parliament, the Bundestag, on June 29 that all global challenges have already gone beyond national borders, and "whoever believes the problems of this world can be solved by isolationism and protectionism is making a tremendous error".
The Hamburg summit unleashed new functions in global economic governance. As President Xi put it, the new functions mean to appropriately handle, under the concept of inclusive growth previously agreed upon during the Hangzhou Summit, the relations between equity and efficiency, between capital and labor, and between technology and employment; to continue to organically coordinate the economic policies and social policies; to solve the challenges brought about in the process of industrial upgrading and the mismatching between knowledge and skills, and to make income distribution more equitable and reasonable. The new functions also include more emphasis on communication and cooperation in education, training, employment, entrepreneurship and distribution mechanism. When these functions are appropriately tapped, it would be conducive to the healthy development of economic globalization.
During the G20 Summit, 19 members reaffirmed their support to the Paris Agreement on climate change, but regrettably, the United States — alone — insisted on withdrawing from the accord. This shocking result revealed the isolation of the US on the issue of climate change, and also cast a shadow over the success of this summit.
During the G20 Summit in Hamburg, good and healthy bilateral relations played their roles. Strategic partnerships are gaining respect, popularity and upgrading.