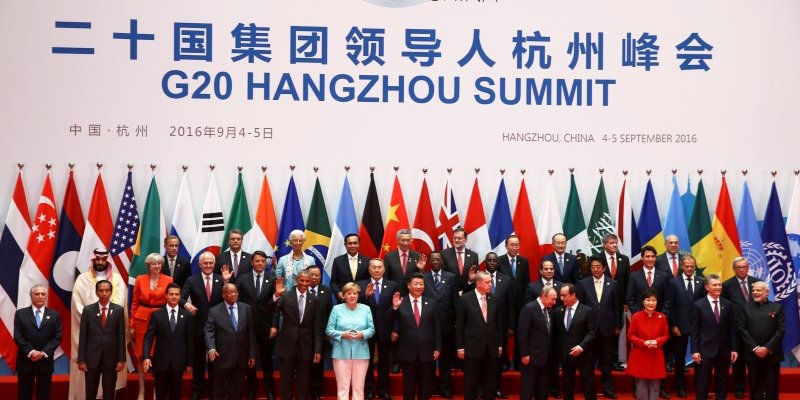 (Reuters)
Since the CPC's 18th National Congress, China has approached global governance, international order, international security cooperation, and other hot issues with wisdom and civility. At the Beijing APEC summit in 2014, China introduced more than 50 motions that attracted considerable interest from the international community. More importantly, these diplomatic approaches have played a constructive role in promoting world peace, development, and stability.
China's approaches have helped expand multilateral platforms for international cooperation. China has sought to improve existing multilateral diplomatic platforms, like the Shanghai Cooperation Organization and the ASEAN-China Free Trade Area, as well as create new ones, like the China-Pakistan Economic Corridor, the Mongolia-China-Russia Economic Corridor, and the Bangladesh-China-India-Myanmar Economic Corridor.
At the 9th BRICS summit in Xiamen in 2017, China proposed expanding cooperation on trade, political security, and people-to people exchanges, to not only create a brighter future for BRICS countries, but also boost the expectations of the international community with regards to the development prospects of emerging market countries. The BRICS summit is becoming an important platform for building partnerships to safeguard world peace.
China's role in promoting the G20 has been to advocate innovative solutions to global governance. As the host of the 2016 summit, China worked with other countries to address the problems that restrict the growth of the world economy. It was the first summit to focus on innovation, to put development issues at the center of global macroeconomic policies, to create a global multilateral framework of investment rules, to release a joint statement on climate change, and to put green finance on the agenda. The summit boasts 20 important achievements, which have left a profound Chinese imprint on the G20 and set a milestone in the history of the G20's development.
China has urged political settlements, pursued peace talks, demonstrated a long-term perspective, and contributed rational approaches to international and regional issues. China advocates and practices three principles when seeking to resolve such issues: it does not interfere in the internal affairs of others or seek to impose its views on others; it adheres to objectivity and fairness and does not pursue self-interest; it seeks political solutions and opposes the use of force. These principles achieved positive results that are being recognized by more and more countries.
In the case of the North Korean nuclear issue, China proposed that the DPRK suspend its nuclear testing activities in return for the US and South Korea suspending large-scale military exercises. It also suggested adopting a parallel track approach of moving forward denuclearization and the replacement of the Korean armistice with a peace treaty. In the Middle East, China issued a four-point proposal on the Palestinian issue aimed at achieving peace and stability for the region. On the South China Sea issue, China has firmly defended its territorial sovereignty and maritime rights and interests while endeavoring to resolve disputes via negotiations and consultations with directly concerned parties. It has also worked with ASEAN countries to safeguard peace and stability in the South China Sea, including proposing a code of conduct for the South China Sea.
China has also actively participated in efforts to resolve the problems in Afghanistan, Iran, Syria and South Sudan, in ways that utilize Chinese wisdom and reflect China's role in world affairs.
These diplomatic approaches demonstrate China's vision for diplomacy on all fronts, which involves being a great power that lives up to its responsibilities and is innovative and pioneering. These approaches also embody the concepts of peace and justice.
China is an actively peaceful and constructive force in the world. China's growing role will itself contribute to world peace. Making due contributions to humanity is a belief and ideal of the CPC.
China stands ready to help others and to be a good neighbor and partner to other countries. The significance of China's approaches lies in the positivity they spread around the world. China's objective is the peace and security of humanity, and its motivation is the harmonious development of the international community. It wishes to reform and update existing international mechanisms through the innovative use of appropriate and realistic methods, steer future development trends, urge more democratic international governance, and usher in a new era in international politics.
The global significance of China's approaches is three-fold: First, China's approaches are aimed at solving common problems and challenges facing human society. China's approaches are a response to the malaise and lack of governance and development in the international community.
They are aimed at the dual problems of weak economic growth, as well as the rise of protectionism and the emerging countercurrent to economic globalization. China has proposed a balanced, sustainable and inclusive strategy for governing the world economy. At the same time, its Belt and Road Initiative is a platform for deepening mutually beneficial cooperation that also provides new ideas and solutions for global economic governance. All these things have had a positive effect on the development of human society.
In March 2016, the United Nations Security Council for the first time incorporated the "Road and Belt" initiative in its resolution; in November 2016, the UN General Assembly for the first time wrote the "Belt and Road" into its resolution. This reflects the universal support of the international community for the Belt and Road Initiative. It means that China's effort in the Belt and Road Initiative have officially become a global effort.
China's approaches attempt to explore new ways to resolve international conflicts and improve global governance. Rather than pursuing personal interests or creating and taking advantage of crises, the approaches seek to manage and find reasonable and effective solutions to them.
China's approaches give direction for human development, and they signal development trends for the international community. Regardless of how the world situation changes, China's sense of mission and willingness to serve humanity will not wane. China is committed to making new contributions to humanity in the new era.