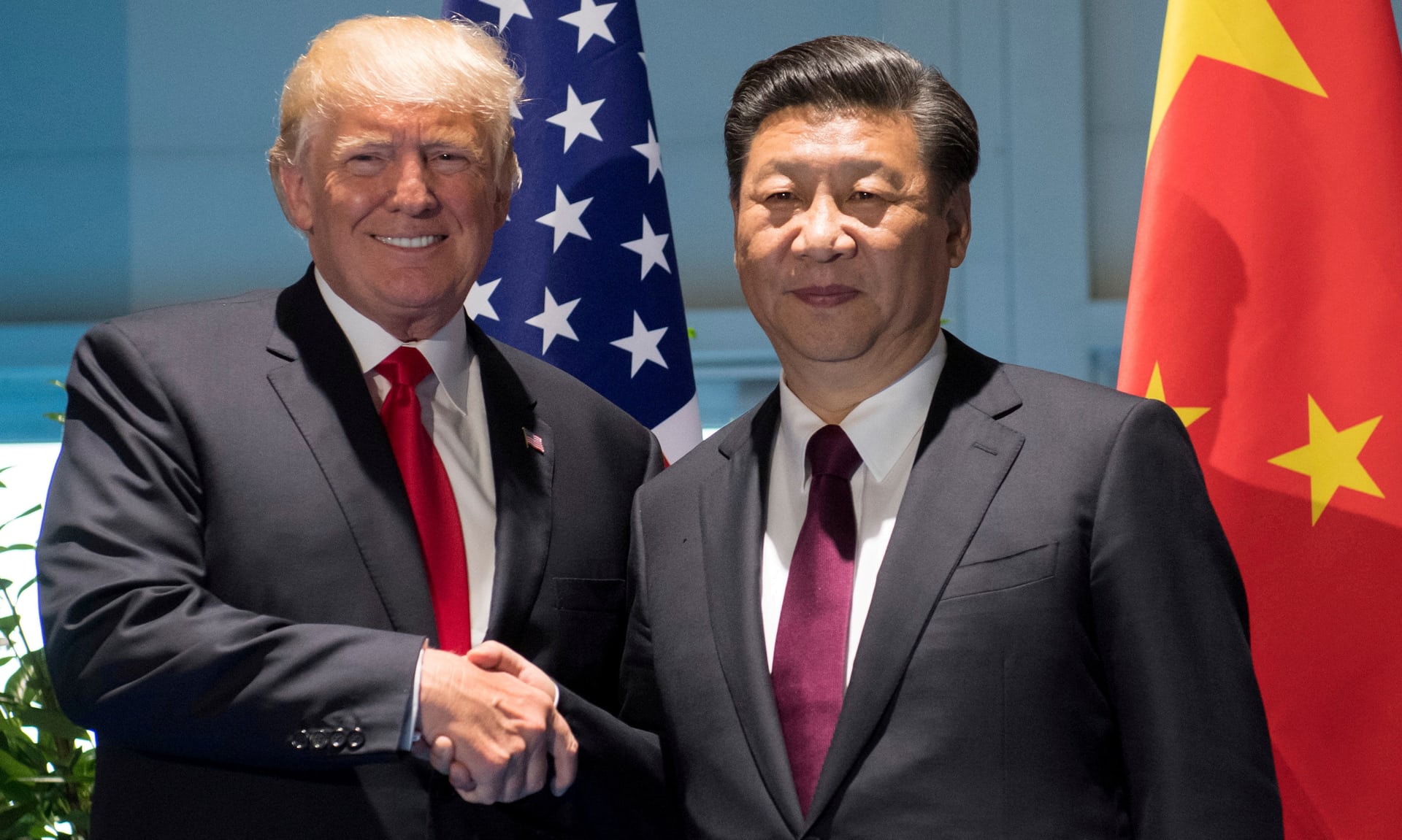 Donald Trump and Xi Jinping shake at the July 2017 G20 Summit in Hamburg. (Reuters)
During his first year in office, President Trump repeatedly emphasized his "America First" slogan and pursued a self-serving diplomatic line with foreign countries. He also repeatedly questioned the merits of multilateralism, global governance and international responsibilities, which resulted in him pulling the US out of the Paris Agreement, UNESCO, and the UN global compact on migration, as well as cutting his country's UN budget obligations.
The negative effects of the US shirking its international responsibilities are being felt in the following ways: First, there is a lack of global governance, which is severely delaying international cooperation to deal with global challenges and harming the common interests of all mankind, including Americans. Second, it is hindering international cooperation and worsening relations between the major powers, causing a shift from everyone in the international community pulling in the same direction to everyone pulling in their own direction, and running the risk of a concert of powers giving way to a great-power rivalry.
The Trump administration recently published its US National Security Strategy, which called for a new era of competition between the world's major powers. It listed China and Russia as the US's main competitors and peddled a new "China threat" theory.
Trump's withdrawals and shirking of responsibilities have resulted in new complex changes to global governance, presenting China with challenges and opportunities. In terms of challenges, as one of the world's leading powers, it shoulders an increased responsibility in global governance, which means more global involvement, and even the risks of being overcommitted. In terms of opportunities, the US withdrawal has led to greater confidence in and respect for China's role, enabling China to move closer to the center of the world stage through participating in global governance and expanding its clout and voice in the world. As a result, China will share and jointly manage with other partners the leadership in global governance.
In stark contrast to the irresponsible approach of the US, China is participating and taking an active role in global governance, adapting to situations, rising to the occasion, maintaining a stable approach and letting its actions speak for themselves. China's contributions can mainly be seen in the following two areas.
First are the approaches, ideas, programs and initiatives China has introduced to global governance as part of its commitment to a progressive world order. The 19th National Congress of the CPC outlined two diplomatic approaches that China should develop to solve the global challenges facing human society: a new type of international relations featuring mutual respect, fairness, justice, and win-win cooperation, and a community with a shared future for humanity that enjoys lasting peace, universal security, and common prosperity. Throughout 2017, at Davos, the Palais des Nations in Geneva, the G20 Summit in Germany Hamburg and the APEC Summit in Da Nang, Chinese President Xi Jinping delivered speeches and contribute his ideas to improve the instruments of global governance.
Second is its material and operational commitment to global governance. This has included safeguarding the multilateral free trade system of the WTO, defending the Paris Agreement on climate change, participating in UN peacekeeping efforts and endeavoring to find just and reasonable solutions to regional conflicts. Moreover, China has signed cooperation agreements related to the Belt and Road Initiative with more than 80 countries and organizations, launched productivity cooperation with more than 30 countries and developed 75 overseas economic and trade cooperation zones with 24 countries along the routes. Chinese enterprises have invested in excess of $50 billion in Belt and Road countries, creating nearly 200,000 jobs. Following the hosting of the first ever Belt and Road Forum for International Cooperation in 2017, development of the Belt and Road is in full swing. This will not only have a profound and far-reaching impact on global development, but also give powerful and lasting momentum to the construction of a global community with a shared future.
At a working conference of Chinese diplomatic envoys overseas at the end of 2017, President Xi Jinping made it clear that the important mission of the CPC is to pursue the happiness of the Chinese people and to make contributions to mankind. Xi emphasized the need to improve the interests of people beyond China's borders by promoting a new type of international relations and a global community with a shared future. He urged developing the Belt and Road Initiative, deepening cooperation with all countries, promoting common development, taking an active part in global governance and multilateral affairs, and safeguarding the interests of the Chinese people as well as the common interests of all mankind.
In its future participation in and leadership of global governance, China will not follow the example of some Western powers that have flaunted their wealth but not shown benevolence or generosity. Nor will it leave itself open to being taken advantage of. Instead, it will do its utmost to fulfill its responsibilities as a great power based on its basic national conditions as a major developing country and seek to do good inside and outside its borders.
As for China's new leadership role in global governance, the West needs to alter its zero-sum thinking characterized by envy and jealousy as well as anxiety. China is not seeking to fill a void in global governance. Rather, US selfishness has caused the world to turn to China to play a greater role. It is within this context that China has adapted to the situation, risen to the occasion and shouldered its responsibilities.