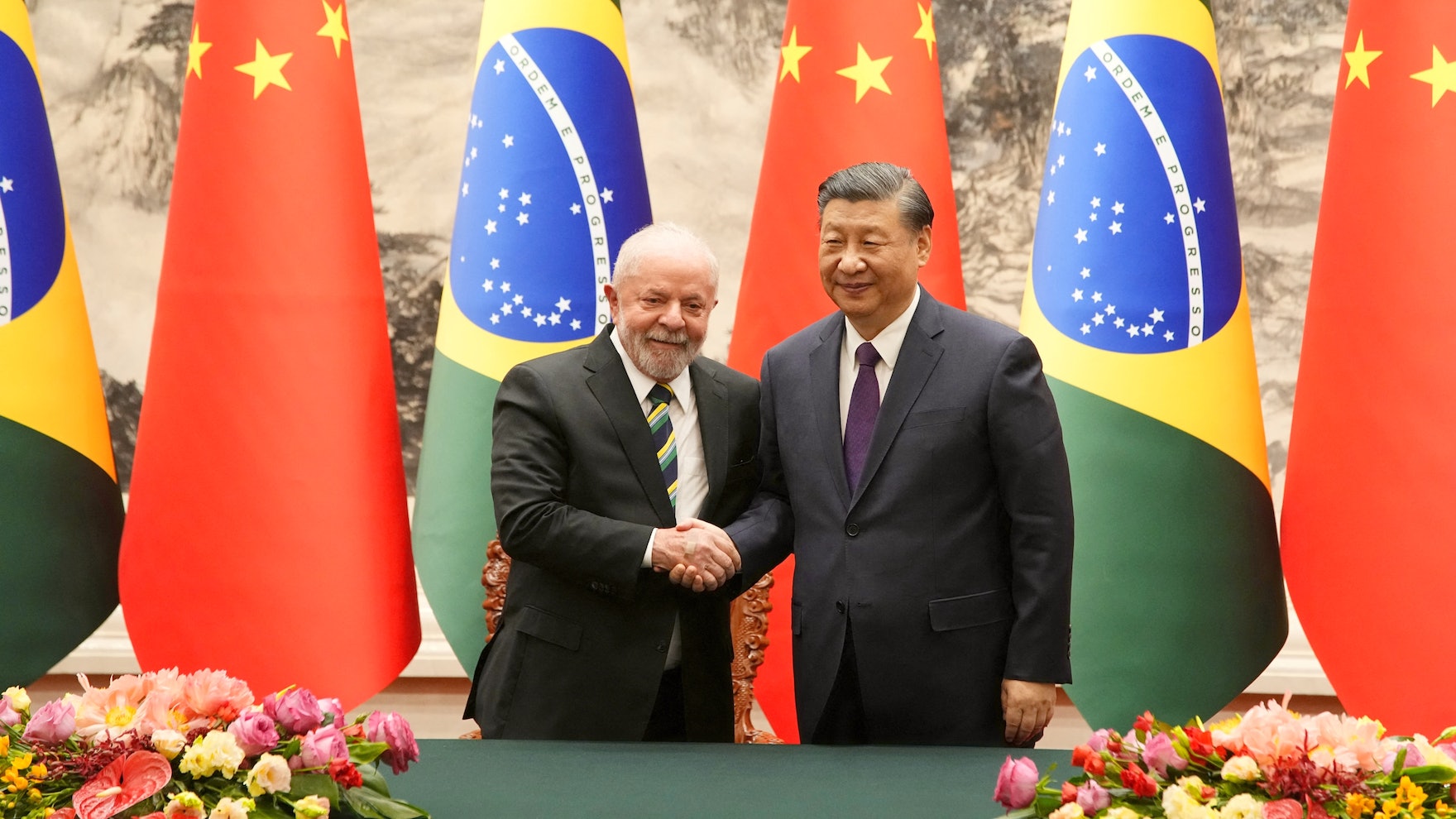 Brazilian President Luis Lula's visit to China in mid-April aroused widespread international attention and discussion. On one hand, the visit has directly improved the political mutual trust between the two countries. After four years under Jair Bolsonaro, Brazil's restoration of a good environment for political dialogue will surely enhance the already efficient multidimensional cooperation, powering the bilateral relationship for accelerated growth. On the other hand, as international geopolitical and economic risks intensify, the largest developing countries in the Eastern and Western hemispheres now demonstrate their desire to speak with a common voice on major global issues. This not only reflects their similar world views but also represents to a certain extent the developing world's view of global governance. Its significance naturally goes beyond the bilateral relationship and is likely to resonate in the global South. Overall, the visit conveyed the following signals:
The first was about enlarging the China-Brazil economic and trade pie. Economic cooperation and trade are the key engines powering relations. It has not only increased converging economic interests between the two but also raised China's profile in Brazil, paving the way for multidimensional interactions.
At present, China is irreplaceable for Brazil in terms of economy and trade. In 2022, for example, their two-way trade was 1.7 times that of the United States and Brazil. Brazil's total exports to China were 2.4 times that of the U.S. The country also enjoyed a surplus of $28.68 billion in trade with China (accounting for 47 percent of its total trade surplus), while running a large deficit with the U.S. ($13.87 billion).
China and the U.S. are Brazil's first- and second-largest trading partners, but China-Brazil trade has an obvious vitality advantage. In this connection, the business delegation traveling with President Lula to China was of unprecedented size: more than 240 people from all sectors of economic and trade cooperation. The visit addressed not only the diversification of Brazil's agricultural product exports, including exports of corn and sesame to China, but also the investment, financing and industrial chain cooperation involving Vale, Odebrecht, Sete Partners and other Brazilian companies. Obviously, trade and investment will remain the most efficient areas of cooperation. Given their high complementarity, Lula's visit is likely to further stimulate the vitality of bilateral economic and trade cooperation, which will undoubtedly be crucial for economic growth in both countries.
Moreover, the two are exploring new mechanisms and fields of cooperation. The Lula administration has shown a strong willingness to deepen cooperation with China, which is particularly evident in the new mechanisms of bilateral financial cooperation and the new fields of scientific and technological cooperation.
China and Brazil started currency swaps 10 years ago, and now they further agreed to settle trade in local currencies and RMB clearing, which will make more tools available for them to reduce costs and risks in bilateral economic and trade exchanges and undoubtedly better secure efficiency in bilateral trade and investment.
Scientific and technological cooperation is also a highlight. The two countries actually started cooperating on earth resource satellites as early as the late 1980s. In the past 35 years of cooperation, they have jointly developed and successfully launched six earth resource satellites, setting a successful example for developing countries to explore complementary technological advantages and break the technological monopoly of developed countries. The cooperation has been regarded as a model of South-South cooperation.
During President Lula's visit, the two countries discussed in-depth cooperation in high-tech fields such as 6G, semiconductors, renewable energy, artificial intelligence and low-carbon technology. Against the backdrop of escalating technological repression of China by the U.S., Brazil's move fully reflects its determination to deepen technical cooperation with China and enhance its own autonomy in technology.
It is particularly noteworthy that the new moves of Brazil in these two aspects are consistent with the main trend of developing countries against the monetary and technological dominance by the developed economies. In this light, the cooperation and exploration in these two fields will effectively promote the reform of the international monetary system and global science and technology governance.
Additionally, new elements have been introduced into global security governance. During his visit, President Lula made his position on the Ukraine crisis clear. He stressed the need for a cease-fire first, criticized the United States and other NATO countries for aggravating the conflict, praised China as an important force for peace negotiations, made clear Brazil's willingness to promote peace and expressed opposition to the Cold War mentality of camp confrontation. These are representative views in developing countries and aligned with the Chinese peace plan.
To some extent, the common position of China and Brazil conveys the security concept of the global South, which may have a great impact on the traditional pattern of Western developed countries leading global security governance — and even effectively contribute to the reform of the global governance system.
In fact, the positive interaction between Brazil and China is no isolated event. In Latin America, China is regarded as an effective solution to current economic and livelihood difficulties, leading to a series of breakthroughs in cooperation. Nicaragua and Honduras established diplomatic relations with China. Argentina joined the Belt and Road Initiative and proposed to join the BRICS group. Ecuador, Uruguay and El Salvador have started free trade negotiation with China. These and other developments suggest that China is likely to become an important driving force for economic recovery in Latin America in the post-pandemic period.
Given the deep connections already established in economy and trade, trade between China and Latin America will be rather resilient against political or international interference. It is therefore not difficult to understand Lula's statement that "no one can stop Brazil from improving its relations with China."