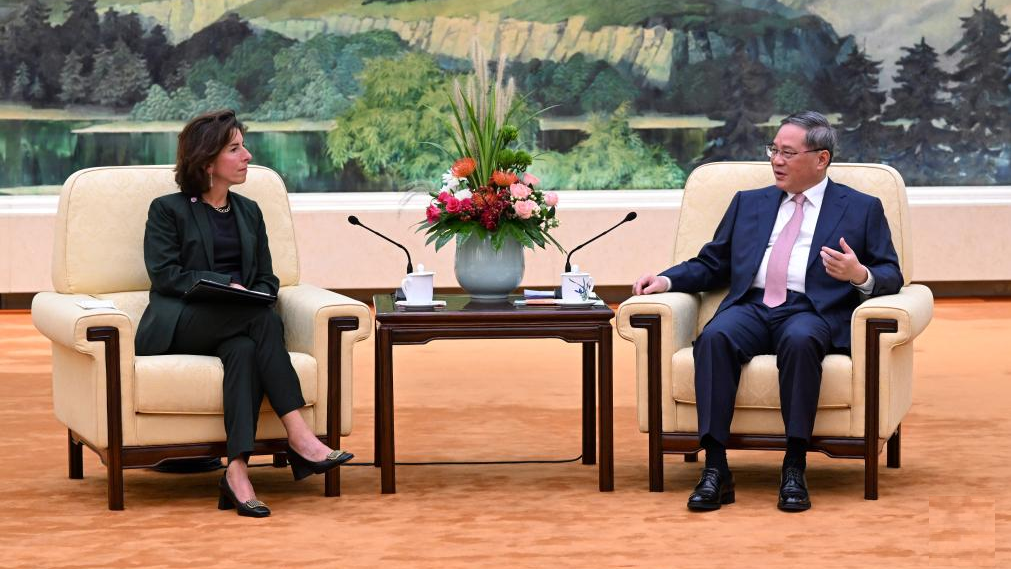 U.S. Commerce Secretary Gina Raimondo's recent visit to China was widely viewed as constructive, as it was thought to have breathed some fresh air into the economic and commercial relationships between the two countries. She shared the view of her hosts on the importance of maintaining stable economic relations and reassured them that Washington did not seek to decouple economically from China.
Words from Washington should often be taken with a grain of salt, but Raimondo's promise sounds more creditable than most. It apparently reflects the Biden administration's coming to terms with reality.
A complete decoupling with China is not possible in light of the two deeply intertwined economies — nearly $700 billion in trade annually and more than $1 trillion of U.S. investment in China. It is also undesirable, and would even be "disastrous," as U.S. Treasury Secretary Janet Yellen put it.
The American administration under President Joe Biden has realized, albeit belatedly, the fundamental truth that Beijing has long preached: Both the United States and China benefit from trading with and investing in each other. Cutting these ties altogether would leave the U.S. without access to the supply of a large number of quality consumer and intermediate goods for which no replacement can be found in the entire world. Equally important, it would shut the U.S. out of a lucrative market.
That's why the Biden administration now seeks to maximize business opportunities in China by expanding engagement in areas that it believes will not undercut its strategic objectives. While continuing to acquire goods from China to satisfy the needs of U.S. consumers and manufacturers, it is also trying to get more U.S. products — agricultural produce, beauty products and Boeing jets — into China, and to gain market access for U.S. service providers such as Visa and Mastercard.
In what appears to be a pro-trade gesture, Raimondo noted that 99 percent of trade between the two countries was unrelated to export controls, suggesting that most goods flow unfettered. Reality, however, is at odds with this claim. Currently, about two-thirds of Chinese imports into the U.S., valued at more than $300 billion a year, remain subject to Trump-era punitive tariffs of more than 19 percent on average, and the Biden administration has no intention of removing them anytime soon, despite a World Trade Organization ruling against the U.S. measures and the demand by some members of the U.S. Congress and business community for ditching them.
This fact underscores the continued challenges the U.S. and China face. Apart from maximizing commercial gains, the Biden administration's China trade policy has a higher goal — safeguarding what it calls national security.
Raimondo stressed during her trip to China that "in matters of national security there is no room to compromise or negotiate." As part of its security strategy, the Biden administration's trade policy serves its geopolitical objective — maintaining America's hegemonic power globally. National security concerns override commercial interests in the White House's scheme of things. More than anything else, those concerns determine the course of the bilateral economic and commercial ties. And yet, the Biden administration has not bothered to define "national security" nor to delineate its boundaries. Instead, it has simply imposed a host of restrictions on Chinese trade and industry in response to alleged national security concerns.
Products from China deemed by Washington as constituting a national security risk include not just semi-conductor chips, 5G equipment and drones but also innocuous goods such as port cranes and self-driving vehicles. Indeed, it would not be too much of an exaggeration to say that, insofar as America's national security is concerned, the sky is the limit whenever Washington's geopolitical considerations are in play. Washington sees China as an existential threat, and it is determined to curtail China's rise in whatever way possible. It habitually employs national security as a pretext for suppression.
Washington's national security concerns (or its assertion of them) was responsible for the lack of agreement on substantive issues during Raimondo's visit. On national security grounds, she brushed aside China's concerns over U.S. tariffs, semiconductor policies, investment restrictions and sanctions targeting Chinese companies.
The alleged security concerns of the United States also threaten to hinder progress. When Washington insists that its curbs on China are necessary to its own national security, it becomes extremely difficult for it to deny Beijing's national security concerns. Can Washington really expect Beijing to address its complaints about an uneven playing field for American companies in China while it continues to shut Chinese investors out of the high-tech sector in the U.S.? Can the U.S. pull off the feat of getting Beijing to relax certain restrictions while it has more than 1,300 Chinese entities and individuals on its blacklists?
The working group to be set up, together with other agreed-upon mechanisms, is likely to be insignificant in terms of deliverables if the Biden administration continues to weaponize trade. Communications without goodwill are of little avail. Similar mechanisms such as the U.S.-China Strategic and Economic Dialogue existed before, only to be buried by Biden and his predecessor. Raimendo's intent to use the working group to "manage the competition" is interpreted by some in China as an attempt to extract concessions while keeping a firm lid on America's adversary.
As if to substantiate the point, shortly after returning to the U.S., Raimondo pledged that "we are very ready, willing and able to use [trade tools] as necessary." Moreover, she reportedly plans to investigate all Chinese investment projects in the U.S. — again for national security reasons.
Given Washington's strategic hostility toward China, it's unrealistic to expect a general improvement in China-U.S. economic and commercial ties, even though resolving certain specific issues shouldn't be ruled out. In all likelihood, new curbs on the Chinese economy are in the offing, even as the current ones persist. Discord rather than accord, and friction rather than cooperation, will likely be the order of the day. The two countries will continue to face a rocky road ahead in their trade and economic relations.