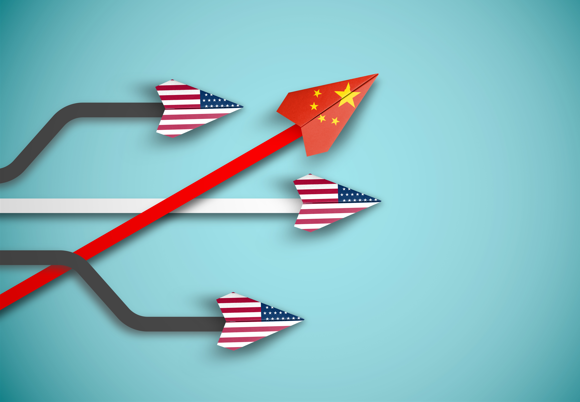 On Sept. 10, the presidents of China and the United States had their second phone call since Joe Biden took office, signaling that the two sides will stabilize bilateral relations.
The key remark of President Xi Jinping during the call was that "the China-U.S. relationship is not a multiple-choice question of whether we should have good relations, but a compulsory question of how" — to which President Biden responded that the two countries had no interest in letting competition veer into conflict.
U.S. academia found the call a slight relief, as they had feared that the good working relationship and personal friendship between the two presidents, an enduring bond in bilateral relations, would no longer work.
Before the call, three teams from each side — dealing with diplomatic security, climate change, and trade — had maintained communication. Of those, the climate change team has produced the most fruitful results.
In July, following the China-U.S. high-level meeting in Anchorage, Alaska, between top officials in foreign affairs and security in March, U.S. Deputy Secretary of State Wendy R. Sherman visited China. While the press focused on China's proactiveness during the two meetings, it should not be overlooked that the two sides also enhanced mutual understanding as they exchanged their lists of concerns.
Qin Gang, shortly after his arrival as China's newly appointed ambassador to the U.S., expressed China's willingness to promote "rational, stable, controllable and constructive China-U.S. relations."
After the dramatic shift in Afghanistan, U.S. Secretary of State Antony Blinken twice called Wang Yi, Chinese State Councilor and Foreign Minister. The two sides did not rule out the possibility of future cooperation on issues related to Afghanistan.
John Kerry, the U.S. Special Presidential Envoy for Climate, has already visited China twice. During his trip to Tianjin in early September, he not only discussed approaches for dealing with climate change but also spoke of the overall bilateral relationship, passing on messages from the highest level.
Both U.S. Treasury Secretary Janet Yellen and Trade Representative Katherine Tai have communicated with the head of the Chinese trade team online more than once. During these exchanges, the U.S. delegation seemed to emphasize the hope that China would carry out its "structural reforms" as agreed and support American efforts to curb inflation, while the main concerns of the Chinese representatives were rolling back tariffs and easing trade restrictions.
A revival of communication has also been seen between the militaries. On Aug. 27, Michael Chase, U.S. deputy assistant secretary of defense for China, held a video conference with Chinese Major General Huang Xueping, deputy director of the People's Liberation Army's office for international military cooperation, during which they jointly stressed the importance of strengthening risk management and control. The last high-level dialogue between the two militaries took place by phone a year ago between Chinese State Councilor and Defense Minister Wei Fenghe and then-U.S. Defense Secretary Mark Esper.
It is not easy to carry out these bilateral interactions and make progress amid a rather hostile atmosphere for overall relations and the still ongoing global pandemic. The Biden administration has been conducting a review of its China policy ever since the inauguration. It set the tone for long-term strategic competition with China in the early stages and took actions such as forming an anti-China alliance based on common Western values, promoting supply chain restructuring in the field of science and technology and implementing an upgraded Indo-Pacific Strategy. Yet, the policy review has not been completed.
It may be a deliberate delay. For one thing, relations between China and the U.S. are more complicated than Biden administration officials expected. Furthermore, suffering from strategic overload and struggling to deal with the after-effects of the troop withdrawal from Afghanistan and domestic conflicts, the administration has realized that it has neither the capacity nor the energy to suppress China, and it relies on China's cooperation on issues from climate change to trade and from Afghanistan to Iran, North Korea and Myanmar. Therefore, the Biden administration stresses in carrying out strategic competition with China that it's necessary to set up boundaries for the competition and build guardrails for bilateral relations to avoid a new cold war and other disasters.
After years of games, China has become more realistic in its relationship with the U.S. and is more determined to put up a fight to break the blockade and earn its due respect. At the same time, the significance of China-U.S. relations has been reaffirmed. If this relationship cannot serve as a booster for China's reform and development, it will become a source of confusion in all aspects.
Frankly speaking, the Biden administration is not the only one that's overloaded. China is also experiencing what might be called agenda congestion. In the near future, China must ensure that major domestic events proceed smoothly and must seize the limited time available to push forward reforms and straighten out the external environment.
It is in constant friction, collision and adjustment that the two sides have found a perceptible convergence — neither can replace or overturn the other, so they must manage their disparities, stabilize the relationship, prevent conflicts, explore rational ways to get along and work together on major global challenges and regional hot spots.
Both sides expect future bilateral relations to appear as cooperation with competition — or "coopetition" — and hope for peaceful coexistence based on a new balance. Yet such convergence is not enough for a long-term stable relationship. The challenges are manifold. If China and the U.S. consider the current cautious communication to be a quick fix or as a show that affirms the presence of diplomacy, but without any intention of changing the behaviors that deepen hostilities, they will fail to rebuild mutual trust and even foster more antagonism, cement the track of all-out confrontation and vicious competition and doom the relationship to a tragic end.
There are grounds for such concerns. The U.S. claims that it has no intention to begin a cold war with China, while repeatedly tightening its Indo-Pacific Strategy. Following the revival of the Five Eyes Alliance and the establishment of the Quadrilateral Security Dialogue, or QUAD, it launched a three-way security partnership with Australia and the United Kingdom known as AUKUS, which makes use of a gray zone in the international nuclear nonproliferation regime to help Australia build nuclear-powered submarines. To China, this signals an escalation of strategic confrontation and looks like an effort to prepare for war.
The U.S. has affirmed that it adheres to the one-China policy and does not support Taiwan independence, but it has adopted salami tactics on the Taiwan issue, repeatedly doing things on the military or diplomatic front to test China's red lines. It aims to render the one-China policy hollow and unfeasible. Lately, one hears that the Biden administration may allow Taiwan to change the name of the Taipei Economic and Cultural Representative Office in the United States to the Taiwan Representative Office.
It is not only illogical but strategically frivolous for the U.S. to state that it decided to pull its troops out of Afghanistan to better focus on dealing with China, while urgently seeking to coordinate its position with China and asking for cooperation.
All these abnormalities come down to the internal incompetence of the Biden administration. As a government that has shown a willingness to abandon its allies and partners and ignore its international responsibilities for the sake of petty geopolitical competition, not to mention the unreasonable strategic goal of suppressing China, how can it gain trust from its rival and engage in serious dialogue and cooperation aimed at managing differences and conflicts and fulfill its commitments?
The "trichotomy" plan of the Biden administration — that is, to separate competition, confrontation and cooperation between China and the U.S. — is also to blame. It is an intriguing puzzle: What makes this team believe that the U.S. has the capacity and credibility to unilaterally ensure bilateral relations under its own rules. Is it saying, "Everything is OK, so long as it does not cross the line"? This series of questions calls for the Biden administration's attention.
It should be acknowledged that in the era of coopetition between China and the U.S., the two countries will remain tentative and flexible in their policies toward each other but have not stopped making pragmatic efforts. The two sides still need to expand their exchanges, give full play to diplomacy and inject essential management into the relationship — one in which structural contradictions are prominent and antagonism continues to grow, but where functional cooperation is indispensable.
On this premise, China and the U.S. need to adapt to new circumstances, make full use of existing channels to adjust the structure and strive for synchronous and synergized operation in a three-tier diplomatic architecture:
In the highest tier, leaders will communicate directly and play an irreplaceable role in guiding, coordinating, correcting and icebreaking when it's most needed.
In the critical tier, both sides will carry out dialogue and negotiation on security, trade, finance, diplomacy, climate change and military affairs.They will focus on critical areas that can guide the direction of bilateral relations, sort out the context of competition and cooperation and clearly establish the path and principles of peaceful coexistence.
In the fundamental tier, professional and practical negotiation and think tank exchanges should be held in areas including civil aviation, medicine, health, quality inspection, education, culture, maritime affairs, police and nuclear safety. In this tier, practical measures are carried out to solve problems in bilateral relations and build diverse information channels.
During a phone call on Sept, 10, Xi and Biden agreed to instruct the working levels of both sides to step up their efforts and conduct extensive dialogue, which in fact authorizes the resumption and promotion of consultations in different fields. These consultations will aim to "create conditions for the development of China-U.S. relations," the presidents agreed, rather than trapping each other or creating or deepening confrontation.
Given the high complexity and sensitivity of China-U.S. relations, it is also important to understand that everything promoted by functional departments in their professional fields may become a barometer and affect overall relations.
This summer, when there were vacancies for ambassadors in both capitals, some observers exclaimed that China-U.S. relations had broken off and that there would be no more. Such judgments show a lack of knowledge about professional diplomatic operations and are wholly inconsistent with the facts.
China-U.S. relations will never "break off." On the contrary, the broader the competition and the clearer the positioning of coopetition, the more active the functional diplomacy in different fields will be. Without touching on the core issues of strategic mutual trust and building a responsible and rational framework for bilateral relations, however, functional diplomacy will play a very limited role. This is the reality of bilateral relations and a logical paradox that must be carefully resolved.