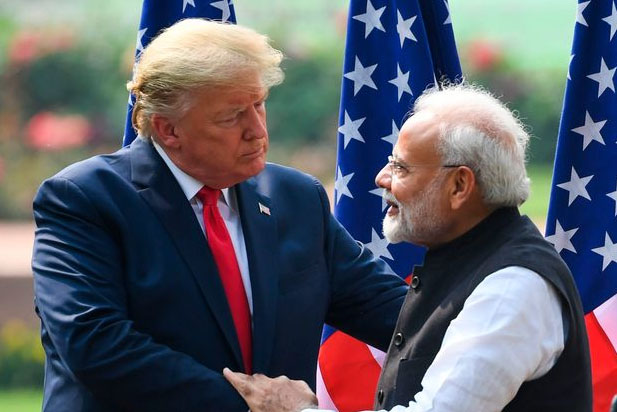 President Trump received a rock star welcome from Prime Minister Narendra Modi, as the leaders of the world's two largest democracies meet in India. Photo: Mandel Ngan/Agence France-Presse/Getty Images
On Feb. 25, U.S. President Donald Trump wrapped up a two-day state visit to India, and a joint statement was issued indicating that India will buy $3 billion worth of military equipment from the U.S. and that the two sides will continue their trade talks.
Trump described the statement as "an incredible agreement" that will pave the way for both sides to further open markets and promote political, economic, trade and military relations.
A look at Trump's itinerary suggests that India made thoughtful arrangements for the visit. First and foremost, Indian Prime Minister Narendra Modi personally received Trump at the airport. Millions of people welcomed him all the way from the airport to the new Motera Stadium in Ahmedabad.
The Indians also held a grand welcoming ceremony in their newly built cricket stadium, in which both Modi and Trump delivered speeches. The latter received a warm response.
As everyone knows, in the second half of 2018, India had invited Trump to grace the Republic Day parade in January 2019 as its chief guest, but Trump didn't seem interested and didn't respond positively until Modi invited him again during a visit to the United States in September.
The visit to India, which is said to be the world's largest democracy, by the president of the world's only superpower, made news and attracted the full attention of the international strategic community. And no wonder: Trump's trip to India raised widespread concerns in the international community. Objectively speaking, this visit met the major expectations of India and the United States. It suggested that in the future, India-U.S. relations would operate in a new phase. Yet, from another perspective, it reflected some of the strategic suspicion between the two countries.
India's eagerness to strengthen relations with the United States and the U.S. pursuit of closer relations have their own logic. But as today's international relations are highly interconnected, the relationship also has diplomatic relevance for other countries.
Today's world situation is undergoing drastic changes, along with the international strategic pattern. China's ascent to the position of the second-largest economy in the world has changed the existing international balance of power invited repercussions from the United States.
In recent years, the rivalry between China and the U.S. has accelerated at the regional level. The United States has clearly identified China as a strategic rival and tried to incorporate India in its "strategic circle" against China to form a "diamond alliance" of the United States, Japan, Australia and India.
The Indo-Pacific Strategy Report issued by the United States in June last year was clearly intended to enlist India as an ally against China. Specifically, it caters to India's desire to become a world power as much as possible, meets India's demand for high-end weapons and equipment as much as possible and takes care of India's concerns in India-Pakistan relations with regard to South Asian issues.
India believes that close relations with the United States many layers of significance. Politically, close relations with the United States would help boost India's status as a great power and reflect its strategic importance. Economically, expanding the U.S. market would bring India more foreign exchange resources and help it achieve its "Made in India" ambitions. Militarily, the purchase of more advanced U.S.-made weapons and equipment would promote India's military modernization and increase the strategic significance of bilateral relations. Diplomatically, closer relations with the United States would help India gain greater flexibility in relation to other great powers and increase its pile of bargaining chips.
Trump is a profit-oriented businessman president, and it's undeniable that Modi is a smart political figure. Trump has his own calculations; so does Modi.
On the downside, the U.S. attitude annoys India. For example, the U.S. was dissatisfied with India's purchase of Russia's S-400 missile defense system. The U.S. also accused India of trade manipulation, calling it the "tariff king" and labeling the country's trade surplus with the U.S. as unacceptable. The U.S. blamed India for stealing American jobs with its massive outsourcing of services, and it announced the exclusion of India from the GSP, the largest and oldest U.S. trade preference program.
When addressing a crowd of 100,000 in India, Trump even talked about the friendly relationship between the U.S. and India's arch rival Pakistan, which caught Modi by surprise.
The two sides will continue to negotiate on many related issues, but it is difficult to resolve their acute, deep-seated problems in the short term. India's traditional diplomatic philosophy has always emphasized maintaining its own strategic autonomy. In dealing with the world's great powers, it will consider all factors of diplomacy in an integrated manner, and it is unlikely to put all its eggs in one basket. India cannot abandon its traditional friendship with Russia, nor can it ignore its neighbor China.
China and India share more than 1,700 kilometers of border. There are some difficulties in China-India relations and there have been some setbacks in the relationship, but the leaders of both countries have recognized that their countries' relations have long-term strategic significance for the world and that developing r cooperation in multiple fields is the only correct option. Geographical proximity, similarities in their development needs and the similarities of Eastern countries provide a strong foundation for them to strengthen political trust, reduce strategic doubts and engage in mutually beneficial cooperation.
Ensuring the continued and stable development of China-India relations is in the fundamental interest of the peoples of the two countries and in line with the profound changes of the new century. As long as China and India further establish political trust, strive to reduce strategic doubts, eliminate third-party interference, deepen multi-field cooperation and increase exchanges between the two major emerging markets, their relationship will surely make greater progress.