Competition between the United States and China in semiconductor innovation and production dictates the future of technological supremacy.
Integrated chips, or integrated circuits, are the brains of electronic devices, and American companies sell nearly half of the global supply. China is now racing to catch up in the production of these chips. Thus far, the primary production countries are the United States, Japan, South Korea, Taiwan, and increasingly, China. Beijing set up a $29 billion semiconductor fund in October 2019, and its most prominent company is Semiconductor Manufacturing International Corporation (SMIC). Since 2015, China has invested about $100 billion in the semiconductor industry. However, the U.S. is also dependent on chips from Taiwan and South Korea; therefore, neither Beijing nor Washington are self-reliant.
Beijing's Push for Self-Reliance and Indirect Pressure on U.S. Firms
The Trump administration's move to obstruct the free flow of trade intended to hurt Chinese firms in developing militarily sensitive technology, and imposing pressure for future negotiations. However, Washington might have further incentivized Beijing to pursue self-reliance while simultaneously hurting U.S. firms that export and invest in China. Trump's policy prevents chip design software vendors from exporting to Huawei, its subsidiaries, and other Chinese companies. Additionally, Chinese leaders, who often have engineering and science backgrounds, may value and pursue high-tech modernization more than U.S. politicians, who typically specialize in law.
Huawei is a massive client for both Qualcomm and Intel, and as China is the world's fastest-growing market, 23-35% of U.S. semiconductor companies' sales occur in China. Roughly half of U.S. chip sales are to multinationals (Apples, HP, Dell), while the rest are Chinese original equipment manufacturers (OEM). A fifth of this revenue goes back into U.S. firm research and development (roughly 40 billion annually), a higher R&D rate than in Taiwan or South Korea. China is the least R&D intense market by the measure of reinvestment.
Trump's strategy was to understand value chains, identify choke points, and apply pressure to disrupt value chains, which negatively affected Chinese companies. China's process of developing self-reliance and creating a second ecosystem characterizes a 'decoupling,' since both countries are trying to become more self-sufficient due to national security concerns.
State of Competition
U.S. firms currently lead the world in semiconductor production. China is mostly behind because of production weaknesses and electronic design automation (EDA), also referred to as electronic computer-aided design (ECAD). These are software tools used to design electronic systems such as integrated circuits and printed circuit boards.
China is several years behind in manufacturing capabilities. SMIC produces 14-nanometer chips, which industry leader Taiwan Semiconductor Manufacturing Company (TSMC) reached about five years ago. Chinese government-supported chip projects recently hired over 100 TSMC engineers in a push for chip leadership. Taiwan has lost more than 3,000 chip engineers to China as a result.
China is aggressively pursuing improvements in memory storage. Yangtze Memory Technologies Co., Ltd. or "YMTC," established in Wuhan, China, in July 2016, is an integrated device manager (IDM) memory company focusing on the design, production, and sales of 3D NAND flash memory. The two most significant types of semiconductors are dynamic random-access memory (DRAM) and NAND (which is not an acronym). The DRAM market has three suppliers: Samsung, SK Hynix, and Micron. However, China is behind in DRAM. Beijing is behind in lithography and metrology since they cannot develop necessary software, which U.S. controls make much more difficult.
Last year China produced only 16% of the semiconductors it consumed domestically, while in 2014, China announced a National Integrated Circuit Plan promising to spend $150 billion to expand local semiconductor manufacturing.
While China's manufacturing capabilities leave much to be desired, China is competitive in assembly and packaging, which is low in value. Huawei's high-silicon unit had also proved to be competitive, as it was the first Chinese company to compete before the U.S. placed Huawei on the Restricted Entity List in May 2019. Although Huawei maintains a stockpile of chips to mitigate the effects of the Trump administration's policies, the supply is drying up and will likely be depleted in 2021. The only Chinese rival to advanced U.S. chips is the HiSilicon Kirin 9000, designed by Huawei's own in-house chip-design subsidiary.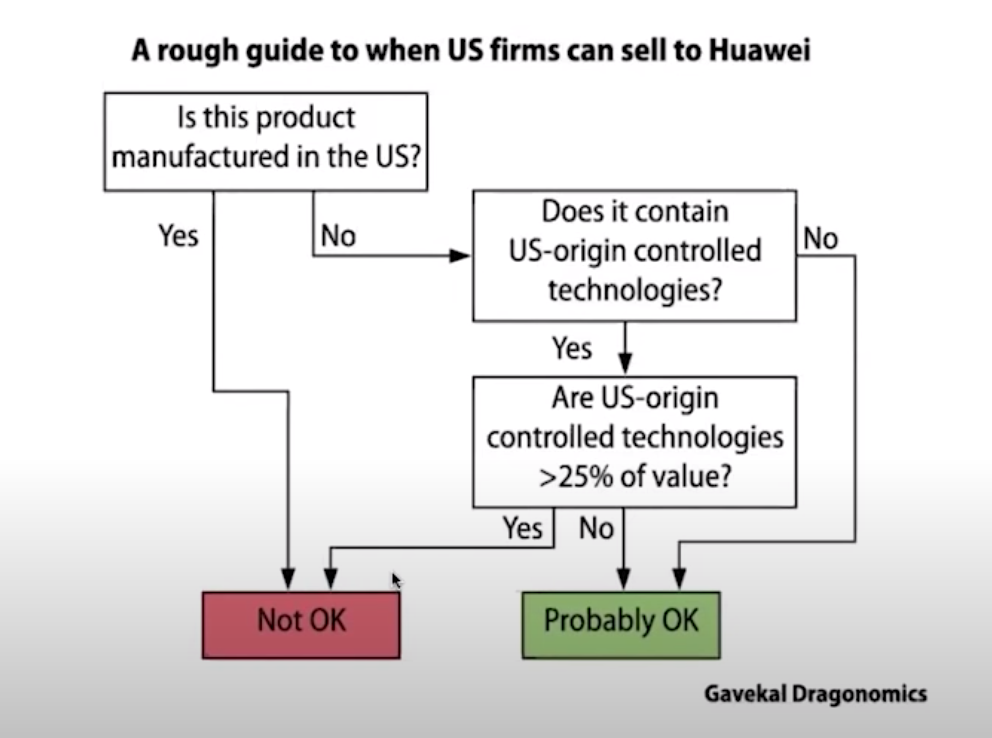 The Global Ecosystem and its Disruption
The global technological ecosystem relies on undisrupted trade between countries that produce hardware and software. The Trump administration disrupted that free flow by imposing tariffs on China. The Bureau of Industry and Security (BIS) and the Department of Commerce also added many Chinese firms to the Entity List as a punitive measure for the Chinese military's construction of artificial islands in the South China Sea. Huawei was placed on the list for violating U.S. sanctions against Iran. The U.S. Department of Commerce requires American companies to ask for permission to export to SMIC, saying China's military could use its chips.
Placing SMIC on the department's entity list limits its ability to acquire U.S. technology by stipulating that U.S. exporters apply for a license to sell to the Chinese company. Equipment used to manufacture semiconductor chips at 10 nanometers and below will be barred from export to prevent the technology from supporting China's military build-up. SMIC has lost more than 6% of its value since joining Huawei on the list.
Has a Decoupling Begun?
While Chinese investment in the U.S. slowed down during the Trump administration, goods and services trade volumes were less than 3 percent down from 2016 to 2019. The U.S. portfolio more than doubled from the end of 2016 to the end of 2019. So, we see a $13 billion trade decrease and a $120 billion increase in U.S. investment in China. Therefore, the two countries are still intimately tied. There is undoubtedly a threat of decoupling in tech if China can separate and develop a self-reliant ecosystem. Thus, the biggest losers from 'tech decoupling' are U.S. firms, which are heavily reliant on revenue from China. The U.S. could subsidize American firms to keep their R&D levels steady, but this might not be easy in the immediate post-pandemic environment. The U.S. could tax businesses instead of taxpayers, but this could also prove to be a hurdle.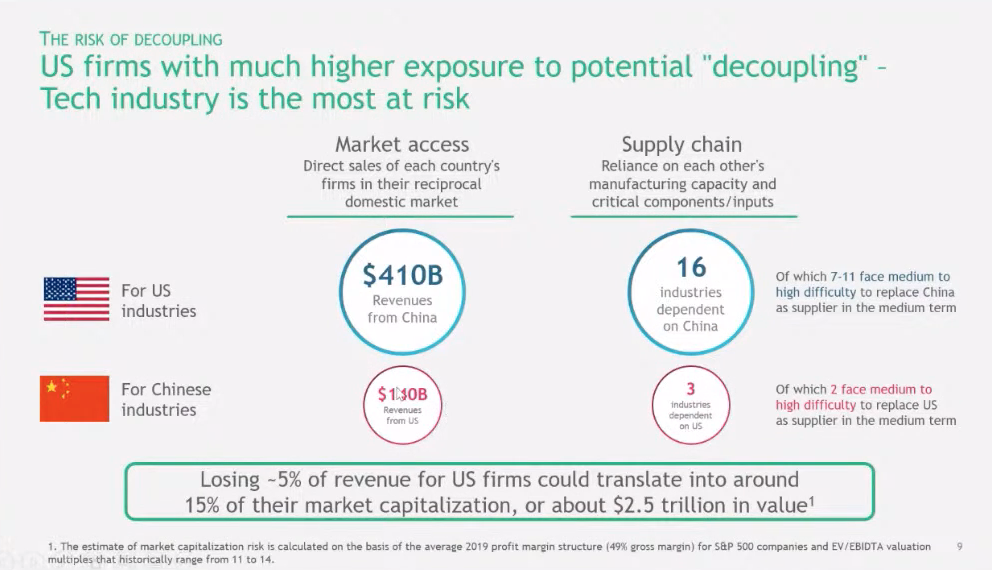 Source: https://www.youtube.com/watch?v=CKCmk3ZVqc0&t=2977s&ab_channel=Esade
At the same time, U.S. firms, from a perspective of pure risk management, limit exposure to China if such policies continue. The lack of subsidies for these firms stunts further R&D. Also, although inconvenient, China sources the hardware from other countries.
Beijing could decouple by launching its own set of global data-security rules while also decreasing its dependence on foreign supplies. Trump's trade war further solidified Beijing's need to pursue self-reliance since Washington's grip on the global ecosystem could further pressure China in the future as competition intensifies. President-elect Biden has not indicated that he will significantly deviate from President Trump's approach to China.
Also, potential policy directions will benefit certain groups while harming others. Biden will likely want to open the world to broader competition to accelerate technological development, lower prices, and improve quality. However, who will this hurt, and what competing interests exist? Trump's nationalist approach should be equally analyzed, as his administration hoped to protect national monopolies. The central questions remain – will the U.S. continue to impose pressure, while failing to subsidize its own self-reliance? A Biden administration must decide how it will approach semiconductor competition, and what objectives to prioritize.