At the start of the year, North Korea announced that it "successfully" conducted a hydrogen bomb test, which immediately drew strong condemnations from the international community. During US Secretary of State John Kerry's recent visit to Beijing, China and the United States had in-depth discussions about the North Korea nuclear issue, and reached an important consensus. Both sides believed that the United Nations Security Council should adopt a new resolution on Pyongyang's nuclear test and apply fresh sanctions against it. They also agreed that sanctions should not be the ultimate goal, and the most important thing is to restart dialogue and negotiations. This mutual understanding may help pave the way for bringing North Korea back to the negotiation table.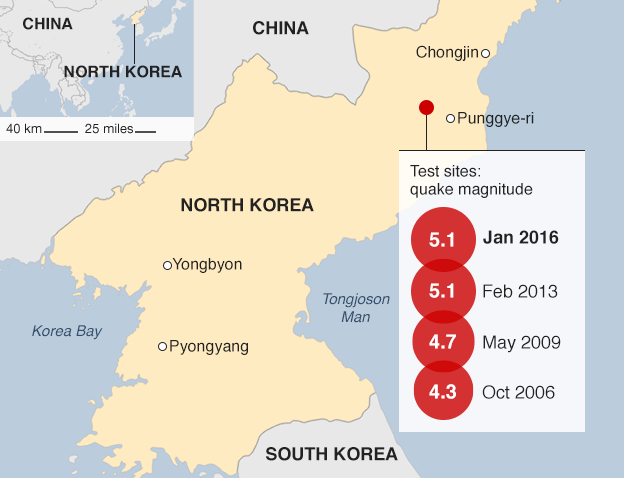 North Korea has conducted four nuclear tests, with three under the watch of US President Obama, and Obama's "strategic patience" in his faulty policy towards North Korea should be blamed. For North Korea, its nuclear tests were meant as a pursuit of its rights and to provide more room for survival and development, instead of being merely committed to becoming a nuclear power. The nuclear tests only gave it bigger bargaining chips in negotiations with the United States, and were moves for winning more space for its development. Due to the United States' policies of shirking its responsibility and wait-and-see attitude on the nuclear issue, the optimal chance for solving the issue was missed, and this has compelled North Korea to embark on a road of "possessing nuclear weapons for self-defense and development".
To implement the above-mentioned consensus, the key lies in discarding the erroneous perceptions, and clarifying the principal party, goals, starting point and approaches for imposing sanctions, so as to achieve the anticipated goals.
First, the United States should be the party responsible for imposing the sanctions, and should not "outsource" its responsibility to China. The United States has long maintained that the North Korean nuclear issue is an issue for China. Whenever North Korea conducted a nuclear test, the first US reaction would be to blame China and consider it a failure of China's approach toward North Korea. At a news conference in Beijing during his recent visit, Kerry still insisted that given the special and extensive relations between China and North Korea, China has a unique and critical role that it can play in helping solve the current challenges. By saying so, Kerry once again forced the responsibility of solving the North Korean nuclear issue onto China, and this is neither fair nor true. North Korea, in a statement after its nuclear test, has made it clear that if it could sign a peace treaty with the United States, and if the United States could stop holding joint military exercises with South Korea, it would not conduct further nuclear tests. This proved that the North Korean nuclear issue is, in essence, an issue between the United States and North Korea, and the ostrich policy upheld by the United States would lead nowhere.
Second, sanctions should be meant to diminish North Korea's capability in nuclear weapon research and development, and should not have negative impact on North Korean people's livelihood. Some people in the United States claimed that China is North Korea's biggest trading partner, and about 80% of North Korea's foreign trade dealings are with China, and if China stops supplying oil and grain to North Korea, it would have no choice but give in. But if this idea were adopted, it naturally would cause a massive humanitarian crisis, and consequently, trigger waves of refugees and cause harm to the Korean people, and would even have negative impact on China's stability and development.
Third, the starting point for imposing new sanctions should be to promote denuclearization and safeguard peace, not to escalate the tensions and not to cause chaos on the Korean peninsula. Following each nuclear test by North Korea, the United States has joined with its allies in holding military exercises, sending advanced fighters to patrol over the peninsula, and deploying advanced weapons in South Korea to threaten North Korea; all of these moves ultimately led to military standoffs on the peninsula. In fact, such moves did not work at all on North Korea, and on the contrary, they prompted Pyongyang to start preparations for new nuclear tests.
And fourth, sanctions should be designed to guarantee stability in Northeast Asia, not to proceed from any selfish interest or lead to chaos in Northeast Asia, even endanger China's strategic interests. After the nuclear test, some US officials talked a lot about the necessity to deploy the so-called Terminal High Altitude Area Defense (THAAD) system in South Korea to deter threat from the North. The THAAD system is mainly used to intercept medium- and long-range ballistic missiles. Although North Korea claimed that its missiles could hit long-distance targets, what it test-fired actually were mainly short-range missiles, so why should the United States consider deploying the THAAD system? The real intention of the United States in deploying the THAAD system in South Korea is to target China and Russia, thus harming stability in the entire Northeast Asia because of its selfish quest for absolute security.
The ultimate goal for imposing sanctions should be to restart talks on North Korean nuclear issue. If the above-mentioned concerns are appropriately solved, or if the crisis could be averted and turned into an opportunity, a final settlement to the North Korean nuclear issue could be achieved. Otherwise, the issue will again be caught in a vicious cycle of sanctions, more nuclear tests and more sanctions. China, the United States and all parties concerned should strengthen cooperation and communication, and try to materialize the first option and try to avoid the occurrence of the second scenario.