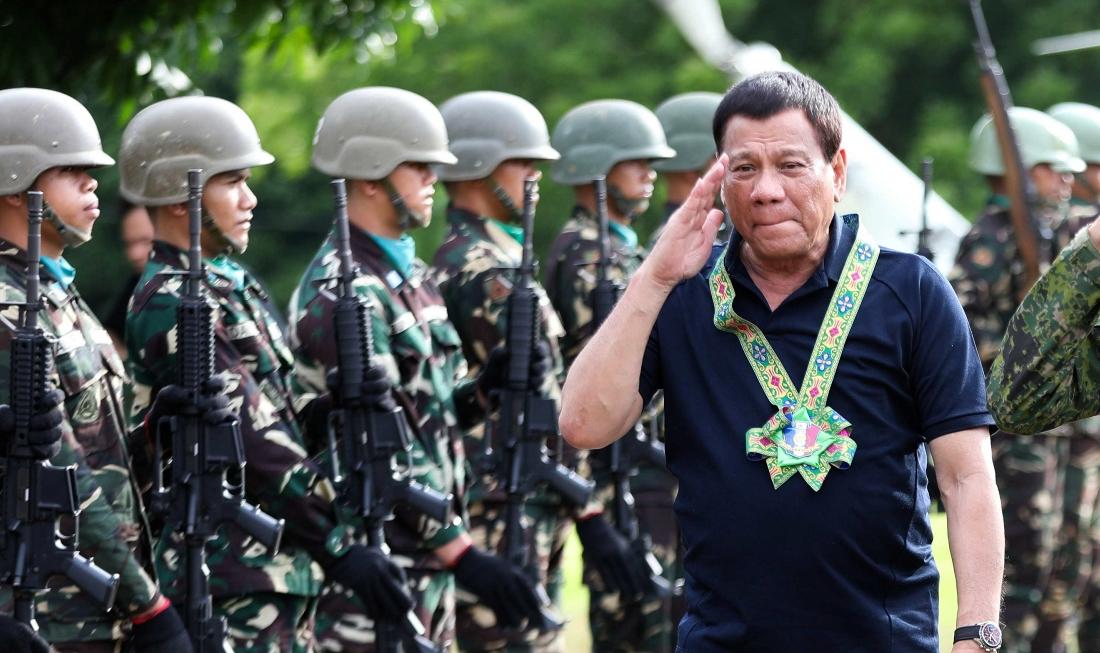 A day into Philippine President's Rodrigo Duterte's high-profile visit to Russia, he confronted a full-scale invasion on Marawi, the largest Muslim-majority city in the his home island of Mindanao. Within hours, an Islamic-State (IS) legion, led by the so-called Maute group, managed to rampage across the city, freeing prisoners, taking a priest and countless civilians as hostage, and parading the IS flag across a terrified city. They managed to also take over ammunitions as well as an armored personnel carrier from police Special Forces.
By all indications, local security forces were totally overwhelmed by the blitzkrieg attack, which was
eerily reminiscent
of how IS forces rampaged through western Iraq in 2014. Soon, the Philippine military was involved in full-scale urban warfare to take back the city. The sheer scale and speed of the attack obviously took Duterte by surprise, who had to abruptly cut his Moscow visit short and immediately declared Martial Law all across the island of Mindanao, well beyond the epicenter of clashes.
"It would not be any different from what President [Ferdinand] Marcos did," warned Duterte hours before heading home,
hoping
to deter further terrorist attacks across Mindanao and beyond. "I'd be harsh," the Filipino president added. He also warned that
he may extend
Martial Law across the country to "protect the people" against further acts of terror.
The frightening prospect of a 'distant caliphate' or Islamic State Wilayat (province) in southern Philippines
dominated
the latest edition of the Shangri-La Dialogue in Singapore (June 2-4), where 23 defense ministers and the world's leading security experts anxiously discussed the scourge of transnational terror in Asia.
In his highly-anticipated speech, the U.S. Secreatry of Defense James Mattis
expressed
"sympathy and support" and reassured that Washington will "stand with the Philippines in the fight" against the scourge of terror in Mindanao. His words carried significant weight, given
the growing role
of Pentagon in shaping American policy in Asia under the Trump administration.
Duterte's trip to Russia, just a week after his
second visit to China
in less than a year, was part of a broader effort to diversify the Philippines' external relations, reducing the Southeast Asian country's historical dependence on the United States. All of a sudden, however, the imperative of counterterrorism has brought the Duterte administration and its old allies, particularly Washington, back together. As the threat of IS intensifies, the two estranged allies are poised to patch up their differences.
A Proud Ally
The White House has vowed to provide "support and assistance to Philippine counterterrorism efforts" as a "proud ally" of the Philippines. U.S. President Donald Trump is broadly viewed as even
sympathetic
to Duterte's controversial war on drugs, which has been a bone of contention between the two allies in the past year. There
is a distinct possibility
that Duterte and Trump will hold several bilateral meetings in coming months, namely on the sidelines of the East Asia Summit (EAS) and Asia Pacific Economic Cooperation (APEC) gathering in November, if not in the White House earlier.
Notwithstanding certain
imponderables
, the likely bilateral summit could serve as a springboard for reviving one of the oldest alliances in Asia. To Duterte's delight, the Trump administration, including key officials such as Secretary of State Rex Tillerson and Secretary of Defense James Mattis, have consistently
shunned criticizing
Duterte's human rights record as well as his abrupt declaration of Martial Law, which critics fear
could undermine
democratic institutions in the Philippines.
The attack on Marawi was likely an opportunistic revenge operation after the Philippine military launched a botched raid on the safe house of Isnilon Hapilon, the
designated
Emir (chief) of IS affiliate groups in Southeast Asia. Hapilon, the leader of the notorious Abu Sayyaf group, recently
relocated
his operational headquarters to Lanao del sur, the stronghold of Maute and where Marawi is located.
Ground Support
Previously disparate and ethnically-divided extremist groups have coalesced under the flag and ideology of IS. Of particularly concern for the Philippines and its allies is the
presence
of foreign fighters among Maute's ranks, including Arab and Caucasian fighters. The full-scale internationalization of the Jihadi extremist movement in Mindanao has jolted the Duterte administration from its relatively complacency.
Throughout his first year in office, Duterte largely focused on his campaign against illegal drugs as well as negotiations with communist rebels. There was, however, limited push in terms of peace negotiations with major Islamist rebel groups, particularly the Moro Islamic Liberation Front (MILF). The resulting peace vacuum, coupled with the
IS' pivot to Asia
amid massive setbacks in Iraq and Syria, has provided a conducive environment for more radical ideological mobilization in Mindanao.
The battle of Marawi has proven particularly challenging for Philippine government. Filipino troops have struggled with the
constant dread of
Improvised Explosive Devises (IEDs) and snipers spread across the cityscape.
Friendly fire
and civilian casualties are also a deep area of concern. As a result, they have come to increasingly rely on American assistance, with Washington deploying Special Forces
to provide
technical assistance, training, and real-time intelligence for more effective military operations in the city.
Washington also provided a large volume of automatic rifles, grenade launchers, and machine guns under a $150 million grant to
help
, "enhance the [AFP's] counter-terrorism capabilities, and help protect [those] actively engaged in counter-terrorism operations in [Marawi]." Despite Duterte's tirades against the West, the Philippines has come to rely once again on its tried and tested allies.
After all, unlike Russia and China, the U.S. is the only country that has a treaty alliance with the Philippines, boasts a long history of interoperability with the Philippine army, and can provide high-grade intelligence, advanced training and large volume of advanced weaponries in accordance to a series of security agreements. The crisis in Mindanao is rapidly restoring Philippine-U.S. alliance to status quo ante.