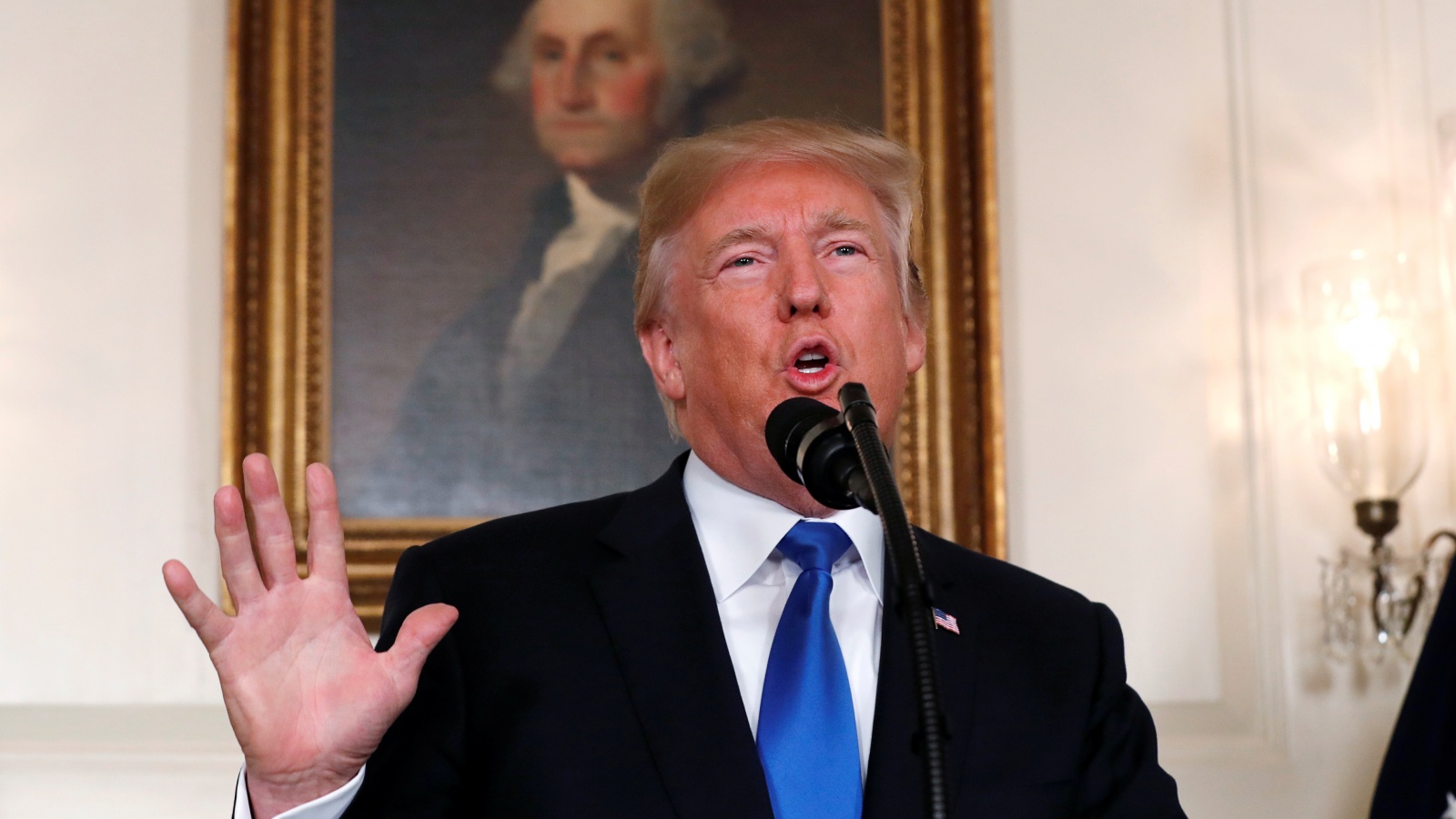 President Trump speaks about the Iran nuclear agreement at the White House (Reuters)
On October 13, U.S. President Donald Trump announced his new Iran strategy. As expected, President Trump jettisoned another part of Barack Obama's legacy, though he stopped short of withdrawing the U.S. from the nuclear deal. The new strategy will have a negative impact on a number of international issues.
In his speech, Trump strongly criticized Iran's support for international terrorism and aggression in the region. He called the regime rogue and fanatical, as Bill Clinton and George Bush's administrations had done. He also said his predecessor's nuclear deal didn't contain Iran's long-term ambition of achieving nuclear capability as it defrosted Iran's assets too quickly and subjected Iran to insufficiently tough inspections.
Trump also outlined his own measures to address the threat Iran poses. These include the U.S. working with its allies to impose new sanctions. In addition, he refused to certify to Congress that Iran had lived up to its commitments in the deal, even though the International Atomic Energy Agency recognized that it had, and threatened to withdraw from the deal.
Naturally, there are concerns about the deal's prospects, but Trump's new strategy will have limited legal effect on the deal. The Iran nuclear deal, formally called the Joint Comprehensive Plan of Action, is a multilateral deal reached between Iran, Russia, Britain, France, China, and Germany, in addition to the United States, and it was approved by the United Nations Security Council. Unilateral U.S. withdrawal will not nullify the deal at a multilateral level so long as the other parties remain committed it.
It is also not realistic to renegotiate the deal. Neither Iran nor any other parties have shown any interest in doing so. On the contrary, they all want to keep the deal. It is also extremely difficult for the United States to rally political and economic resources to renegotiate it. During Obama's presidency, major European allies strongly identified with U.S. leadership, and major partners like China and Russia strongly identified with the resolution of the Iran nuclear issue.
But things have changed greatly. Major European countries and other major global players have become increasingly dissatisfied with the U.S. since Trump took office over a wide variety of issues from the Paris Agreement on Climate Change to international free trade. European countries were particularly dissatisfied with Trump's request for them to pay a larger share of NATO's budget. Chances are slim that the U.S. can bring them together for another long-haul diplomatic effort.
However, Trump's new Iran strategy will greatly weaken the political foundations of the nuclear deal. Neither the U.S. nor Iran has any confidence in each other. As Trump refuses to honor the commitments, Iran will grow more frustrated. Iranian politicians were already complaining that Iran had not benefited from the deal as much as expected, as the deal was only implemented on paper. What they meant by this was that European companies and banks still hesitated to invest in Iran because they feared financial punishment from the U.S.
As a result, Iran's moderate government will have to face pressure from the hardliners to withdraw from the deal or at least not to seriously implement it. Tensions between the U.S. and Iran on the nuclear issue will rise, making both sides reluctant to continue implementing the deal. If so, the nuclear deal will lose its political foundation, though the legal aspect will remain. And the Iran nuclear issue will remain unresolved.
The U.S. remains the single most powerful player at international arena, while Iran is a major regional player.
Iran plays a very important role in the reconstruction of Afghanistan and Iraq, in the political solution of the Syrian crisis and in the fight against regional terrorism. Quarrelling over the nuclear issue will make Iran more reluctant to contribute to global efforts to deal with these issues. Iran might even use these hotspots and crises against the U.S., making political solutions even more complicated.
The new Iran strategy will also greatly undermine the Belt and Road Initiative (BRI). Iran is not only a major political player but also an economic hub in West and Central Asia, and should be a natural major partner in the BRI. Iran's recent efforts to build infrastructure, including railways and electric lines fits with the BRI.
But any move by Trump to impose new economic sanctions will isolate Iran's economy, which will pose a major challenge to the BRI. In addition, China's economic relations with Iran will also be affected, the area of energy cooperation in particular, since China is Iran's largest economic partner.
All in all, Trump's new strategy might not hurt the deal in legal terms, but will undermine the deal politically. The strategy will be detrimental to many regional issues.