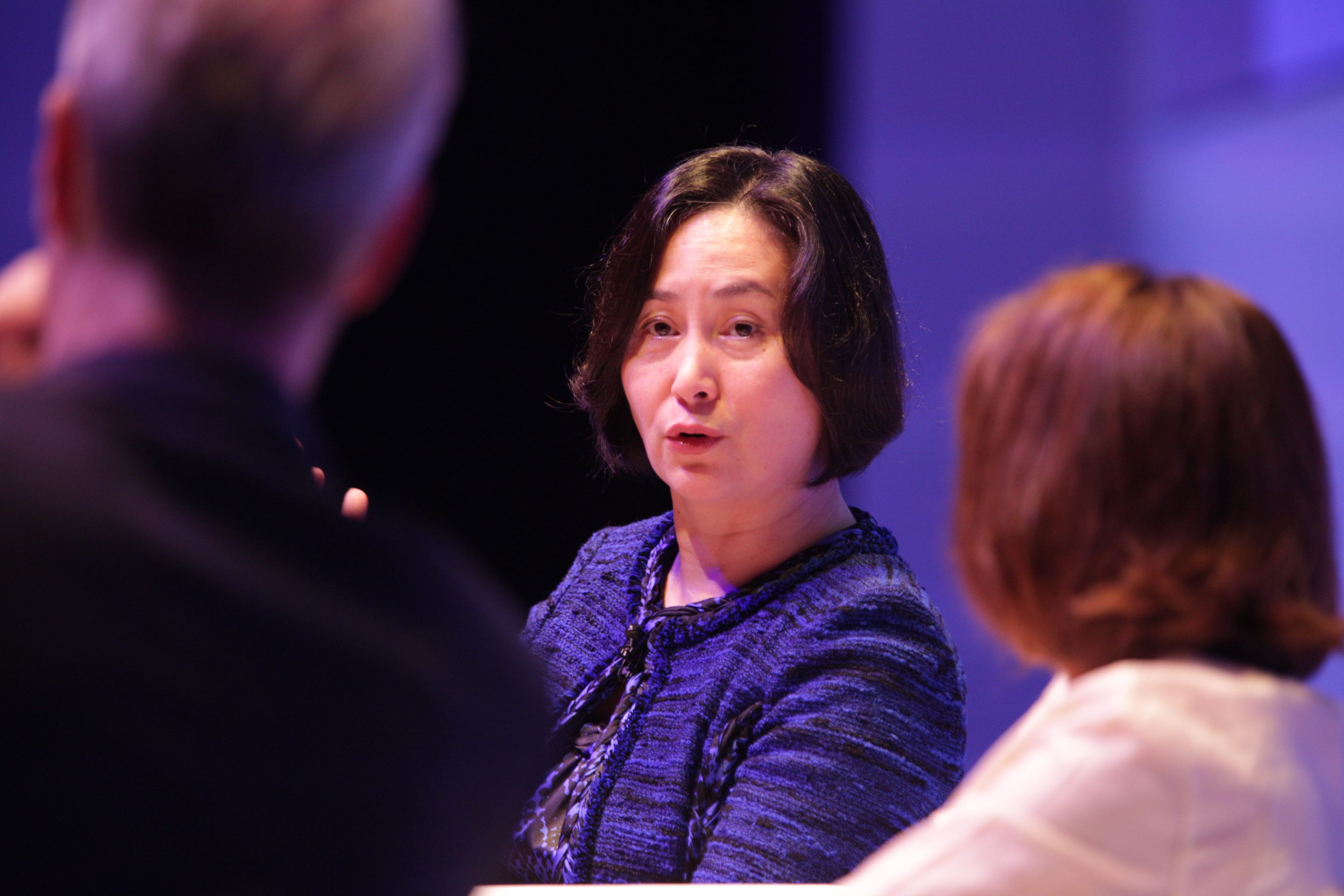 Pansy Ho, Chairperson and Executive Director of MGM China Holdings Limited and Managing Director of Shun Tak Holdings Limited
Over a century ago, China was arguably one of the worst places to be born female with foot-binding, child marriage, concubinage, and female infanticide rooted in traditional Chinese culture.[1] It has since evolved from repressing women to emancipating them.
China now has the most self-made female billionaires, creating a class of female entrepreneurs in the country who have built their wealth from scratch. According to the Hurun Richest Women in China 2017 report, 49 out of the 78 self-made female billionaires are from China. The transformation of Chinese women has in many ways mirrored the transformation of China. Few places in the world, including the United States, have seen such a significant transformation in women's roles.
The rise of the self-made woman in China can be historically derived from Mao's "half-the sky" legacy as well as the post-Mao economic reforms. Economic reform in China has seen the rise of Chinese women, particularly ambitious Chinese businesswomen. Since Mao Zedong, the Communist Party promoted gender equality, allowing women to flourish in the workforce, according to Huang Yasheng, a professor of international management at MIT. At the 2017 Global Conference on Women and Entrepreneurship in Hangzhou, Alibaba Group Chairman Jack Ma said that women are the 'secret sauce' behind the company's success. Women are well-represented at Alibaba; One-third of its founders are women and half of the sellers on TMall and Taobao marketplaces are women. In an age of e-commerce, the internet has not only enabled women to be mass consumers but also to pursue opportunities in their own right. The Internet has helped to level the playing the field and make business opportunities more accessible for women.
Since 1949, women's rights have been driven by the idea that the equal participation of women in the economy and society was necessary to advance the nation, that when more women work, economies grow. This idea has in many respects underpinned women's rights in China.
China has been accumulating wealth at a rapid pace, and has become the world's second largest economy. In time, this wealth will be passed down to the next generation, including the women. China's female empowerment trajectory is mirroring that of the United States' and is influenced by the American model of succession planning. China's rapid wealth accumulation will lead these individuals to seek ways to transfer it to the next generation. In the United States and Europe, most female billionaires secured their wealth through inheritance and many have taken the helm of family enterprises. For example, Alice Walton, the richest woman in the world, inherited part of the Wal-Mart fortune. Abigail Johnson, owns and runs American investment firms Fidelity Investments and Fidelity International, which her grandfather founded and passed to her father, who then passed it on to her.
Chinese society is following this trajectory by becoming more accepting of women inheriting businesses and taking up leadership roles in family firms. According to experts, "changing gender attitudes towards succession planning are paving the way for more women to take over businesses or to pursue entrepreneurial endeavors." Yang Guoqiang is the founder of Country Garden Group, one of the largest real estate developers in China. He transferred the majority of Country Garden's shares to his daughter Yang Huiyan in 2007 before the company's IPO, making her the richest woman in China. Similarly, Pansy Ho, the daughter of casino business magnate Stanley Ho, has taken on leadership roles at companies her father founded. She is the Chairperson and Executive Director of MGM China Holdings Limited and Managing Director of Shun Tak Holdings Limited. She is viewed as a major player in the gambling industry in Macau and is seeking new ways to capitalize on Macau's shifting landscape. Other Chinese women like Liu Qing, the daughter of Lenovo founder Liu Chuanzhi, are making a name for themselves outside of their family's original business. Liu Qing is currently the President of Didi Chuxing, the popular ride-hailing platform in China.
All this reflects a shift in Chinese women's roles. Women have traditionally played the role of caregivers in society but as women's roles evolve, so should the narratives and social norms. We need to recognize this changing social development to help men and women better understand what it means for women to move out of traditional roles and into positions of power. The television series Nothing Gold Can Stay is loosely based on the true story of Zhou Ying, a woman in the Qing Dynasty and her marriage and business endeavors. Through trial and tribulations, she revitalizes the business of her husband's family and builds a business empire. She also becomes an economic aid to Empress Dowager Cixi when the Eight-Power Allied Forces invaded China. Not only are contemporary women becoming economic powerhouses, the stories of women in business from previous generations are now coming to light in popular media. Evidently, female-driven narratives are increasingly becoming part of popular culture.
While women's empowerment in the workforce is to be encouraged, we must also acknowledge the unpaid work many women do. Just because a woman chooses to take care of her family and take a back seat on the professional front does not mean that she does not play an important role in society. This sacrifice should not be taken for weakness. It is not. It is a choice that many women grapple with on a day-to-day basis. In fact, many Chinese women control family finances, managing their husband's salaries and deciding what to spend them on. Societal and economic forces are at play to establish a more equal playing field for women where work-life balance is not just a question skewed towards women but also men. This is an exciting time in history to witness women's progress, and there is still a lot more to come.
---
[1] Kristof, Nicholas D., and Sheryl WuDunn. Half the Sky: Turning Oppression into Opportunity for Women Worldwide. 1st ed. New York: Alfred A. Knopf, 2009.