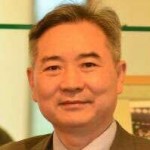 Xu Hongcai
Deputy Director, Economic Policy Commission
Professor Xu Hongcai, PhD in Economics, is Deputy Director of Economic Policy Commission.
Mar 02, 2021

The post-pandemic era provides paths that, if followed, will catapult the country into first place globally by mid-century. It will open wider, increase cooperation with international partners and make even greater contributions to the world economy.

Jan 17, 2020

A resilient China has held up well against external stresses, and the economy continues to perform well. Rural and surburban areas have the greatest potential for economic growth.

Jun 24, 2019

The benefits of Sino-US trade—new jobs, more efficient division of labor, an engine for the world economy—have seemingly been forgotten. But all is not lost. If China and the US can reconnect, new opportunities beckon: in infrastructure, energy, tech, climate change, and beyond.

Mar 20, 2017

Both economies have too much to lose by putting up trade barriers, thanks to their intricately connected markets. China and the US should build common understanding through communication at various levels and find more points of converging interests so as to avoid risks and strengthen cooperation.

Dec 29, 2016

This is the first time that "seeking progress while maintaining stability" was upgraded to an unprecedentedly high status, that is, from a methodology for economic work to an important principle for governance.

Nov 07, 2016

China's economy was stable as reported by the NBS, shaking off the negative growth of 54 months and showing that China's industrial output has escaped from the difficulty of deflation. If the short-term steady growth policy and the long-term structural reform policy can be carried out, economic growth is expected to be over 6.5% next year — despite any potential actions by the US Federal Reserve and domestic pressures.

Apr 07, 2016

Interlocking the G20 and the IMF, better coordinating the five major economies, and reducing dependence on the US dollar are all opportunities for the Hangzhou summit during China's G20 presidency.

Jul 10, 2015

The A-share market has been undergoing an unprecedented plunge since mid-June, with the benchmark Shanghai Composite Index having declined about 30% and the capitalization of listed companies having shrunk by about 20 trillion yuan (about $3.23 trillion).