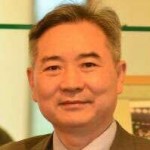 Xu Hongcai
Deputy Director, Economic Policy Commission
Professor Xu Hongcai, PhD in Economics, is Deputy Director of Economic Policy Commission.
Nov 22, 2022

Improved China-U.S. relations are within reach. The conciliatory statements by the two presidents, Xi Jinping and Joe Biden, as they met face to face on the sidelines of the G20 summit carve out a foothold that can be strengthened and expanded.

Oct 25, 2022

After the 20th Party Congress, relations with the U.S., Europe and Japan are likely to improve, as China continues to pursue high-quality development and the integration of domestic demand with supply-side structural reforms.

Jul 27, 2022

China's fundamentals are resilient and robust, and the trend points to normalcy and growth. Trade is up, inflation has been controlled, and while the U.S. Fed's rate hike pushed many currencies down, the Chinese yuan has remained stable.

Mar 24, 2022

Growth of 5.5 percent growth is possible and consistent with the country's economic expansion in recent years. One key path forward is the digital economy. Green development will help define China's high-quality economic future.

Mar 02, 2021

The post-pandemic era provides paths that, if followed, will catapult the country into first place globally by mid-century. It will open wider, increase cooperation with international partners and make even greater contributions to the world economy.

Jan 17, 2020

A resilient China has held up well against external stresses, and the economy continues to perform well. Rural and surburban areas have the greatest potential for economic growth.

Jun 24, 2019

The benefits of Sino-US trade—new jobs, more efficient division of labor, an engine for the world economy—have seemingly been forgotten. But all is not lost. If China and the US can reconnect, new opportunities beckon: in infrastructure, energy, tech, climate change, and beyond.

Mar 20, 2017

Both economies have too much to lose by putting up trade barriers, thanks to their intricately connected markets. China and the US should build common understanding through communication at various levels and find more points of converging interests so as to avoid risks and strengthen cooperation.