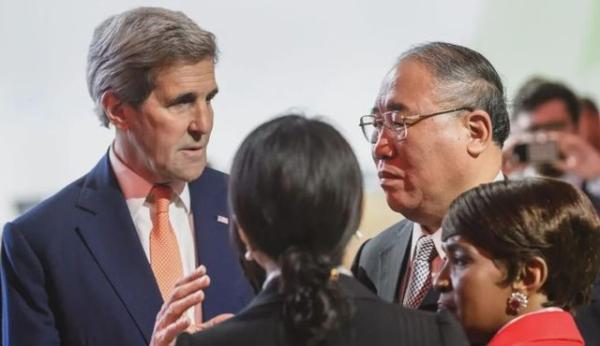 (File photo: John Kerry and Xie Zhenhua)
Recently, China and the United States have had intensive interactions on climate, with good communication from the leaders to the working level, which seems to have got things going for bilateral climate cooperation. As their relationship stands at a critical moment, people of vision in both countries hope climate change will serve as a strategic link for the stability of China-U.S. relations.
Meanwhile, after decades of ups and downs, global climate governance has also reached a critical juncture. The international community has high expectations for China and the U.S. working together for new breakthroughs. For all these reasons, possible China-U.S. climate cooperation is laden with political hope. It also faces a lot of resistance. How to push forward the cooperation in the future is particularly important.
On April 16, John Kerry, the U.S. special presidential envoy for climate, visited China and talked with his Chinese counterpart, Xie Zhenhua. The two issued a joint statement addressing the climate crisis. The statement outlined the general direction for China-U.S. climate cooperation through national actions, mutual support and multilateral coordination. It is based on the experience of climate cooperation over the past decades and takes into account the current reality of bilateral relations. The document is fairly specific, balanced and pragmatic. The two countries should disregard interferences from now on and proceed from easier issues to more difficult ones in all three aspects of climate cooperation.
First, they will find it easier to produce results in their respective actions — that is, the climate commitments they have respectively declared. In the absence of a strong binding mechanism for global climate governance, the two leading emitters making roughly equivalent and mutually accepted self-action commitments in bilateral statements is an important form of cooperation and a significant boost to global emissions reductions.
In the Xie-Kerry joint statement, the two countries vowed to develop by COP 26 in Glasgow their respective long-term strategies aimed at carbon neutrality/net-zero GHG emissions, implement the Kigali Amendment to the Montreal Protocol, continue increasing deployment of renewable energy and advance energy-efficient buildings and low-carbon transportation.
Last year, China announced its carbon peak and neutrality targets and updated its intended nationally determined contributions. It also began the process of accepting the Kigali Amendment during Kerry's visit. The country leads the world in renewable energy installation and low-carbon transportation development. Therefore, it is not difficult for China to complete the national actions described in the joint statement.
The hard question is whether America can deliver on its promises. President Biden reversed the previous administration's negative climate policy and proposed a series of ambitious climate actions. Whether those will be implemented remains unknown. Republicans and conservative Democrats are skeptical of Biden's climate policies, arguing that they are not based in American reality and will cause massive job losses and undermine American competitiveness. On the other hand, Democrats on the left and environmental groups criticize those policies as being too conservative and are not yet ready to give their support.
Second, China and the U.S. are likely to achieve results in multilateral coordination. By coordinating their positions through global multilateral action to address climate change, they may help achieve multilateral results. From 2013 to 2016, China and the U.S. conducted fruitful coordination and played a key role in reaching the Paris agreement together with other parties. Obviously the two are able to carry out climate cooperation on multilateral occasions.
COP26 is scheduled to take place in Glasgow, Scotland, in November. It is to complete negotiations on the remaining details of the implementation of the Paris agreement and promote the agreement's full, balanced and effective implementation, thus creating a fair, reasonable, collaborative and win-win global climate governance system. Whether the meeting will be successful will depend to a large extent on coordination between China and the U.S. The recent joint statement confirms in retrospect their joint efforts to advance the Paris agreement and declares that they will work together for COP26 to succeed with dramatically increased global climate ambition in mitigation, adaptation and support. It signals to the outside world that China and the U.S. recognize previously existing channels of cooperation and will develop practical communication based on the reality of their relations. The results will be worth the wait.
Finally, it may be relatively more difficult for China and the U.S. to provide mutual support in climate cooperation. The U.S., in particular, may need to make a greater effort. By mutual support, I mean that China and the U.S. support each other's climate action plans. This will help them to tap their mutual complementarity and make the climate cooperation more substantive.
Overall, supporting each other at the international level is relatively easy, while supporting each other at the domestic level will likely encounter greater resistance. On April 22, Chinese President Xi Jinping addressed the U.S.-hosted Leaders Summit on Climate via video link. The U.S. also stated its support for the upcoming CBD COP15 to be hosted by China. However, at the domestic level, as climate cooperation is closely related to climate science, energy technology and new materials, it is inevitable that greater resistance will be encountered. For example, with advanced technologies in carbon capture and storage and with greater energy efficiency, the U.S. can effectively reduce carbon intensity.
But some people in the U.S. are reluctant to export these technologies to China. At the same time, China has strong manufacturing capacity for renewable energy equipment, but some in the U.S. fear that importing Chinese products will widen its trade deficit and create dependence on China. In this regard, China and the U.S. may first discuss principles and then move toward more practical action.
As China and the U.S. experience the most difficult period in their bilateral relations, with new circumstances, they need to find a new paradigm of interaction. New experience in climate cooperation, if achieved, may serve as a demonstration for other areas. Then, hopefully, climate cooperation will offer a buffer in bilateral relations and have greater political significance beyond climate change.