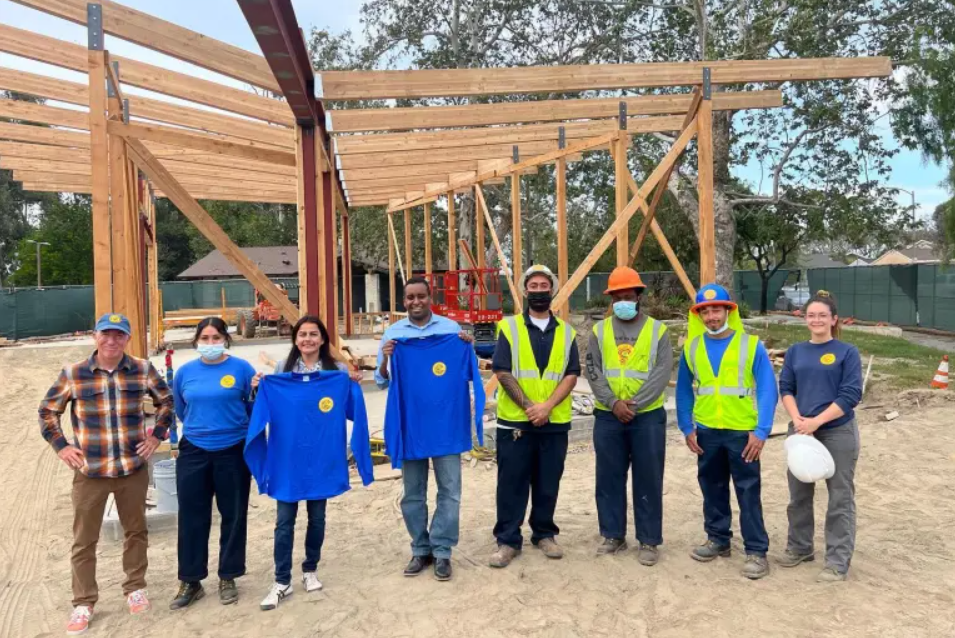 Conservation Corps and green space advocates Congresswoman Barragán (CA-44) and Congressman Neguse (CO-2) visited CCLB's new Lower LA River Environmental Education Center at DeForest Park in North Long Beach. (Photo source: The California-China Climate Institute)
The State of California has been at the forefront of environment change and climate change efforts for years now. Last week, California Governor Gavin Newsom met virtually with Huang Rungiu, China's Minister of Ecology and Environment, to renew a Memorandum of Understanding, initially agreed to in 2018, to advance cooperation on initiatives to reduce carbon emissions, "accelerate nature-based climate solution," combat air pollution, and prioritize clean energy development.
The MOU aims to encourage further collaboration between the two parties on three main objectives: 1) protecting the natural environment, including reducing air pollution and carbon emissions, 2) actively combating climate change, to achieve carbon neutrality, and 3) advancing the research, development, and innovation of clean energy. These objectives are further broken down into areas of cooperation, some of which include the protection of biodiversity, achieving carbon-neutrality, and investment in climate-resistant infrastructure (including zero-emission vehicles) and green finance. Initiatives under the MOU will be spearheaded by the California-China Institute at the University of California, Berkeley. This Institute was founded specifically to aid climate policy research efforts by both California and China.
What drew these two partners together? Today, China is the world's largest emitter of greenhouse gases, but the United States is not too far behind. Both countries are currently dependent on fossil-fuel-reliant energy systems and are challenged with moving to clean energy systems. On the other side of the spectrum, California, a state known for its proactive approach to climate change, exceeded its 2020 climate change target four years earlier than scheduled, and has built partnerships both nationally and internationally, rather than waiting for federal climate legislation from Washington DC to catch up.
What China and California have in common are thriving clean energy markets. From 2013 to 2017, California has attracted half of all North American venture capital for clean energy. Similarly, in 2017, EY "ranked China the world's most attractive market for renewable energy, and more than a third of the world's largest publicly listed clean tech companies are China-based." With these two markets committed to investing in renewables and clean energy, the opportunities for collaboration are endless.
One example of an area of collaboration is the focus on air pollution. Chinese citizens currently face high levels of smog, similar to what citizens in mid-20th century Southern California faced. To increase quality of life for its urban citizens, China has taken a page out of California's "policy playbook" by implementing its own national emissions trading system, inspired by California's cap-and-trade program.
Another area of collaboration are new-energy vehicle markets – China's NEW market is the fourth-largest auto market in the world, and still growing, according to China Daily. Wang Yunshi, director of the China Center for Energy and Transportation at the University of California-Davis, said that in 2022, the percentage of Chinese car users who have purchased an electric vehicle is expected to reach 20%, up from 15.5% the year before, and from 6.2% in 2020. According to a report published by the Government of California, as of Feb 25th, 2022, California now accounts for over 40% of all zero-emission cars in the United States and has sold "more than the total sales in the next 10 states combined." Governor Newsom is building on this market dominance, creating a $10 billion ZEV package to make zero-emission vehicles affordable and convenient for all citizens of the state.
According to Frank Girardot, a senior official at a Chinese electric car company operating in the U.S., the encouraging data coming out of China can play a huge role in demonstrating the need for and success of ZEVs to consumers and policymakers in the U.S.. While the two parties continue to increase their collaboration, these efforts extend back several years. In 2017, when then-Governor of California Jerry Brown met with Chinese President Xi Jinping, he said, "China is leading. California is leading… California-China cooperation has taken a real leap forward."
Other climate collaboration agreements between China and California include the establishment of a California-Sichuan Clean Tech Innovation Center and Clean Technology Partnership Fund, and the U.S.-China Climate Change institute, a joint initiative with the State of California and Tsinghua University to connect researchers with government officials to collaborate on climate solutions. In fact, in 2013, China's National Development and Reform Commission signed its first ever MOU with a subnational government (California) committing to joint efforts to support low carbon development. These agreements were further strengthened despite former U.S. President Trump's resistance to climate change policy and environmental protection, demonstrating that while the U.S. may not yet be in a place to tackle climate change at the federal level, state governments are well positioned to step up and take the lead.
U.S.-China collaboration on a variety of issues, economic and political, has weakened over the last few years. Friction between the two countries over human rights violations, trade, and security issues has been widely reported on globally. According to Nathaniel Keohane, president of the Center for Climate and Energy Solutions, "There's no solution to climate [issues] without the U.S. and China moving in the same direction." Both countries seem willing to work independently towards climate change goals – for example, Chinese President Xi announced that China would achieve carbon neutrality by 2060, and U.S. President Biden aims to decrease U.S. emissions to 50% below 2005 levels by 2030, but both countries have a long way to go in forging strategic partnerships. The U.S. has been openly critical towards Chinese policies and China is reluctant to imply any kind of kowtowing to the United States. Credibility on both sides needs to be earned, and thinking of climate change as a standalone area of national-level cooperation is not likely to yield too many results.
How Biden and Xi will overcome their difficulties and put in place mutually beneficial climate change legislation remains to be seen, but one thing is clear, with these two superpowers working together, climate change action will be stronger than ever before.