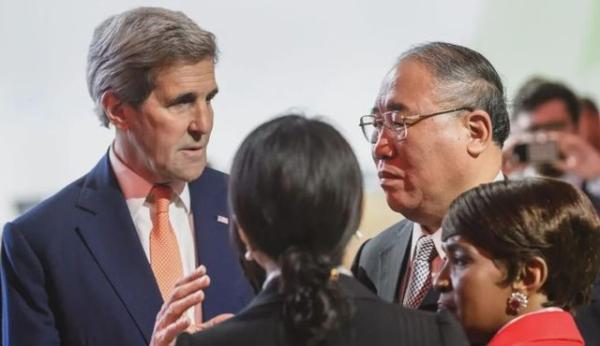 A month after senior U.S. and Chinese diplomats traded tough words during a face-to-face meeting in Anchorage, Alaska, John Kerry, President Joe Biden's special climate envoy, traveled to Shanghai for meetings with his Chinese counterpart, Xie Zhenhua, in an attempt to carve out climate change as a separate, stand-alone issue that requires the world's two largest greenhouse gas emitters to work together.
Kerry's visit should be applauded, as there is a growing consensus around the world that the United States and China share common interests in advancing a global transition toward a cleaner and sustainable low-carbon future. Also, China-U.S. climate cooperation will help persuade other major carbon emitters to shoulder greater international responsibility, thus helping to promote a global low-carbon agenda.
The Shanghai consultation proved to be a constructive one. The two special envoys released a joint statement saying in part that "the United States and China are committed to cooperating with each other and with other countries" by taking short- and long-term actions to tackle the climate crisis.
However, given the frosty state of bilateral relations, Kerry's China trip was controversial in Washington. It has already drawn fierce criticism from some U.S. politicians for sending a wrong signal to Beijing that the United States intends to compromise on security, economics and human rights issues in exchange for climate cooperation.
Facing domestic pressure, Kerry told the Wall Street Journal ahead of the journey that he would hold China to account on its climate pledges. When talking with Xie in Shanghai, Kerry also urged China to set even more ambitious climate targets. On the same day, Biden himself hosted Japanese Prime Minister Yoshihide Suga in the White House, where the U.S.-Japan climate partnership was officially announced.
Meanwhile in Beijing, President Xi Jinping engaged in talks with German and French leaders on greater climate cooperation with the European Union. Over the past four years, Beijing and Brussels have remained committed to their set contributions to the Paris Agreement and went ahead with collaborative programs on clean energy through financial, technological and industrial cooperation, even though the Trump administration had hampered the global effort.
To some extent, the Shanghai consultation along with other parallel climate talks have indicated an emerging "coopetition" between the United States and China, in a bid for global climate leadership.
Without doubt, Biden has brought his country back to the global race toward zero emissions. Just seven weeks into his presidency, Biden seems to have offered reason for optimism, signing six executive orders focused on a $2 trillion clean energy transition program that is expected to boost economic growth and create millions of jobs.
Like its predecessor, the Biden administration perceives China to be the biggest strategic competitor of the United States. This deep-rooted "zero-sum game" mentality and geopolitical mindset may well hold the China-U.S. climate cooperation hostage and further exacerbate the dilemma of collective action in the realm of global climate governance. The domestic hindrance to climate action in the United States — conflicts between various interest groups, the tide of anti-intellectualism and the misleading rhetoric now prevalent among the climate skeptics — may also restrict the level of China-U.S. climate cooperation.
But without cooperation from Beijing, Biden's grandiose plans to help the United States reclaim its climate leadership will never get far down the road. Likewise, China's ambitious goals of a carbon dioxide emissions peak by 2030 and achieving carbon neutrality by 2060 will also be hard to attain if the country cannot accelerate the green transformation at home and take joint leadership of climate governance abroad. In this sense, the China-U.S. climate coopetition needs to be well managed.
As major countries around the world have all embarked on their transitions toward zero-carbon economies, China and the United States need to explore a new leadership model for global climate governance to fulfill their own great-power responsibilities. Both countries should first give play to head-of-state diplomacy and summit diplomacy as strategic points in China-U.S. climate cooperation. Presidents Biden and Xi should reinforce their coordination at such multilateral venues as the Leaders' Climate Summit on Earth Day, the Major Economies Forum on Energy and Climate, COP15 to the Convention on Biological Diversity, COP26 of the UNFCCC, the G20 and APEC to promote international climate governance in the post-Paris era.
Moreover, China and the United States need to focus on climate adaptation and low-carbon transitions as key ground upon which intellectual sharing and collaboration can take place, so as to form a competitive but healthy relationship. The two countries also need to expedite the re-initiation of sci-tech dialogue on climate by maximizing common ground and shelving differences, given that technological cooperation is the guaranteed path to tackle the climate crisis. And they must deepen their exchanges on approaches to low-carbon transitions at the local level through city alliances and industrial parks, pushing for regional economic transformation.
Finally, China and the United States can join hands to strengthen collaboration in building carbon market and climate financing mechanisms and expand bilateral investment channels to incentivize low-carbon innovations by means of green finance.
Since President Xi took office as China's top leader, one of his famous metaphors — "Mountains and rivers green are mountains of silver and gold" — has become the fundamental principle of China's ecological development and guidance to address climate challenges.
As Xi put it to Kerry when the latter was serving as U.S. secretary of state under Barack Obama in February 2014: "It's not that anyone asks us to do it, but we ourselves take the initiative to do it. We have taken many measures and will continue to do so in the future."
By contrast, Washington is flip-flopping. Four years ago, Trump withdrew the United States from the Paris Agreement. Today, it is back under President Biden, but it needs to do more to combat the climate crisis on both the domestic and international fronts. Kerry's visit was a good start, and the whole world will benefit if Washington can manage climate coopetition with Beijing.