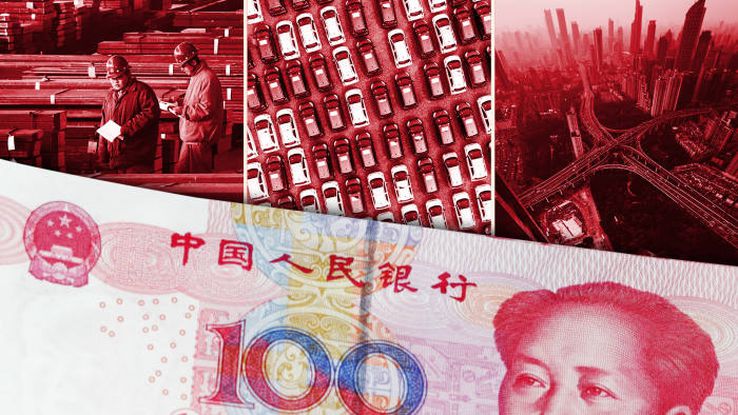 The National Bureau of Statistics of China recently released national economic performance data for August. It shows that China's economy has bottomed out and the recovery of major indicators has accelerated, indicating that a series of measures taken by the Chinese government to boost domestic demand have achieved results.
However, the data also show that, because of internal and external challenges, there are still certain constraints in the fields of exports, consumption and investment, providing space for better comprehensive policies and more precise efforts in the next step.
On the whole, the national economy continued to recover in August:
• First, production and supply growth accelerated. In August, the added value of industries above a designated size nationwide increased by 4.5 percent year-on-year — 0.8 percentage points faster than the previous month. The service industry production index increased by 6.8 percent year-on-year, and the growth rate accelerated by 1.1 percentage points from the previous month.
• Second, domestic demand is expanding steadily. Market sales are recovering at an accelerated pace. In August, the total retail sales of consumer goods increased by 4.6 percent year-on-year, and the growth rate accelerated by 2.1 percentage points from the previous month. In particular, service retail sales maintained rapid growth. From January to August, service retail sales increased by 19.4 percent year-on-year. And the scale of investment continues to expand. From January to August, fixed asset investment (excluding rural households) increased by 3.2 percent year-on-year, of which investment in key areas maintained rapid growth, with infrastructure investment increasing by 6.4 percent year-on-year, and manufacturing investment by 5.9 percent.
• Third, the employment situation is improving. The national urban surveyed unemployment rate has declined, reaching 5.2 percent in August, a decrease of 0.1 percentage points from the previous month. The relationship between market supply and demand also improved, with CPI turned from falling to rising year-on-year, and the decline in PPI narrowed. And CPI increased by 0.1 percent year-on-year in August, and the decline of PPI narrowed by 1.4 percentage points from the previous month.
• Fourth, the trend of economic transformation and upgrading continues. Innovation momentum continues to grow, and new products are emerging rapidly. In August, the output of service robots and civil aircraft increased respectively by 73.7 percent and 33.3 percent. And the output of new energy vehicles and charging piles increased respectively by 13.8 percent and 17.4 percent. Further, the digital economy has been playing an increasingly obvious role in promoting development. In August, the added value of special equipment manufacturing for the electronics industry and electronic device manufacturing increased by 15.7 percent and 13 percent respectively.
Overall, in August, major indicators have improved marginally, as positive factors have accumulated. However, because of many external factors of instability and uncertainty, domestic demand is still insufficient, and the foundation for economic recovery still needs to be consolidated. In particular, both favorable and unfavorable conditions exist in exports, investment and consumption, which are considered the three major engines of economic growth in China's context.
As far as exports are concerned, given the impact of high inflation this year, major economies have continued to raise interest rates, the world economy is facing contractionary pressure and global trade growth is weak — all of which have become a common challenge faced by all economies.
Looking at China's situation — and noting that it has been affected by factors such as the downturn in global trade, the rise of protectionism and the high base of the previous year — the growth rate of imports and exports fell back from the same period last year. However, compared with related countries, it still showed a relatively high growth rate. In the first eight months, the import and export scale of goods was basically the same as the same period last year, with a slight decrease of 0.1 percent year-on-year, of which exports increased by 0.8 percent.
Judging from the month of August, the import and export scale was at a relatively high level. If the impact of base fluctuations in the same period last year is deducted, import and export operations overall are basically stable.
Although investment growth has slowed since the beginning of this year because of the impact of adjustments in the real estate market, investment in key areas has continued to grow rapidly, with the investment structure continuously optimized.
In the first eight months, infrastructure investment has increased by 6.4 percent year-on-year, particularly in new infrastructure, such as charging facilities, industrial internet, and data centers. The growth of manufacturing investment is also accelerating. Equipment manufacturing, for example, increased by 14.3 percent, and automobile manufacturing increased by 19.1 percent.
However, fixed investment in the first eight months fell 0.2 percentage points from its previous value. Investment in real estate development also fell by 8.8 percent, and sales of ​​commercial housing nationwide decreased by 7.1 percent year-on-year. At the same time investment in the primary industry decreased by 1.3 percent year-on-year, and private investment fell by 0.7 percent.
In the domestic consumption arena, the service consumption market continues to recover rapidly, with cultural, tourism and online consumption being the major highlights. This has been substantially due to the effective implementation of consumption-promoting policies focusing on six major aspects: stabilizing bulk consumption, expanding service consumption, promoting rural consumption, expanding new consumption, improving consumption facilities and optimizing the consumption environment. Additionally, there was a boost from strong summer consumption.
However, personal consumption ability and willingness to consume still need to be improved. The recovery of residential commodity sales is lagging behind. The foundation for restoring and expanding consumption needs to be further consolidated.
In the next stage, with the country's increasing support for the private economy, the import and export vitality of private enterprises will continue to be released. It will also play a positive role in stimulating the vitality of private investment. With the effective play of government investment and policy incentives, efforts to stabilize the real estate market and expand domestic demand will gradually take effect. Given this, recovery is a high probability.