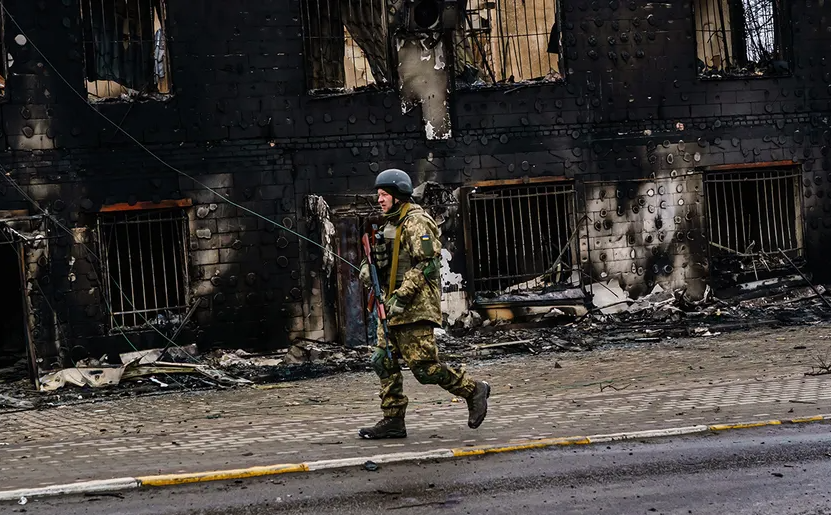 The Ukraine crisis has hit the world economy badly. The United Nations Conference on Trade and Development has revised down its forecast on world GDP growth from 3.6 percent to 2.6 percent. The IMF is set to revise downward its estimate for global GDP growth this year in its World Economic Outlook, to be released on April 19. Britain's National Institute of Economic and Social Research estimates that the sharp rise in energy and food prices will drain $1 trillion of world GDP, or 1 percentage point, by 2023 and enhance the world inflation rate by 3.0 percentage points this year and 2.0 percentage points in 2023. Ukraine is the worst-hit country, with a 50 percent GDP decline for this year estimated by Ukrainian Ministry of Economy on April 3. The Russian economy will also suffer a serious setback. Russia's central bank estimates an 8 percent drop in 2022 GDP.
The Federal Reserve in the United States has already cut its estimate of U.S. GDP growth to 2.8 percent for this year. U.S. exports and imports in March were 3.4 percent and 0.6 percent lower, respectively, than a year ago. The U.S. inflation rate, already at a 40-year high, will continue to rise. Europe will see a larger reduction in the rate of growth.
The European Union just experienced a sharp drop in manufacturing PMI in March at 55.3 — down 1.6 points from February (56.9). Its exports for the month fell by 5.6 percent year-on-year, and imports were down 3.4 percent. The European Central Bank has revised down its estimated 2022 Eurozone GDP growth to 3.7 percent, compared with its previous estimate of 4.2 percent.
The Eurozone economy has not fully recovered from COVID-19 yet. During 2020 and 2021, it had an aggregate negative GDP growth (-1.5 percent). Now its recovery will lose steam again. To make matters worse, the Ukraine crisis has further fueled Europe's inflation, which was already at a 40-year high. According to Eurostat, PPI in the EU shot up 31.1 percent year-on-year in February, driven by an 83.6 percent rise in the energy sector. Without a doubt, the Ukraine crisis will drive the figure considerably higher.
Higher energy costs mean higher production costs for European manufacturers, as well as skyrocketing utilities costs for European families. China will also feel the pain of soaring energy prices and disruptions in a number of global supply chains, thus facing unexpected challenges in meeting its 5.5 percent GDP growth goal for 2022.
However, the top concern is a profound crisis in emerging and developing economies, especially the lowest-income and least-developed countries. They have not shaken off the grave COVID-19 shock, which brought 100 million or more people back to absolute poverty. Now they have to suffer a new crisis.
Soaring oil and gas prices have lifted the import bill and fiscal pressure in selected Middle Eastern and North African countries. Every $10 rise in the price of oil will add 0.3 percentage points of fiscal deficit in Turkey and 1.3 percentage points in Lebanon. Egypt, Tunisia, Ghana and Kenya face similar difficulties. Egypt, for instance, has depreciated its currency by 15 percent and turned to the IMF for financial relief.
The most significant risk lies in a possible food crisis in low-income developing countries. World food prices, following a hefty rise of 40 percent in 2021, have been soaring in the wake of the Ukraine crisis. The World Food Price Index for March 2022, published by the UN Food and Agriculture Organization on April 8, hit 159.3, the highest since its creation in 1990. It rose by 12.6 percent from December 2021, with grain up 17.1 percent and oilseeds up 23.2 percent.
Russia and Ukraine combined account for 40 percent of world grain exports, with wheat accounting for one-third of the global supply. According to UNFAO, 35 percent of the world's people eat wheat flour, and 50 countries have at least 30 percent import dependence on Russia and Ukraine.
The war and sanctions on Russia have caused major supply and logistics disruptions, hitting sub-Sahara Africa particularly hard, since 85 percent of the region's grain supply depends on imports and one-third of those imports come from Russia and Ukraine. In West and Central Africa, 6 million urban citizens already suffer from inadequate food supplies, and 6 million children suffer from malnutrition. Krystalina Georgieva, the IMF president, has already warned of an imminent famine in Africa. UN Secretary-General Antonio Guterres appealed urgently on March 14 that, in the event of Russia-Ukraine conflict, all countries take action to prevent the disintegration of the world food system, which would lead to a major famine.
A Reuters report on April 4 said the implications of the Ukraine war have started harming frontier economies, mainly in South and Central Asia and in Africa. Because of COVID-19, the total external debt of those economies increased sevenfold, from $500 billion to $3.5 trillion. The Ukraine crisis and subsequent soaring energy and food prices, together with supply chain disruptions, have caused external debt to deteriorate further. The World Bank has warned that a dozen low-income developing countries will experience debt defaults next year, which will be the largest debt crisis in developing countries in 30 years.
The Ukraine crisis has also caused a worldwide slowdown in manufacturing activity. Manufacturing PMI in March fell everywhere, with the sharpest fall in Africa, with March PMI at 50.8 — 2.0 percentage points down from the previous month and just barely above the contraction line.
Developing countries, low-income ones in particular, will be the world's largest victim of the Ukraine crisis. They are not in Europe and are not involved in the war. Yet, billions of their people will suffer soaring energy costs, hunger, poverty and debt.
The war must end as soon as possible. Russia-Ukraine talks should resume and find agreement at an early date. The international community should agree on concerted action to push for talks and an ultimate peaceful settlement because the whole world is suffering, especially poor countries and their people.