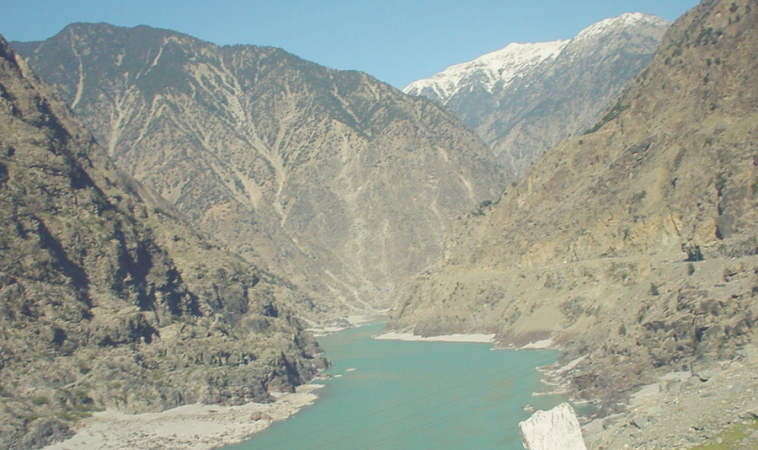 On November 14, 2017, Pakistan dropped its bid to have the Diamer-Bhasha Dam financed under the China-Pakistan Economic Corridor (CPEC) framework. CPEC, often described as "a framework of regional connectivity," is a collection of infrastructure projects currently underway in Pakistan that aim to rapidly modernize its infrastructure. The ambitious dam project, which is expected to cost $14 billion, will produce 4500 megawatts of electricity and will be the largest roller-compacted concrete dam in the world. The project has been facing setbacks since 2012, when both the World Bank and the Asian Development Bank refused to fund the project, citing its problematic location in disputed territory as their reason.
Ahsan Iqbal, the Federal Minister for Planning & Development in Pakistan, was quoted in June 2017 as promising work on the dam would begin in the next financial year. However, now, almost six months past that deadline, the current Chairman of Pakistan's Water & Power Development Authority (WAPDA), Muzammil Hussain, has claimed that the conditions stated by the Chinese for financing Diamer-Bhasha "were not doable and against our interests". These conditions included the Chinese ownership of the project, including operation and maintenance, and the securitization of the Diamer-Bhasha project by pledging another operational dam.
In 2013, despite Pakistani Finance Minister Ishaq Dar's claim that not only were the World Bank, Aga Khan Development Network, Aga Khan Rural Support Program and the Asian Development Bank on board, but that work would begin on both the Dasu and Diamer-Bhasha dams simultaneously, little progress was made. Also in 2013, former-WAPDA Chairman Syed Raghib Abbas Shah claimed 17,000 acres of land had been acquired as the first step in the construction process. Despite these pronouncements, four years later, work has yet to begin. In fact, according to an article in The Hindustan Times, traditional ground-breaking ceremonies for the project have been performed five times since the idea was first announced in January 2006.
In a November 16, 2017 First Post article, Chinese Foreign Ministry spokesman Geng Shuang told the media he was not aware of any information regarding Pakistan's dropped bid, and reaffirmed the smooth operation of CPEC initiatives between the two countries. While complications in one hydro-power project are not expected to impact the larger $46 billion CPEC collaboration, and Pakistan and China's "all-weather friendship", it does signal sensitivities in China's push to enhance its influence in the region. An economic corridor in Pakistan, while inevitably boosting Pakistan's economy with projects such as a super-highway and a new nuclear reactor, will also connect China with South and East Asia, and provide direct access to the Indian Ocean. Disagreements over the details of Diamer-Bhasha alone are not likely to rock the firm foundation that has been established between the two countries. In fact, according to Zhao Gancheng, South Asia studies expert at the Shanghai Institute for International Studies, "It will not be a big surprise if similar problems happen in China's future overseas projects. And that would not change the big picture."
What makes this dam so critical? Why does Pakistan continue to push for it, despite protests from India, resistance from donors, and a lack of domestic liquidity? The answer lies in agriculture, the backbone of Pakistan's economy. With one of the world's fastest growing populations – over 204 million as of July 2017, with a 2 percent annual growth rate – Pakistan quite literally has many mouths to feed, and is facing a serious shortage of food grains. Ability to regulate rivers and store water is limited, and existing water storage capacity is decreasing annually due to sedimentation at the Tarbela, Mangla and Chashma reservoirs. Beyond these pressing concerns, electricity is also a key concern. The gap between supply and demand in May 2017 fluctuated between 5,000 and 7,000 megawatts, more than the Diamer-Bhasha could provide even if it was currently operational. Within the project's 10-12 year timeline, demand for power is only expected to rise, and extensive power cuts will increase. Currently, they run from six to eight hours in densely populated urban spaces, and up to eighteen hours in rural areas.
What happens now? Whether Pakistan will be able to save Diamer-Bhasha from another round of setbacks remains uncertain. Currently, WAPDA Chairman Hussain has gone on record saying the government will provide Rs. 30 billion ($284.7 million) per annum to the project for a duration of nine years, drawing from the Public Sector Development Programme, and WAPDA itself would contribute, generating 20 percent equity from its own resources. Despite the government's promise of a total contribution of Rs. 270 billion, Hussain also mentioned financing would be sought from commercial sources. What these sources will be and how reliably the country can depend on them remains unsaid, and signals to many that Diamer-Bhasha is far from being a done deal.
What's clear is this: Pakistan is about to undergo a lengthy and taxing process of economic development and growth. The infrastructure, human resources, and financial capacity necessary will likely strain the country for years to come. Considering Diamer-Bhasha a strictly national concern only adds to a burden that is already heavy, and trying to involve another donor may push the wrong buttons with the Chinese. Pakistan has chosen a path that values independence and sovereignty, but may not be able to make good on its promises.