As coronavirus stifles global demand and Beijing and Washington intensify their rhetoric, it is unclear what will follow if President Trump's touted trade deal actually fails. The pandemic prevents Beijing from fulfilling key obligations in the deal, and, reluctant to pressure China too hard, Trump is considering punitive measures that will not inadvertently hurt the US economy. In response, China's foreign minister Wang Yi recently warned that Washington's words and measures could provoke a new Cold War. The rivalry, combined with reciprocal cynicism over the pandemic and its subsequent economic fallout, could effectively kill the trade deal. If so, a slow and methodical 'decoupling' that some anticipated months ago could actually resemble a chaotic and abrupt divorce.
President Trump, as a primary decisionmaker, appears thoroughly upset about coronavirus' impact on US-China relations. He routinely expresses disappointment with Beijing's initial response to the coronavirus, mentioning that it could ruin the US-China trade deal altogether and lead to eventual sanctions. Some claim that increased conflict between Beijing and Washington benefits Trump by isolating a clear scapegoat and enemy responsible for the pandemic. However, a struggling trade deal delegitimizes what would otherwise appear to be a diplomatic triumph. Further, angered by China's response to the pandemic, Trump can only consider punitive measures toward Beijing that will not harm the US economy. Any more damage to the economy, corona-related or not, could hurt Trump's reelection chances in November. The president's choices are somewhat confined. Despite Trump's concerns, US Trade Representative Robert Lighthizer and Treasury Secretary Steven Mnuchin both pledged their efforts to salvage the deal by creating favorable conditions and promoting cooperation in the economy and public health. The United States Trade Representative, for the last few months, also stated that both China and the US continue to create necessary infrastructure for the implementation of the deal. According to statements, both sides will meet obligations under the agreement despite the current crisis. Chinese Vice Premier Lui He expressed similar views to Lighthizer and Mnuchin, along with the Chinese Ministry of Commerce. There is a concerted effort on both sides to present the trade deal as alive and well. However, when analyzed closely, current numbers suggest that China will not be able to meet key obligations in the deal.
Key sections of the deal cover (1) intellectual property protections, (2) trade in food and agricultural goods, (3) financial services, and (4) the general expansion of trade. Beijing is expected to enhance protection in trade secrets, pharmaceutical-related intellectual property, and the online sale of counterfeits. To supplement these measures, China should focus on work guidelines and quarterly implementation reports, in addition to an action plan. The deal also sets levels for Beijing's import of American farm and food products. Jeopardizing this provision with intensified corona-related rhetoric could hurt Trump in key electoral states. Mutual tariffs or sanctions would certainly further depress a precarious US economy. The deal also requires China to remove financial foreign equity caps in insurance, securities, and futures. However, the most threatened provision is the requirement of China to purchase at least $200 billion in US goods and services in 2020 and 2021 when compared to levels in 2017.
The $200 billion goal already appears doubtful. So far, coronavirus suppressed demand decreased US imports by 5.9% during the first four months of 2020 as compared to the previous year. The World Economic Forum published that the value of Chinese exports fell by 17.2% year on year in the first two months of 2020, while imports fell by 4%.
For 2020, Phase One of the deal mandates that China increases its US imports by $76.7 billion. With coronavirus accusations, suppressed global demand, clogged supply chains, diminished production, and talks of a brewing Cold War, how could Beijing possibly meet the target? President Trump also warned that he would terminate the deal if Beijing fails to meet its commitments. In the realm of energy, it is unlikely that suppressed demand and oil prices will bounce back quickly enough for China to meet its energy obligations. It's worth noting that energy imports from Saudi Arabia and Russia actually rose when Beijing filled up its stockpiles during the first quarter of 2020, while imports from the US will likely continue to decrease. In order to fulfill the set commitments through December, China would basically need to buy all of current US oil exports, which is entirely unrealistic given that US exports will continue to fall this year with the collapse of the shale industry. No matter how you do the math, even with Beijing decreasing import levels from Russia or Saudi Arabia, the possibility that China will somehow meet the trade deal's energy commitments is nearly impossible. However, China has increased its purchases of soybeans and corn, while also lifting restrictions on US beef and poultry and deregulating limitations within the financial sector. Beijing also published new guidelines on intellectual property protection. These noteworthy points cannot label the success story, but do provide some hope for the future of American farmers, which Trump will need in November. Republican senators warned that penalizing China could be a mistake that would close off the US agriculture sector to vital Chinese markets.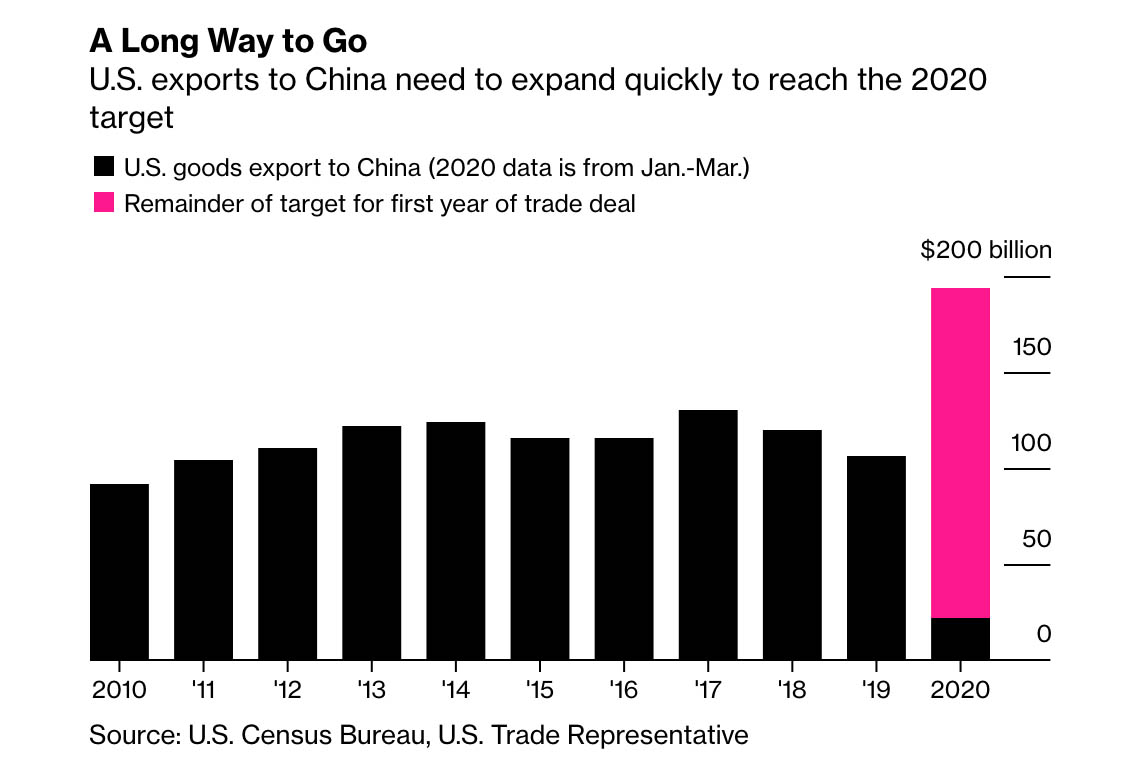 Nonetheless, while National Economic Council Director Larry Kudlow stated that the trade deal was 'on track,' he also noted that President Trump is 'very keen' on bringing businesses back to the US from abroad through various corporate incentives. Although a Cold War interpretation of US-China relations seemed off in 2019, the coronavirus pandemic has certainly accelerated the anticipated decoupling between Beijing and Washington, which now appear to be on a trajectory that will limit cooperation. If Washington seriously reconsiders its supply chains, it will do so by declaring certain sectors as vital to US national security. Firms would re-shore industries that include semiconductors, rare-earth minerals, medicine and drugs, and personal protective equipment. Should the decoupling intensify, this list could expand into energy or all military sensitive technologies, likely including IT, artificial intelligence, and other cyber developments.
In May, Labor Secretary Eugene Scalia and President Trump directed the Federal Retirement Thrift Investment Board (FRTIB) to cut investment in Chinese companies because of national security concerns. Washington also warned that Chinese companies could face sanctions due to 'culpable actions' made by the Chinese government in combating coronavirus. The FRTIB will delay the investment of billions of dollars in Chinese equities. The Trump administration even considered defaulting on US debt held by China. Since the outbreak, Washington also directed further accusations towards China after the FBI, in a joint statement with the Cybersecurity and Infrastructure Security Agency, began investigating "the targeting and compromise of U.S. organizations conducting COVID-19-related research by [China] affiliated cyber actors and non-traditional collectors." Some Trump administration officials mentioned a future "Economic Prosperity Network", which would band likeminded countries together against dependence on Beijing and Chinese businesses. This would create an environment in which US firms could re-shore from China to other more "US friendly nations" like Vietnam or India. These measures suggest that a 'messy divorce' between China and the US is in fact possible.
Critics of such an abrupt decoupling claim that export bans, tariffs, reshoring of US companies, and pulling out of the World Trade Organization altogether could further benefit China by granting Beijing a more significant role in international markets and global norm setting. In an interview with Fox News in May, President Trump even warned that "we [the US] could cut off the whole relationship."
It is clear that the coronavirus pandemic propelled the US-China rivalry from a disagreement centered on trade into a conflict that expands into all aspects of statecraft. After US Secretary of State Mike Pompeo claimed that there is 'enormous evidence' that the coronavirus originated in the Wuhan Institute of Virology, former top White House trade negotiator Clete Willems warned of a new Cold War while on CNBC. Chinese state media outlet Global Times called Pompeo's accusations 'groundless' and politically motivated shortly after in an editorial, which claimed that "the Trump administration continues to engage in unprecedented propaganda warfare." Foreign minister Wang Yi accused Washington of pushing for a 'new Cold War,' in which the United States [must] give up its wishful thinking of changing China and stopping 1.4 billion people in their historic march toward modernization." Increased suspicion over the pandemic's origins threatens Washington's willingness to maintain Phase One of the trade deal, while US sanctions seem possible after China proposed national security legislation for Hong Kong. If coronavirus kills the US-China trade deal, all of their other political and economic disagreements could escalate into the Cold War both Wang Yi and Clete Willems warn of could happen.