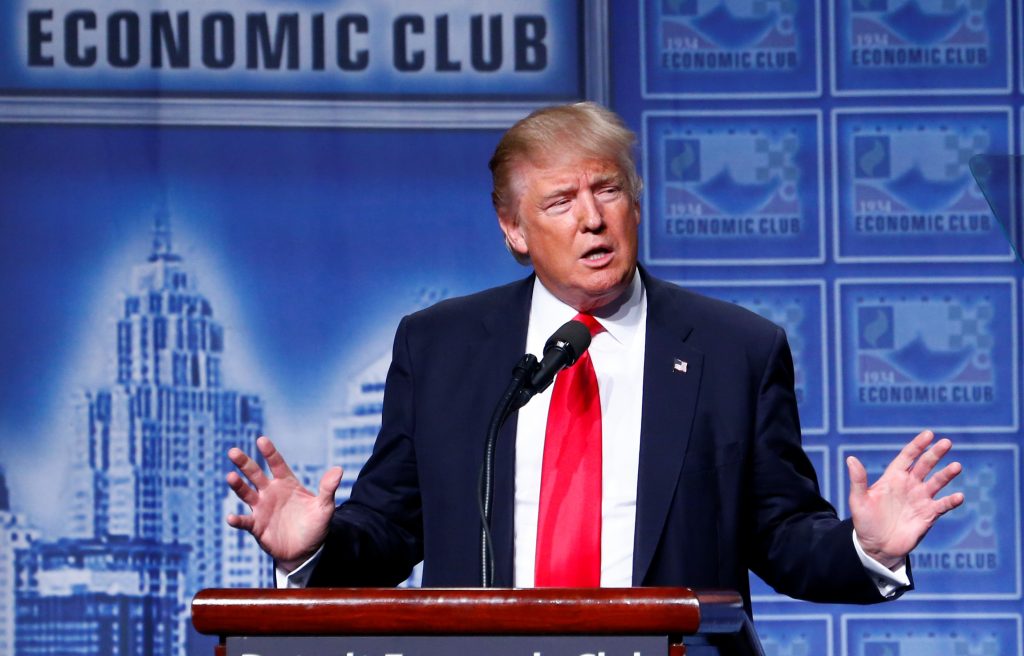 (Reuters)
President Donald Trump gave his maiden State of the Union address on 30 January, in which he preened over a booming economy, and hailed the return of investment and jobs into the country due to the sweeping tax cut and reform in his administration's landmark legislative victory. While the address was praised for its conciliatory tone appealing for harmony and unity and seeking common ground, some critics believe that underneath the rhetoric is only a rehash of his old policy ideas. Actually, in his article titled "A year of real change" published on the Washington Examiner less than 2 weeks ago, President Trump shed more light on how he saw and rated his first year in office.
In the article, President Trump sang high praises for himself. First and foremost, he put America first, and made real change in Washington, while creating opportunities for "all of our people". A renewed spirit was brought to life, and the country is "roaring back more quickly than anyone could have predicted". "The American dream is real again". In the fourth quarter, the US economy grew at an annualized rate of more than 3% (which turns out to be an overestimate) and the economy has created over 2 million jobs, with the unemployment rate falling to a 17 year low of 4.1%. A massive tax cut and sweeping tax reform is being launched, making the tax code simpler and fairer, helping more Americans keep their money, and boosting business competiveness. In order to "oil the wheel" of the economy, federal regulations have been rolled back. As a matter of fact, 22 regulatory actions were eliminated for every new regulation. The message is loud and clear - thanks to the combination of these measures, the US economy is thriving and people are prospering. In short, America First is working. However, people are questioning how much credit President Trump can claim, as he apparently inherited an economy already well into recovery from President Barack Obama. When President Obama was still at the helm, US employment, GDP, and inflation were already rising. Furthermore, as the IMF pointed out, current growth is partly driven by cyclical recovery, and economic slack is diminishing, so there is no guarantee how long the good news will continue. That said, in the spirit of giving credit where it is due, President Trump's TCJA bill is sure to give the US economy a short term boost, though that should be taken with a pinch of salt as it doesn't necessarily translate into higher productivity and total factor productivity, which usually derives from more investment in education, health care, and training.
On trade policy, President Trump is passionately advancing a protectionist trade agenda driven by "America First" and "reciprocal trade relations". Soon after taking office, he went on a "signing spree", using a host of executive orders (EOs) and presidential memos, exemplified by the high-profile withdrawal from the TPP. At the very beginning, most of these EOs and memos were dismissed as a trick to circumvent the cumbersome legislation process, but these earlier documents do provide a revealing roadmap for his presidency. Here are some of the major EOs and memos–
In January 2017, announce the withdrawal from TPP, use of domestically produced materials and equipment for pipeline construction and upgrading.
In March 2017, direct the Commerce Department and U.S. Trade Representative to compile a report "Omnibus Report on Significant Trade Deficits" on trade practices that contribute to the trade deficit, scrutinizing America's trade partners and assess whether the country's trade practices unfairly discriminate against the US, direct the Department of Homeland Security to investigate into practices against trade and customs regulations.
In April, direct relevant government agencies to compile a report on "Hire America, Buy America", establish the Office of Trade and Manufacturing Policy run by Peter Navarro.
In December, order to create a federal strategy to ensure the security and reliable supply of critical minerals in light of the risks for US economy and military due to heavy reliance on imports.
Along with these executive documents, the Trump administration has launched a set of unilateral trade investigations including the Section 301 investigations against intellectual property theft and tech transfer, and 232 national security investigations against imported steel. China features in all these investigations. In a recent announcement, the US has concluded related investigations and will start levying higher tariffs on solar panels and washing machines, for which China is also a primary manufacturer alongside South Korea. With a trade deficit running as high as $275.8 billion in 2017, a volume deemed "unsustainable" by President Trump, recent findings and trade remedy actions are probably a taste of what's to come. With both Commerce Secretary Wilbur Ross and Trade Representative Robert Lighthizer ratcheting up saber-rattling, a year of trade frictions or even trade war may be looming. But with the US so integrated into the global trading fabric, will this become a pyrrhic victory? As the Chinese leadership pointed out, no one will emerge as a winner in a trade war.