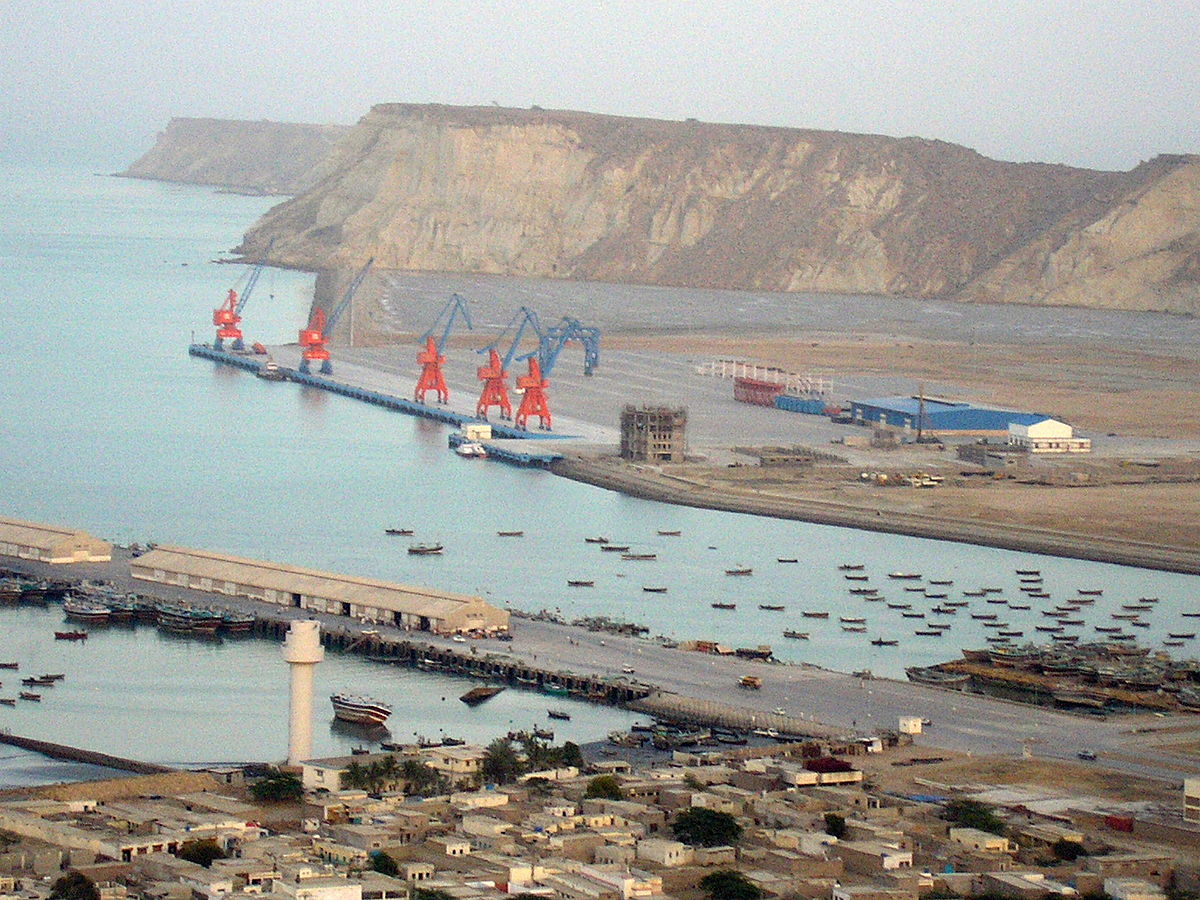 Pakistani port city of Gwadar, which China is helping develop
Pakistan, a South-Asian country of 208 million people, is having a tough time managing its struggling economy. Known to the western media due to its proximity to Afghanistan and role in the war on terror, Pakistan has huge economic problems.
Pakistan became a sovereign country in 1947 when the British drew a line on the map dividing united India between Pakistan and India. Since its inception, Pakistan's economy has never been fully self-reliant: it has always relied on foreign debt to pay its import bills. With the passage of time, foreign debt has piled up and has now reached $91 billion. This means that Pakistan has to pay huge sums of money each year to repay loans and interest on the loans, which is called debt servicing.
Pakistan obtained almost $10 billion in foreign loans during the last 12 months just to pay for debt servicing. $4.4 billion of these loans were borrowed from China. Despite these loans, Pakistan's economic situation is not likely to change anytime soon: according to estimates, Pakistan will borrow a record amount of $13 billion in the next year to meet external debt repayment obligations. Meanwhile, in breaking its own records of annual foreign borrowing, Pakistan has turned for help to its so-called "all-weather friend" – China.
Pakistan and China signed the ambitious China-Pakistan Economic Corridor (CPEC) project in 2015. Comprising a portfolio of projects such as deep-sea port development, infrastructure development, industrialization and energy generation, CPEC is worth $62 billion. However, CPEC, which is the Pakistani component of President Xi Jinping's Belt and Road Initiative (BRI), is aggravating matters for the Pakistani economy. What's mind-boggling is the shadowy funding mechanism of the CPEC projects. Both Pakistan and China have not made the CPEC project agreements public despite public demand in Pakistan. These are not foreign direct investments: analysts believe that the planned funding for CPEC projects will come largely in the form of loans, which will further exacerbate Pakistan's debt problem.
Fears about the negative implications of CPEC have been compounded by the stance of the International Monetary Fund (IMF), which expressed concerns over the size of CPEC projects and cautioned Pakistan about the resulting loan repayment implications. According to IMF estimates, Pakistan will be paying $4.5 billion to China annually in debt repayments from 2024 onwards. Hafiz Pasha, Pakistan's former finance minister, has been harsher in his criticism of CPEC. He has claimed that debt servicing payments from Pakistan to China for CPEC projects will rise to $8.3 billion annually by the end of 2019. This is really alarming and it means that rather than helping Pakistan's economy, CPEC is creating a debt trap for Pakistan which will result in Pakistan's continued economic dependence on China.
Moreover, for the construction of the CPEC projects, Pakistan has needed to purchase high tech machinery from abroad. This has led to a growing import bill, a major contributor to which is imports of Chinese machinery for CPEC power generation and transport infrastructure projects. Imports of these products are expected to rise to $27.8 billion by 2021. This growing import bill has resulted in Pakistan's balance of payments deficit of $15.63 billion.
Consequently, due to rising foreign debt obligations and the failure of the Pakistani economy to grow, Pakistan's foreign reserves are dwindling. This has caused a sharp decline in the value of Pakistan's currency, the Pakistani Rupee (PKR), which weakened by 5% against the U.S. dollar in June. The bad news is the value of the PKR is expected to further plummet. Therefore, Pakistan has no choice but to borrow up to $2 billion in fresh loans from China just to avoid a balance of payments crisis and maintain the value of the PKR. So, for temporary economic relief, Pakistan is increasing its external debt liabilities in the future. This is imprudent and short-sighted decision making.
CPEC has been in operation for almost three years and the governments of Pakistan and China both claim that it's had a significant positive impact in revitalizing Pakistan's economy. However, Foreign Direct Investment (FDI) data released by State Bank of Pakistan has revealed that FDI fell by 1.3% during the last fiscal year. During this period, Pakistan received FDI of just $2.457 billion, 61% of which was from China. This revelation generates a rather baffling question: how is FDI declining when China is pumping $62 billion into Pakistan under CPEC? Perhaps the answer lies in the allegation that CPEC offers loans and not FDI to Pakistan.
Commenting on the ability of CPEC to salvage Pakistan's economy, the IMF stated in a report last year that CPEC could create an increase in FDI in Pakistan, but will also increase the level of Pakistan's imports. The report bluntly states that the increase in imports will offset the increase in FDI, and the balance of payments crisis will be exacerbated. This, again, is bad news for the proponents of CPEC who term it a game-changer for Pakistan.
With the passage of time and new revelations, criticism of CPEC is becoming more widespread in Pakistan among academics, analysts and journalists covering the economy. Still, Pakistan's government remains in a state of denial. They are not ready to accept any criticism of CPEC or the way it's managed. The government has claimed that the peak value of Pakistan's debt servicing in 2024 will be just $527 million, and that 70% of CPEC funds are FDI. These claims are obviously in contradiction to revelations made by the IMF, the former foreign minister Hafiz Pasha and Pakistani media. In a conference held in Pakistan's capital Islamabad in June, Pakistani government officials and Chinese diplomats asked the Pakistani media to "remove negative misconceptions about CPEC." An unapologetic translation of this is: don't criticize the CPEC. Such advice may be business as usual in the People's Republic of China, but not in Pakistan, which despite its problems still has a somewhat free media.
Any joint venture between China and Pakistan which helps to strengthen Pakistan's economy is always welcome. Therefore, criticism of CPEC does not represent an opposition among common Pakistanis to China's economic expansion, but simply represents concern over the effects an increasing debt burden will have on Pakistan's struggling economy. Critics are justified in expressing fears that China will exert a greater degree of control in the internal affairs of Pakistan when the latter is fully dependent on China for its debt repayment. This criticism will not go away just by "advising" the media to remove criticism. The Pakistani government must address the underlying problems in CPEC.
A good starting point would be making the detailed agreements of the CPEC public. The fact that both governments have not done that yet suggests that the concerns of critics about the CPEC being a potential hidden debt trap for Pakistan are legitimate.