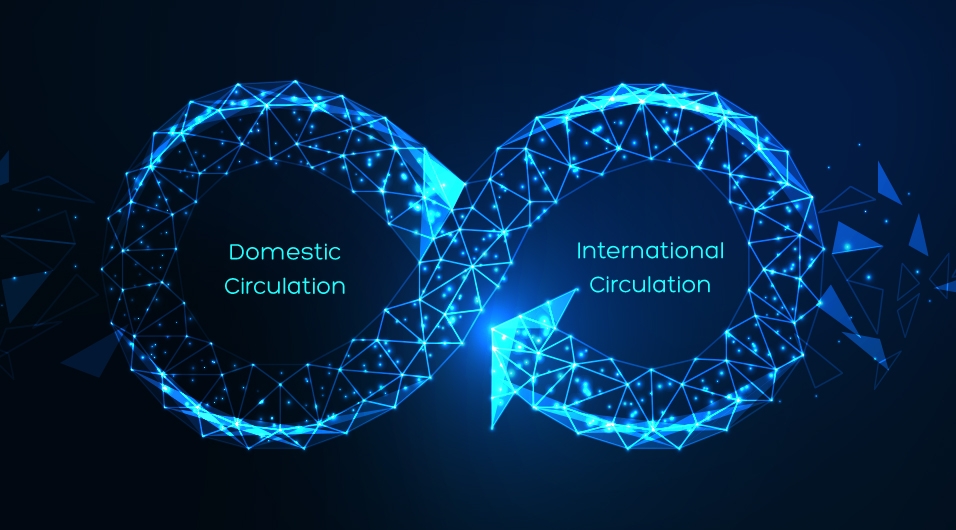 There are some misunderstandings about the "dual circulation" strategy put forward by China recently. While we know it consists of domestic circulation supported by international circulation, some believe the initiative is a response to moves by Donald Trump to decouple the U.S. from China, or they feel China is closing itself up in a regression to its independent and self-reliant practices of the last century.
Dual circulation? Why? With whom? What to circulate? And how? To answer these questions, three dimensions should be considered:
The first dimension is China's policy of reform and opening-up, starting with Deng Xiaoping. In Deng's own words, the opening-up was mainly designed to open doors with the United States. In 1987, this idea was elevated to an international circulation development strategy. While it achieved good results, three problems surfaced as well.
First, the momentum of the market and resources outside of China is significantly declining, indicating a declining potential for economic growth. Since the 2008 international financial crisis, China's economy has been changing to become more domestic. The ratio of the current account surplus to GDP has dropped from 9.9 percent in 2007 to less than 1 percent now, and the contribution of domestic demand to economic growth has exceeded 100 percent in seven years.
Second, China's core technology is dependent on the United States. Innovation has posed a serious problem for China. To tackle this, it's necessary to change from the "market for technology" (by means of introduction, digestion, and absorption) to "market cultivating technology" (maintaining industrial chains through transfers of domestic industries abroad through infrastructure projects) to foster domestic markets and integration.
Market superposition is what generates innovation. Core technologies and key components cannot be controlled by others. Innovation requires openness.
The long-arm jurisdiction of the United States is accelerating China's independence, just as the EU is also emphasizing strategic independence and technological sovereignty. In addition, China's fiscal and monetary sovereignty is crippled by the hegemony of the U.S. dollar. The trade surplus of China's commodity items features a "China-made, U.S.-consumed" phenomenon through the capital account deficit (buying huge U.S. debt) after the essential bankruptcy following the global financial crisis in 2008.
The United States seeks to promote the free convertibility of the yuan under the capital account through China's structural reforms. China's currency sovereignty is subject to the huge impact and structural constraints of the U.S. dollar's hegemony. In addition, the idea of ​​reform and opening-up is that reform is forced.
The U.S. trade war against China is unsustainable, given the prevailing populism and protectionism. Reform must reflect a new mission that makes in no longer an "international integration" but rather the key to the liberation and development of social productive forces and the fundamental driving force for national development. The new requirement of opening-up is to build an open world economy through high-qualiaty domestic openness.
The second dimension to be considered is the idea of the rise of a great power. Dual circulation reflects the objective law of the development and growth of major economies. The rise of a world-class power cannot depend on the outside economic market forever. For example, 75 percent of the economic growth of the United States is driven by domestic demand. China's economic development must also shift from external to domestic.
As General Secretary Xi Jinping pointed out, China is heading into a high-quality development phase. Its main social contradiction has been between the people's growing need for a better life and unbalanced and inadequate development. The per capita GDP in China has reached $10,000. The urbanization rate exceeds 60 percent, with the middle-income group exceeding 400 million people.
China has significant institutional advantages, governaning efficiency, projected long-term economic growth, a solid material foundation, abundant human resources, broad market space, strong development resilience and overall social stability. While these provide advantages for continued development in many ways, the problems in unbalanced and insufficient development are also prominent — for example, incompetent innovative ability that fails to meet the requirements of high-quality development. Add to that the unstable agricultural foundation, the large urban-rural development and income distribution gap, the ecological and environmental protection challenge, people's weak livelihoods and wobbly social governance.
China's transformation from the world's largest manufacturer — the world's factory — to the largest consumer market will grow the current 400 million population of the middle class to 800 million by 2035, and to the entire population by 2049. This shows the need for high-quality development. It must be driven by consumption, domestic demand and innovation. Transformation from factors of input to institutional innovation is an absolute law of development.
The third dimension is globalization. The "Book of Changes" says that if you can improve yourself in a day, do so each day. The theory of biological evolution also emphasizes that the strongest species may not be the one to survive. Only those that can adapt to the changes of the new era can survive. This dimension implies that globalization has gone from a period of favorable wind to a current headwind.
Let's look at one possibility: A complete industrial chain plus ultra large market will transform China from a global factory to a global market.
As Xi pointed out in his speech at the Third China International Import Expo, China has a population of 1.4 billion and a middle-income group of more than 400 million. It is a huge market with equally huge potential. Its cumulative import value of goods is expected to exceed $22 trillion in the next decade.
China is dedicated to remaining open, cooperative and win-win when it comes to its new efforts to circulate with the world. It wants to become a world market, a shared market and an energized market for everyone.

Xi also once said:
"China has the world's most complete and the largest industrial system with a strong and complete production and supporting capacity. It has more than 100 million market players and more than 170 million talents with higher education or various professional skills.
"The ultra-large domestic demand market formed by 1.4 billion people, including more than 400 million in middle-income groups, is undergoing rapid development in new industrialization, informatization, urbanization, and agricultural modernization. And this process promises huge investment potential. …
"We must rely on the country's ultra-large market and the complete industrial system to create unique advantages that are conducive to the rapid and large-scale application of new technologies and iterative upgrades, accelerate the transformation from scientific and technological achievements to actual productivity, improve the industrial chain and maintain the integrity of the industrial chain."
The key words "dual circulation" feature two things — that domestic circulation is overwhelming and will be realized at a higher level of reform and opening-up, and that the new dual circulation shows that China's development pattern has surpassed the traditional thinking of merely coordinating domestic and international markets. It will create a circulation wherein the home market is the core but the home and international markets will reinforce each other.
With whom to circulate? The global financial crisis is switching globalization to "localization." China first needs to circulate with its neighbors — ASEAN, Japan and South Korea, for example. ASEAN is now China's largest trading partner. China's western neighbor, Eurasia — the European Union and countries along the Belt and Road — are pivotal allies in circulation.
What to circulate? Originally, the main circulation was goods, but now it is more services, particularly e-commerce. Domestic integration, coordinated regional development, construction of smart city clusters and synergized industrial acceleration can all be influential drivers.
The circulation is two-way — inward and outbound. As State Councilor and Foreign Minister Wang Yi pointed out in his speech at the Global Advisory Board Meeting of Tsinghua University's School of Public Policy & Management on Nov. 7, 2020, China's market scale and capacity are sure to continue to expand in the process of shaping a new development pattern. A broad space will be created for countries around the world to come to China and share the opportunities here.
Domestic circulation drives international circulation, and international circulation deepens domestic circulation. The two open up to each other and promote each other, injecting new force into both the Chinese and world economies.
Xi said that dual circulation is by no means a closed domestic one. Rather it's a more open two-way circulation. It not only serves China's needs but also will benefit the people of other countries. There will be new opportunities for cooperation with China's major economic partners, such as the following with Europe:
• Digital transformation. China has 940 million internet users, and Europe has an advantage in setting standards. China-EU digital partners can team up in areas such as e-commerce, WTO digital trade and a global data security mechanism.
• Green recovery. China and Europe are leading mankind into an era of carbon neutrality and creating a postindustrial civilization. China said its carbon emissions will peak by 2030 and achieve carbon neutrality by 2060. The EU's target for achieving carbon neutrality by 2050 is primarily through lifestyle changes, focusing on transportation energy saving and emissions reductions. China-EU cooperation provides countries worldwide with a full range of production-lifestyle options.
• Service trading. The conclusion of the China-EU Investment Agreement negotiations will bring vital opportunities for China's high-quality cooperation and high-quality development for the world economy. According to the "Report on China's Services Import (2020)" released by the Ministry of Commerce at the Third CIIE, China's cumulative service imports are expected to reach $2.5 trillion over the next five years, accounting for more than 10 percent of the global share. The European service industry is developed and there is huge potential for cooperation with China in this regard.
In short, be prepared. Be equipped. No decoupling, no dependence. These are the keys to understanding dual circulation. China's development is entering a new period in which it will change itself and its way of influencing the world. China's expanding cooperation with the world ushers in tremendous opportunities for all.