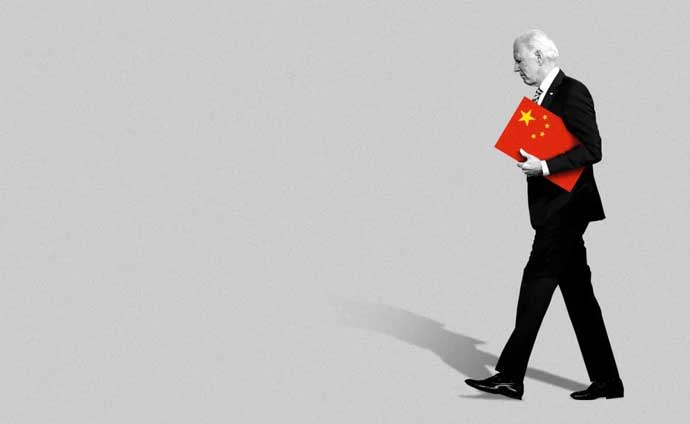 (Photo from Berkeley Economic Review)
As United States prepares to embrace a new administration, President-elect Joe Biden has already made clear his strategy of returning to international organizations and multilateralism, as well as reshaping U.S. alliances. Although his China policy may, to some extent, incorporate such positive elements as "engagement," Biden won't thoroughly transform the approach of the Trump administration. The trend of escalating competition with China isn't going to change.
From a foreign policy perspective, the new administration will very likely reaffirm the U.S. commitment to democratic allies, multilateral cooperation and a rules-based international order. Owing to the serious divide and unprecedented confrontation within American society, the U.S. may play two roles in the international community under Biden: an active global leader that acts in concert with allies and partners; or a more hesitant U.S. that focuses mainly on domestic issues, consigning the responsibility for shaping and resolving global issues to allies and partners. The world order will face fresh challenges either way.
On China policy, the Biden administration won't be altogether different from Trump's. Change lies in more active engagement; what won't change is the essence of containing China. That will persist. The framework of the U.S. China strategy had already turned from engagement plus containment to containment plus engagement during the Obama presidency. Building on that, the Trump administration took a further step, explicitly defining China in the U.S. National Security Strategy as a revisionist state and a strategic competitor. It changed containment plus engagement into containment alone.
Though the Biden administration will increase positive factors and restart engagement with China, the main theme of containment won't see any fundamental change. With populism rising in the U.S. and Chinese national strength growing, Biden's China policy is more likely to be a repackaging of Trump's, rather than a transformation.
From the perspective of trade policy, the Biden administration will generally return to multilateralism and the traditional "rules-based" governance structure, seeking to repair trade ties with such allies as the European Union.
Despite Biden's clear opposition to the Trump administration's tactic of balancing trade through the reckless imposition of tariffs, and his belief that tariffs are not an effective solution to trade deficits, judging from his policy statements to date, he won't immediately scrap the 25-percent tariffs on Chinese exports. He will want to rally traditional allies in Asia and Europe and form a united front against China.
In fact, initiating a "siege with rules" by way of rules-based competition has been the Democratic Party's longstanding practice. While he was vice president, Biden, on behalf of the Obama administration, strived to establish the Trans-Pacific Partnership, which excluded China. Yet whether an economic alliance for containing China is feasible remains questionable. On one hand, the Biden administration may not join the Comprehensive and Progressive Agreement for Trans-Pacific Partnership anytime soon. On the other hand, from a trade policy perspective, while Biden supports globalization, he very likely plans to follow a more conservative approach.
Previously, he proposed to "reinvigorate" U.S. manufacturing through an order to "Buy American," while encouraging supply chains to flow back to the U.S. Therefore, the foundation for trade frictions between the U.S. and its allies and main trading partners still exists.
From the perspective of science and technology policy after Biden assumes office, China-U.S. trade frictions will ease, more or less, but the confrontational posture in the technology war won't change. The U.S. will further escalate containment of Chinese high technology; adjustments in U.S. industrial chains will be more closely linked with national security; and China-U.S. competition in high technology will become even more fierce.
Fundamentally, containment of Chinese science and technology is not only a primary axis of the Trump administration's China policy but also a posture in which differences between the U.S. government and American society are the smallest. It may be safe to predict that the Biden administration won't make major changes to such measures as export controls targeting Chinese companies, the ban on Huawei or the Entity List.
Biden once suggested China was using science and technology to control the country rather than to empower its citizens. On the campaign trail, he emphasized that "economic security is national security" and said he would spare no effort to safeguard national security. He said he would enhance America's innovative advantages through government investment, to maintain the country's leadership.
From the perspective of policy priorities, besides suppressing China's rise in science and technology the Biden administration may put more emphasis on boosting U.S. strength in science and technology than on diplomacy, including in such priority areas as artificial intelligence, semiconductors and 5G network equipment.
Meanwhile, the Biden administration will team up with allies and attempt to fortify a science and technology alliance against China. Biden wants to conduct a comprehensive evaluation of significant national security risks involving international supply chains within his first 100 days in office.
In addition, when it comes to containing China in science and technology, Biden will want to accelerate repairs with U.S. allies in Europe. There are stable cooperation mechanisms, generally identical values and similar strategic interests between the U.S. and European nations, so any attempt by the U.S. to suppress Chinese sci-tech via transatlantic cooperation can only have a negative impact on sci-tech cooperation between China and Europe, and even on China-EU relations in general. In projects involving security-sensitive telecommunications network infrastructure, especially, Chinese companies will inevitably face substantially greater pressure and constraints.
The current world order is undergoing rapid change, and even the incoming Biden administration won't alter the overall trend of escalating China-U.S. competition. Competition, however, doesn't have to be lose-lose. How to fight without breaking bottom lines and seek strategic collaboration in the midst of competition remains a long-term pivot point in China-U.S. relations.