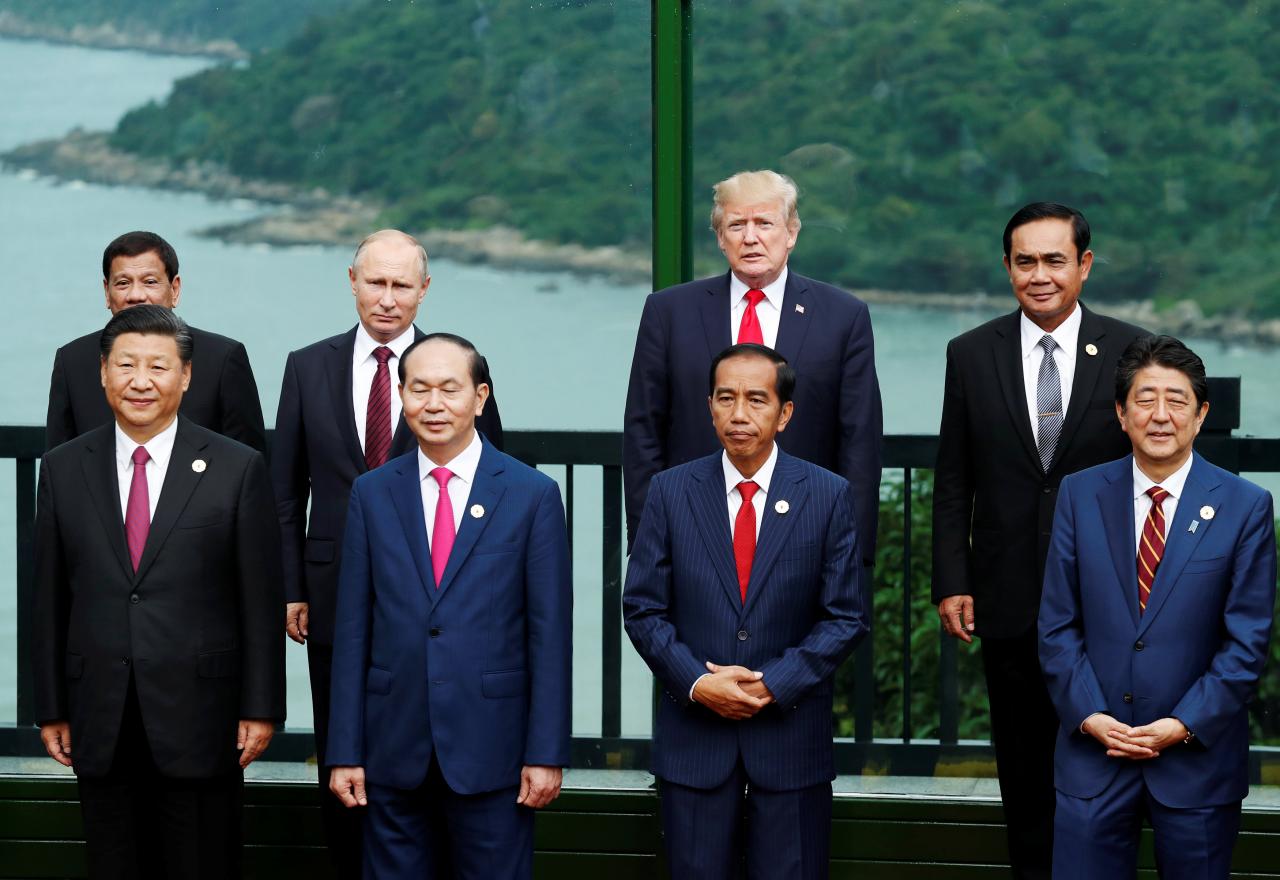 Leaders pose during the family photo session at the APEC Summit in Danang, Vietnam November 11, 2017. (Front L-R) China's President Xi Jinping, Vietnam's President Tran Dai Quang, Indonesia's President Joko Widodo, Japan's Prime Minister Shinzo Abe, (back L-R) Philippines' President Rodrigo Duterte, Russia's President Vladimir Putin, U.S. President Donald Trump, Thailand's Prime Minister Prayuth Chan-ocha. (REUTERS/Jorge Silva)
When a U.S. president goes on a tour of a region of the world, the goals can range from reassuring existing alliances, to encouraging the adoption of democratic values such as human rights, to working on building diplomatic relations and economic development. These tours are a presidential responsibility that, if nothing else, serve as a way for the United States to advance its interests and maintain the status quo in its favor.
However, since his time campaigning for office, it is clear that changing the status quo — that is, to "make America great again" — largely tops Donald Trump's agenda. From appointing under-qualified cabinet members with professional backgrounds which contradict the very agencies they're selected to uphold, to ending various Obama-era policies, to withdrawing from international agreements such as the Trans Pacific Partnership and Paris Climate Accord, Trump's actions have been felt on a global scale.
That said, Donald Trump's recent tour of the Asia Pacific region last month was no different, and has raised red flags and concerns over the continuity and stability of the United States' presence in the region. For every inch the United States gives in the region, it ultimately risks ceding to the regional hegemony in residence: China.
In the eyes of Xi Jinping and the Chinese people, Trump can be viewed as a sort of godsend for China's further expansion and involvement on the international stage. Trump's harsh rhetoric against those who challenge him — including allies — and his social media tweet-storms which launch new policies that take even his administration by surprise, have caused dysfunction within the American political system. As a result, Trump's agenda to scale back involvement abroad to focus instead on internal issues has allowed China the opportunity to step up and potentially fill spaces the United States historically occupied.
With Xi Jinping's consolidation of his position for at least the next five years, he has placed China in a prime position to begin ramping up its involvement abroad and furthering its national interests. Expanding China's sphere of influence amongst its neighbors and within the region so as to act as a check-and-balance against the United States' presence is easily top of the list.
China's expansion into the South China Sea, which has produced increased tensions with regional neighbors including historic U.S. allies Japan and South Korea, is a prime example. Likewise, Trump's withdrawal from the Trans-Pacific Trade Partnership gives additional space for China to potentially expand economically. Another example is China's stronger commitment to combating climate change. With the United States out of the Paris Climate Accord, China has joined forces with the European Union. In doing so, China not only positions itself to potentially become a leader within the region, but globally as well.
These examples, coupled with the closeness displayed between Trump and Xi and the compliments Trump offered during his time in China are creating an air of uncertainty and have left many wondering if Donald Trump will push back against China, to not only ensure the continuation of the United States' presence in the region (and overall global influence), but also to reassure allies. Since his campaign for the White House, Trump has shown that he is a true wildcard. That said, many countries within the Asia Pacific region seem to already be preparing for the worst case scenario — that the United States scales back its commitments in the region.
Japan's Prime Minister Shinzo Abe continues to work to revise Japan's constitution to allow it to be more active militarily. While there are many reasons for this, including allowing Japan to aid its allies as well as to further protect itself from North Korea, there is no doubt that China's growing military and expansion into the disputed regions of the South China Sea are several of them.
Moreover, 11 countries, including major U.S. allies such as Canada, Mexico, and Japan, have begun the process of pushing forward with the Trans-Pacific Trade Partnership, which would herald one of the largest multilateral trade deals ever.
Not long after entering office, Trump announced he would be withdrawing the United States from the deal, arguing that it would hurt U.S. workers and would cause more U.S. based companies to move abroad. With the United States no longer involved, negotiations and talks quickly broke down but were recently resurrected during the APEC talks in Vietnam. Like the previous deal, China is not a participating member.
Previously, U.S. participation in the deal would have allowed it to act as a sort of counter balance to China — that is to say the United States' economy would become increasingly intertwined with other regional members. However, without the U.S. participating, the deal loses significant economic bulk, creating space for China to continue to peddle its own 16-member economic deal, the Regional Comprehensive Economic Partnership.
Furthermore, China continues to move forward with its One Belt, One Road initiative. This strategic economic development project would connect over 60 countries through various infrastructure projects and economic policies. Should the initiative be transformed from ethereal aspiration to tangible, sustainable substance, China's influence will spread well beyond the Asia-Pacific. Should this come to fruition, it is unlikely that even Donald Trump, the self-proclaimed master deal maker, will be able to make an offer that states in the region will accept.