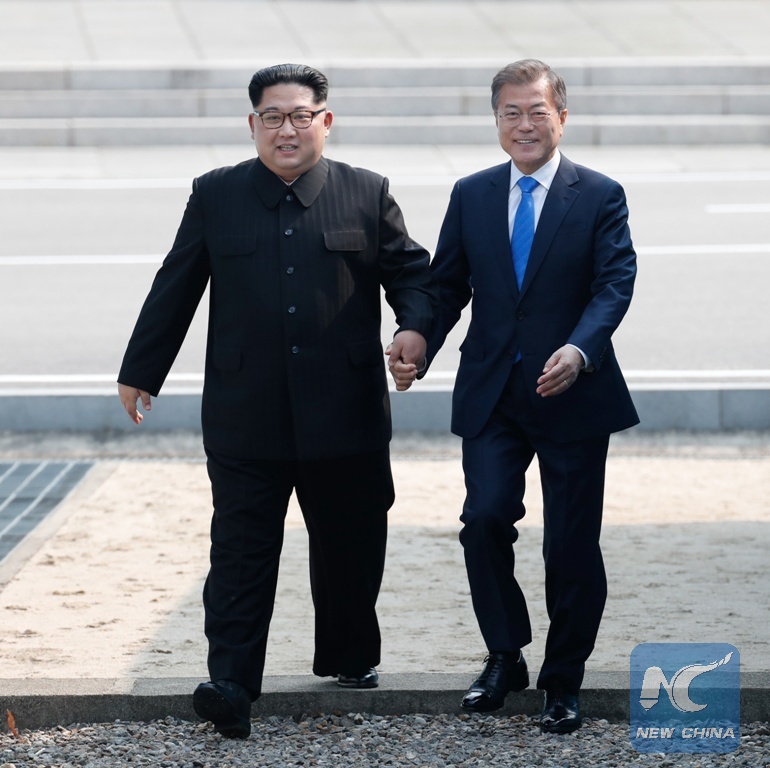 President Moon Jae-in is in the driver's seat on his country's policy on North Korea, and handling Pyongyang will be a difficult task.
Moon's high approval rating indicates he's been doing a fairly good job. There have been three summit talks, two historical joint declarations, and other high-level diplomatic and military talks, and the two Koreas are expecting a war-ending declaration too. If someone might say that words come easily, we have also seen the liaison office opened, guard posts withdrawn from the Joint Security Area, and a no-fly zone established. Considering the confrontation, hostilities, and even war threats over the past decades, these concrete tension-easing measures do contribute a lot to regional security and stability.
However, the US shows doubt, concern, and even unhappiness at the steps and deals the two Koreas have made. It didn't believe the military deal would lead to the withdrawal of soldiers and weapons. It might be unhappy that its ally, the ROK, might escape its control. That's why Trump pressed the brakes by imposing new sanctions over the North, and sending a top US nuclear envoy late last month to Seoul, led by Stephen Biegun, US special representative for North Korea.
People are questioning if North Korea might take advantage of this deal to break the multi-level sanctions on it.
Japan is acting deliberately cautiously on denuclearization. While it is more capable of attracting the North Korea economically, there isn't much space for it to do so with the sanctions in place. Moreover, its ambition to be a world power has been mostly bound to its US ally. To avoid being ignored or neglected during the evolution of the peninsular situation, Japan has to change its stance and attitude toward North Korea from time to time. Thus, there was a long time when Japan strongly condemned North Korea's nuke and missile programs, even though Pyongyang had declared several times that it was aiming at the US. However, while Trump decided to meet Kim in person, Japan kept a low profile, merely asking Trump to talk about the kidnapping issue during the meeting. Japan is likely to rebuild economic connections as soon as any sanctions are lifted.
Russia, as one of the two top nuclear powers, is not that sensitive about North Korea's nuke problem as South Korea and Japan are, but it definitely objects to being targeted by so-called defense systems like THAAD. Whereas Russia is carefully dealing with the tricky problems of the Syria situation and its relations with NATO, it can't spare much resources on its east frontier against the US and its allies. At the same time, Russia will not lose its traditional influence over North Korea. It closed the gap by smartly inviting Kim to visit Russia before his meeting with Trump, implying its fully support for Kim's administration, regardless if the summit succeeded or not.
China, as a stakeholder of Northeast Asia, will not tolerate any malicious destruction of the peace and stability of the region, especially that of the Korean Peninsula. This sub-region plays an important role in China's foreign policy. Geographically, it is closest to China's northeastern provinces, which are regions with a high concentration of population and industry. Economically, it is one of the starting points of the Belt & Road Initiative. The evolving situation has already shown that China's "Double Suspension" suggestion contributed greatly to the easing of tensions with North Korea. With a foreign policy of "No nuclear, war, or chaos" over the Peninsular, China's cooperation has functioned as a road toward the highway of regional peace building.
Last but not least, the domestic politics of the South Korea. There are already criticisms that the government had made too many concessions to the North too fast. Besides, there are also questions like "Where will the government take its country?" "Does Moon really believe that Kim would give up all his nuclear warheads and mid- and long-range missiles?" "Since South Korea can't do much to impose restrictions on North Korea's WMDs, will the government accept it as a new de facto nuclear power?" It's surely common and easy for the opposition parties to attack Moon's foreign policies. If President Moon wants his "Sunshine Policy 2.0" to survive, he needs to manage domestic factors.
Sustainable peace on the Korean peninsula will depend on North Korea's denuclearization and opening up to the global community. While its normalization of relations with the US and the South is already on the way, it must stay on the right route. President Moon and his team deserve credit for their peace endeavor so far. As a second meeting between Trump and Kim is expected soon, we need to remain patient.