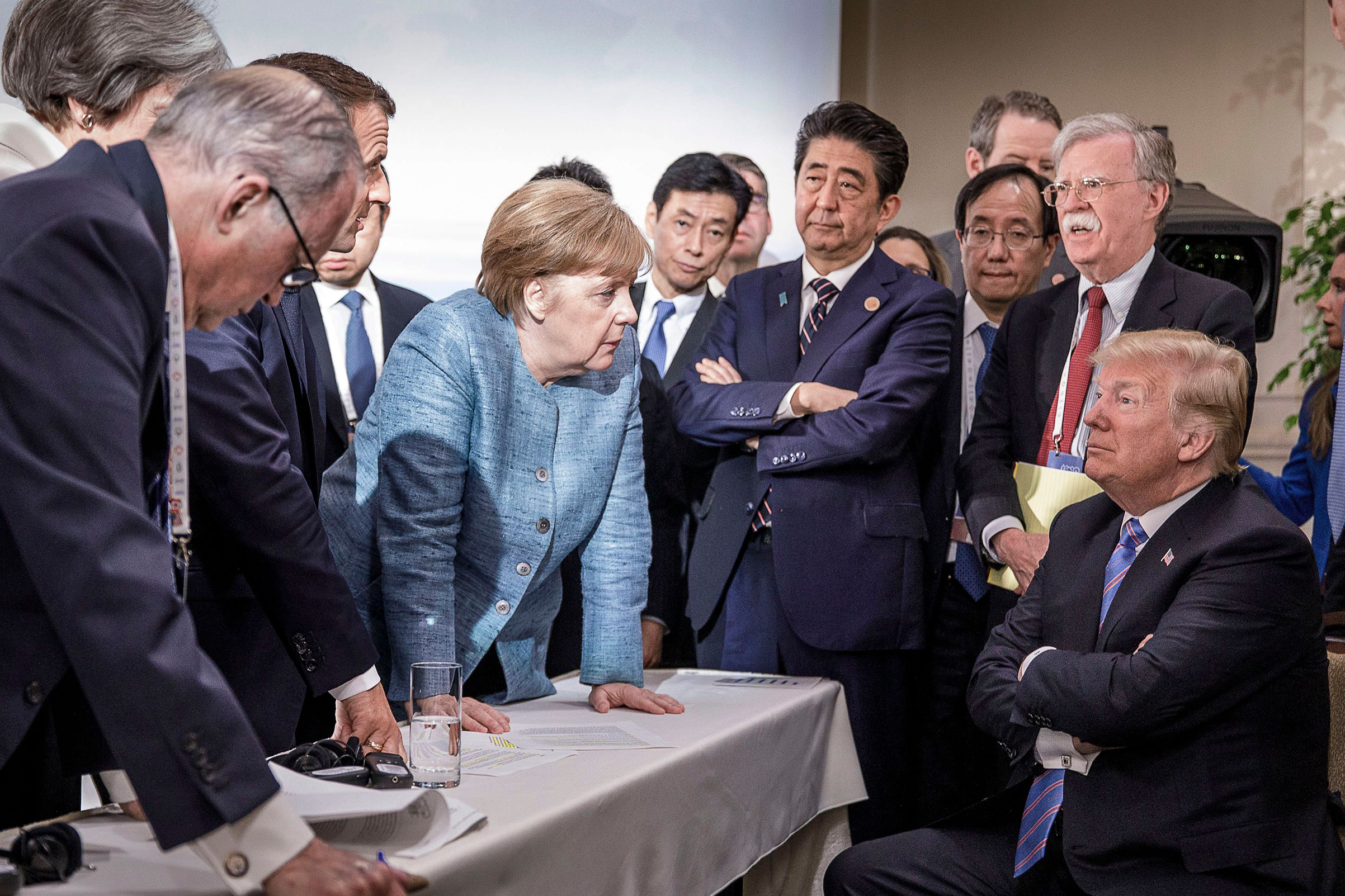 The Group of Seven (G7) and Shanghai Cooperation Organization (SCO) summits last weekend presented a stark contrast of optics. Leaving the G7, U.S. President Donald Trump publicly sparred with Canadian Prime Minister Justin Trudeau over trade, leading some pundits to opine about the possible demise of the Western world order. Meanwhile, Chinese President Xi Jinping struck a different tone at the SCO, speaking in favor of an "open global economy" and international cooperation. It is tempting to paint a simplistic picture of a Western world unraveling at the seams and an increasingly cohesive alternative order led by powers like China, Russia, and India. While there is an element of truth in this narrative, it is important not to overlook the enduring motives for cooperation within the Western bloc and obstacles to cooperation between the SCO powers.
The G7 is comprised of the United States, the United Kingdom, Germany, France, Japan, Italy, and Canada. The recent summit highlighted tensions within the bloc, mainly between the U.S. and the other six members regarding international trade and relations with Russia. Before the summit, Trump proposed that Russia, which was suspended from the group in 2014 due to its annexation of Crimea, be allowed to rejoin. Suffice to say that the other member states did not agree on this point. Attempts to negotiate U.S. plans to impose major tariffs on steel and aluminum also hit roadblocks. After Trudeau reiterated Canada's intent to impose retaliatory tariffs should U.S. tariffs go forward, Trump lashed out at him on Twitter and instructed his representatives not to sign the economic portion of the summit's concluding joint communique. The U.S. also abstained from a joint statement threatening harsher sanctions against Russia.
India and Pakistan joined China, Russia, Kazakhstan, Kyrgyzstan, Tajikistan, and Uzbekistan at the SCO summit, which also took place last weekend. The summit proceeded smoothly – as such events are generally expected to – with no major public disagreements. China and Russia reaffirmed their commitment to the Iran nuclear deal, on which the U.S. is seeking to renege. Xi Jinping reiterated support for WTO rules and an 'open' multilateral trade regime. As part of a push to smooth Sino-Indian relations, China agreed to open its markets to Indian rice exports. India and Pakistan also took initial public steps toward easing their mutual antagonism, which seemed to be eagerly welcomed by both Russia and China. Finally, the SCO member states agreed to cooperate in 'stabilizing' Afghanistan and aiding in its reconstruction.
The optical contrast between the two summits naturally invited strong comparisons. On the one hand, Western leaders engaged in a nasty public spat and failed to achieve consensus on both trade and relations with Russia. On the other, the SCO expanded its membership to include India and Pakistan – two countries of high strategic value – and made token progress in a number of areas. Optics are important, and the images and soundbites circulating after the G7 will certainly reinforce the perceptions of both the public and the commentariat that the U.S. under Trump is unsuited to lead the Western world. Chinese media played up this contrast, emphasizing disunity at the G7 and the relative harmony between SCO members. All this would seem to suggest a West at odds with itself over fundamental issues, as rising powers deftly smooth over their own disagreements.
But those who might pronounce the 'end of the Western world order' speak too soon. For all the recent tension, the U.S. and its allies remain in agreement on most of the major pillars of the U.S.-led order. U.S. tariffs on steel and aluminum are significant, but they have yet to provoke a general return to protectionism or a trade war. And, despite Trump's promises, threats to leave NATO never materialized into a substantial shift in the U.S. stance toward the alliance. U.S. policy on Russia has been schizophrenic, with Trump seeming to court Russian approval even as executive agencies sanction Russian companies and individuals for alleged crimes, such as hacking. The governments of the U.S. and the other major Western powers are still united by the fact that they lead developed nations with broadly similar interests with regard to foreign trade, investment, and the military containment of Russia and China. Trump's decision to impose tariffs on U.S. allies stems from the particularities of U.S. domestic politics and the electoral coalition that delivered him victory. If U.S. allies take the long view, they are likely anticipating his replacement in 2021 by a negotiating partner who will be more predictable and amenable to their interests.
The SCO summit was also not devoid of dissenting opinions, even if that dissent took less open forms. India and Pakistan's admission to the organization leaves open important questions about what China's relative influence should be in Central and South Asia. India did not sign on to a statement endorsing China's Belt and Road Initiative, an ambitious infrastructure and investment project aimed at deepening economic ties between China and other Asian nations. The SCO also watered down its language endorsing the nuclear Non-Proliferation Treaty in order to include India and Pakistan, who are not treaty signatories. While neither of these was a major public point of contention, they suggest that significant disagreements still exist within the SCO that may prevent its evolution into a more cohesive bloc. Although Russia and China, China and India, and India and Pakistan have all improved their relations over the past year, basic geopolitical tensions remain between these countries. This is not likely to change absent a much more ambitious overarching security agreement, like NATO, aimed at a perceived outside threat.
The optics of the summits may tell us more about a possible future than about any imminent end of the current international order. The U.K., Germany, France, Japan, and Canada are all still led by centrist politicians who seem to readily agree on most major issues. That may not be the case five to ten years from now, as challengers from both the left and right continue their march to power in the developed world. And as the developing nations increase in power and influence, they may ultimately develop a competing architecture that suits their interests rather than those of the U.S. and its allies. For now, breathless commentary has to be tempered by an analysis of the enduring harmony of interests within the Western bloc and obstacles to cooperation within the SCO.