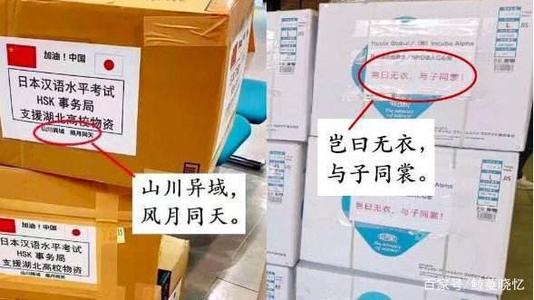 The sudden outbreak of COVID-19 has brought great difficulties and challenges to China and the world community. Against this backdrop, the benign interactions between China and Japan have been a notable highlight in international relations. Although Chinese President Xi Jinping's planned state visit to Japan in April was regrettably postponed because of the outbreak, the two countries have seemed to move closer toward each other in political will, manner of discourse, domestic and external agendas and public opinion. This may signal a new era in China-Japan relations, as it lays down a foundation for their fundamental improvement after the pandemic passes.
First, there appears to be a higher level of convergence in both political will and discourse for improved China-Japan relations. A few years ago, those relations were in serious difficulty because of territorial disputes and historical issues, and the two countries held opposite views in their respective descriptions of each other.
Since 2018, however, convergence is evident. In June 2019, during his meeting with Japanese Prime Minister Shinzo Abe on the sidelines of the G20 Osaka summit, Xi talked about an accelerated evolution of the international landscape amid changes unseen in a century. He stressed the need for China and Japan to work together toward a new relationship — one responsive to the requirements of the new era and positively instrumental to world peace and development.
Correspondingly, in his policy speech in October 2019, Abe said Japan's "Reiwa" — the name of the current imperial era — should feature new nation-building campaigns and efforts to explore a new era of Japan-China relations. Answering questions during a debate at the Japanese Diet about whether it was appropriate to have a Chinese state visit given the ongoing territorial disputes, Abe said that both China and Japan have a responsibility for world peace and stability, and a state visit would be an opportunity for the two countries to demonstrate their goodwill at home and abroad. On Feb. 28 this year, in a meeting with a visiting member of the Political Bureau of the Communist Party of China, Yang Jiechi, Abe reiterated the extreme importance of Xi's proposed visit for both countries, vowed to make full preparations for a fruitful outcome and proposed delivering a message together for jointly dealing with the issues and challenges confronting the whole international community.
Second, the two countries face similar considerations with regard to their political and diplomatic agendas. Now that the state visit to Japan has been postponed, the two may wish to consider a date close to the Summer Olympics in Tokyo, both to allow more time for preparations and to show China's major support for Japan.
As Abe has said on many occasions, the Chinese president's state visit to Japan will be a once-in-a-decade event, and preparations must be made from a strategic perspective and with a responsible attitude toward history.
There are already four political documents that bind China and Japan. To draft a fifth one that fits China-Japan relations in the new era will take time and a good social atmosphere. The year 2022 marks the 30th anniversary of Emperor Akihito's visit to China three years after his enthronement. It is also the third year of the new Japanese emperor's reign. A visit to China, if achieved, will be the first state visit by a Japanese emperor in 30 years. Also, the CPC will convene its 20th national congress in 2022. A virtuous circle of state visits will be politically powerful in steering the China-Japan relations toward the future.
Third, the words and deeds of mutual help between China and Japan in their common fight against the coronavirus epidemic offer a good social atmosphere for the above-mentioned series of political and diplomatic interactions. When the outbreak first appeared in China, various circles in Japan rushed to aid China with critical supplies. Ancient Chinese poems are appreciated in both cultures.
Toshihiro Nikai, director-general of the Liberal Democratic Party of Japan, said Japan would do its utmost and spare no effort to help China. LDP members made donations. And aircraft to evacuate Japanese nationals in Wuhan, the epicenter in Hubei province, were loaded with assistance kits, deeply touching the hearts of countless Chinese.
A Foreign Ministry spokesman expressed appreciation and gratitude for the Japanese goodwill. After the coronavirus and its related pneumonia, COVID-19, ballooned into an epidemic in Japan, China promptly acted to donate test kits and protective equipment. Such interactions have effectively improved the social foundation for China-Japan relations.
At present, fighting the novel coronavirus is the top priority for both countries. The postponement of Xi's state visit will not weaken the momentum or energy toward improved relations. The countries are moving toward that on the basis of their own political will, discourse system, domestic and external agendas and public opinion.
They may now secure the active interactions needed to design a new model of post-pandemic relations. In this sense, the outbreak has provided an opportunity for China and Japan to steer their relations, now back-on-track, to new highs.