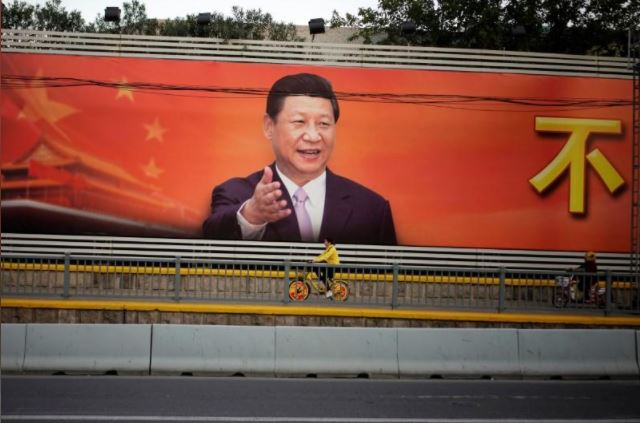 A poster with a portrait of Chinese President Xi Jinping is displayed along a street in Shanghai, China, October 24, 2017. REUTERS/Aly Song
Napoleon apparently once said: "Let China sleep. When she awakens, the world will be sorry."
Now the lion has awoken. Socialism with Chinese characteristics has entered a new era, and the Chinese nation has gone from "standing up," to "getting rich," to "becoming strong". The lion will stride quickly and steadily forward, accomplishing the three periodical goals the Communist Party of China set at its 19th National Congress. First, between the 19th and 20th CPC National Congresses, the country will build a moderately prosperous society; second, by 2035, it will build a modern socialist country; third, by mid-century, China will have become a rich, strong, democratic, civilized, harmonious, and beautiful socialist modern country.
The awakened lion also has a powerful guiding ideology - Xi Jinping Thought on Socialism with Chinese Characteristics for A New Era. be bestowed with strong spiritual strength - socialist core values; coalesced overwhelming forces - uniting all forces that could be united, mobilizing all conducive factors that could be mobilized, giving full play to the creativity of the broadest masses, making it possible for everyone to achieve self-development through his or her own diligent work.. The Chinese lion is like a wave-breaking ship carrying the great dream of the Chinese people.
The sleeping lion has awakened, yet it's a peaceful one. The Chinese people remember the miseries brought by war, hence the tireless pursuit of peace. China recognizes that peace is the foundation of development, and development is the source of peace. Xi reiterated this point while introducing the new CCP Politburo Standing Committee to the press, promising that China will never seek hegemony or engage in overseas expansion no matter how strong it becomes.
The lion has awakened, but it's a considerate one. China's development isn't selfish, harmful to others, or a zero-sum game. It follows the ancient Chinese instruction that for oneself to prosper, one must help others prosper. China is promoting more balanced global development. It takes into consideration the concerns of other nations while pursuing its own development agenda.
The lion has awakened, but it's a civilized one. Instead of being ignorant, shallow, narrow-minded, rude, and barbaric, this lion has a gentleman's heart and manner.
Peaceful, amiable, and civilized as it is, China is a strong lion. One doesn't need to shiver before her, nor should one take it lightly. Just because it doesn't bare its teeth doesn't mean it is feeble. It never makes trouble, but it's not afraid of trouble. No foreign country should count on China compromising its core interests, or swallowing the bitter fruit of damage to its sovereignty, security, or development. China will never allow anyone to take any piece of its territory.
China will continue leaping forward. President Xi has pledged to make China a great power that is "strong in all aspects", and promised that China help create a bright future for mankind.