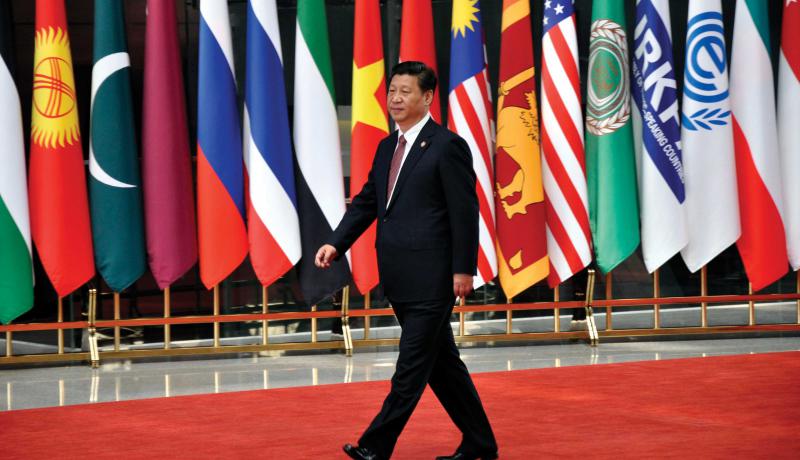 President Xi Jinping at a summit in Shanghai. (Getty Images)
Chinese diplomacy in 2017 was marked by continued efforts to advocate "a community of a shared future for mankind," advance the Belt and Road initiative, optimize bilateral relations, promote multilateral cooperation, create a positive image, and increase international influence, aiming at developing a sound external environment for China's peaceful development.
I would like to try to interpret what President Xi meant by "advancing China's diplomatic agenda in a comprehensive, multilevel, multifaceted way."
First, philosophically, Chinese diplomacy will be more proactive.
As the CPC establishes itself as a party working for the happiness of the Chinese people and progress for all mankind, Chinese leaders diligently consider global trends. Xi Jinping pointed out that the world is undergoing major changes. Hence, mankind should conform to the trend of the times and develop global collaboration to deal with common challenges, thus enabling the development of a community of a shared future.
With a deep belief in peace, development, and cooperation, Chinese leaders carefully plan actions to advance a new type of international relations featuring mutual respect, equity and justice. The Belt and Road initiative is put at the service of building a community of a shared future for mankind and an open, inclusive, clean, and beautiful world that enjoys lasting peace, universal security and common prosperity.
In the spirit of mutual trust as equals, mutual learning and win-win cooperation, Chinese leaders advocate the principle of achieving shared growth through discussion and collaboration and courageously put forward various new proposals and measures in the Shanghai Cooperation Organization, and the BRICS, APEC, and G20 mechanisms.
China also dares to take up the responsibility of a big country by actively participating in reform and development of the global governance system and contributing Chinese wisdom and strength. The successful hosting of the first Belt and Road Forum and the BRICS Summit this year offer two very good examples.
Second, in practice Chinese diplomacy will focus on four priorities to increase shared interests with other countries.
Relations with other big countries will continue developing as China strives to advance coordination and cooperation with them. Now, China's relations with the US is characterized by transition; those with Russia, deepening; those with Japan, running in; those with India by coordination; those with Europe by steadiness.
The surrounding environment keeps improving. Following the principles of amity, sincerity, mutual benefit, and inclusiveness and the idea of making friends with our neighbors and being nice to them, China does its utmost to maintain neighborly and friendly ties and develop mutually beneficial cooperation. Even though some countries challenged Chinese core interests, like its territorial integrity and sovereignty, China conducted peaceful consultation with them, thus relaxing tension.
Ties with other developing countries have been strengthened. China strengthens solidarity and cooperation with other developing countries by upholding the values of friendship, justice, and shared interests and adhering to the principles of sincerity, practical results, affinity and good faith.
With great respect for cultural diversity and freedom in choosing one's own path to development, China handles international affairs and regional hotspots on a case-by-case basis. For example, China has done everything it can to push for denuclearization of the Korean Peninsula. It not only initiated and facilitated the Six-Party Talks, it also mediated and coordinated the interests of relevant parties. It has also put forward various schemes in light of the changing situation.
Third, Chinese diplomacy will be conducted with a different tone.
It will be a tone of confidence but not aloof pride. The confidence is based on a firm belief in the great rejuvenation of the Chinese nation. China has always opposed isolationism and conservatism. It prefers making as many friends as possible and has entered into strategic partnerships with over 80 countries. One example is the CPC in Dialogue with World Political Parties High-Level Meeting (Beijing, 30 November – 3 December 2017) focusing on political parties' role in developing a community of a shared future for mankind.
China is guided by the five development concepts of innovation, harmonization, environmentalism, openness, and sharing, and does not waste time threatening any other country.
The country engages in competition rather than fighting. Countries safeguard their own interests and naturally there is always certain competition between them. And state-to-state relations tend to feature both competition and cooperation at the same time. With a strong sense of propriety, China has never harmed others to benefit itself or followed a beggar-thy-neighbor policy.
China is tolerant. In diplomacy, it seeks harmony in diversity rather than uniformity.
With increased national strength and successful diplomacy, China has gained more international influence, which helps world peace and development. Chinese leaders will work for a world free of fear, poverty, isolation, and pollution. Is there anything wrong with this aspiration?