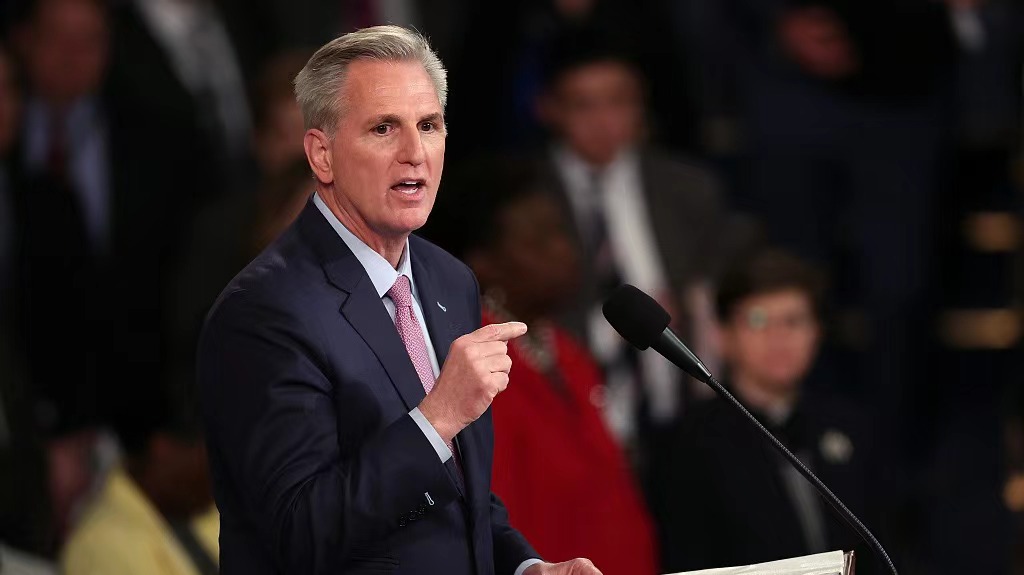 Republican Congressman Kevin McCarthy of California was elected as speaker of the U.S. House of Representatives early on January 7 after the 15th round of voting.
Kevin McCarthy was finally elected speaker of the U.S. House of Representatives on Friday after 15 rounds of voting. Amid the vehement political wrangling, the new 118th Congress was off. In particular, the fight was not just between Republicans and Democrats but also within each party. It's clear that Republicans have grown apart, with far-right extremists in the House, in the latest move, attempting to attack the establishment wing through the humiliation of McCarthy. They think McCarthy, who was born into a family of Democrats, isn't loyal to Donald Trump and won't implement their conservative agenda.
While McCarthy ultimately won the House speakership, the actual power he holds has been sharply cut. To gain sufficient votes, he made a range of concessions to the far-right. For example, a single member of Congress can call for his removal if he or she is dissatisfied with his leadership or thinks he is betraying the values of conservatives. Moreover, McCarthy agreed to reinforce the influence of the far-right wing on key House committees and to prioritize the legislative docket in their favor, including taking more draconian measures to prevent immigrants from entering the U.S. at the southwestern border. The Freedom Caucus — a coalition of far-right Republicans such as Jim Jordan, the Representative from Ohio — raked in greater power in Congress.
The assault on McCarthy shows that an extremist ideological strain closely linked with Trumpism is likely to hold considerable sway in Congress. In an article in Foreign Affairs, Steven Levitsky, professor of government at Harvard University, and Lucan Way, professor of political science at the University of Toronto, wrote, "The Republican Party, moreover, has radicalized into an extremist, antidemocratic force that imperils the U.S. constitutional order."
Just before the midterm elections, U.S. President Joe Biden warned that extreme MAGA Republicans pose a "clear and present danger" to U.S. democracy. In a CBS News poll in October 2022, nearly 80 percent of respondents described the current state of affairs in the U.S. as "out of control."
Undoubtedly, this extremist ideological strain will not only increasingly rattle U.S. domestic politics but will have spillover effects on China-U.S. relations. Since Trump's election, Republicans have grown more hostile toward China. His successor, Biden, has retained most of Trump's policies toward China and formulated new, more stringent measures in Washington's Indo-Pacific layout and export controls. Even so, the GOP thinks the Biden administration is too weak to confront China and is trying to create an impression among American voters that the Democratic Party is incapable of dealing with the "China threat." Marjorie Taylor Greene of Georgia, an ultra-radical Republican, called China "our number one threat." She ranted about Biden being "controlled by China" and referred to his Green New Deal as "Chinese communism." It's quite clear that the China card has become a tool in American political infighting.
As Republicans recaptured control of the House in the 2022 midterms, they pledged to enact tougher China policies in the future. The Republicans in the new Congress are "sharpening their knives for China," as a commentary in The Hill put it. Note that a large number of China hawks in the GOP will occupy important positions in Congress, and McCarthy himself has long taken a tough stance on China. In September 2022, he unveiled the "Commitment to America," a position paper rife with goals and measures to counter China, including "ending our dependence on China by strengthening domestic supply chains."
The China-related content in this "commitment" has much in common with Trump's agenda, which was released during the 2020 presidential election cycle, a reflection of the fact that China hawks such as Trump and other figures, such as former secretary of state Mike Pompeo, have far-reaching impact within the GOP. Michael McCaul, Mike Rogers, Mike Turner and other members of Congress who hold aggressive, hostile views toward China are set to lead a raft of key House committees and give priority to legislation dealing with the so-called China threat.
Second, the Republicans in the new Congress attach great importance to such issues as the control of exports to China, deterrence in the Indo-Pacific and military assistance to Taiwan. They claim they won't let China "steal" advanced technologies from the U.S., and they will push the U.S. government to impose further controls on exports to China, including a multilateral export control regime to make it difficult for China to acquire advanced microchips used, for example, in artificial intelligence and hypersonic missiles, as well as other high-end technology products. They'll also propel the Committee on Foreign Investment in the United States to make further reforms, scrutinize land purchases in the U.S. made by Chinese companies and organizations and halt American investment in tech firms with any ties to the Chinese government or military. In addition, the House Committee on Oversight and Reform, under the leadership of Republican James Comer, will focus on an investigation into the origins of COVID-19. Many American politicians continue to tout the discredited Wuhan lab leak theory.
Third, the GOP has voted to establish a select House committee on China, through which they also eye bipartisan cooperation on pressuring China. The creation of the panel has been a longtime goal of McCarthy. When he tried to set it up in collaboration with Democrats back in 2020, then-House speaker Nancy Pelosi rejected the idea over concerns about the China issue being politicized too much.
McCarthy went on to organize a China task force in the House. Although it is exclusively Republican, McCarthy said that "more than 60 percent of the ideas are bipartisan," including boosting the U.S. domestic chip manufacturing sector and enhancing funding for scientific research. The new select committee on China will coordinate with other standing panels to make Washington's China policy more systematic and coherent. Mike Gallagher, a former Marine Corps intelligence officer, will lead the committee. He said that it would focus on human right issues and "ideological warfare," in addition to intensifying the American people's perception of the "China threat."
Last but not least, the Republican retaking of the House has guaranteed a divided U.S. government, from the standpoint of the the administration's relationship with Congress. Biden will face more congressional policy challenges, including more interaction with Republicans over China. Gallagher once said that there is a "huge opportunity in divided government" to get "bipartisan work" done on China, and there are several driving forces for it.
One of those forces — given the backdrop of America's highly polarized domestic politics — is that Democrats and Republicans need to show voters that they are able to work together on certain issues. Handling the "China threat" is the issue on which they have the most consensus. Another is that the House is pushing forward with an investigation into Biden and his family, especially his son Hunter, whom Republican deem to have had suspicious business dealings with China. The GOP will also probe the Department of Justice and may even seek Biden's impeachment. Under such circumstances, there's a chance that Biden and his fellow Democrats may make concessions to the Republican hawks and carry out other political transactions.
In a nutshell, the political wrangling surrounding McCarthy's House speakership is no gospel for China and its ties with the U.S. McCarthy said that he'd visit Taiwan after getting elected, once again jeopardizing the China-U.S. relationship. What's more intractable is that the extremist ideological strain within the GOP is rapidly gaining momentum. Consequently the China issue will be hyped to the point that Biden will have a narrower window to adjust his China policy.