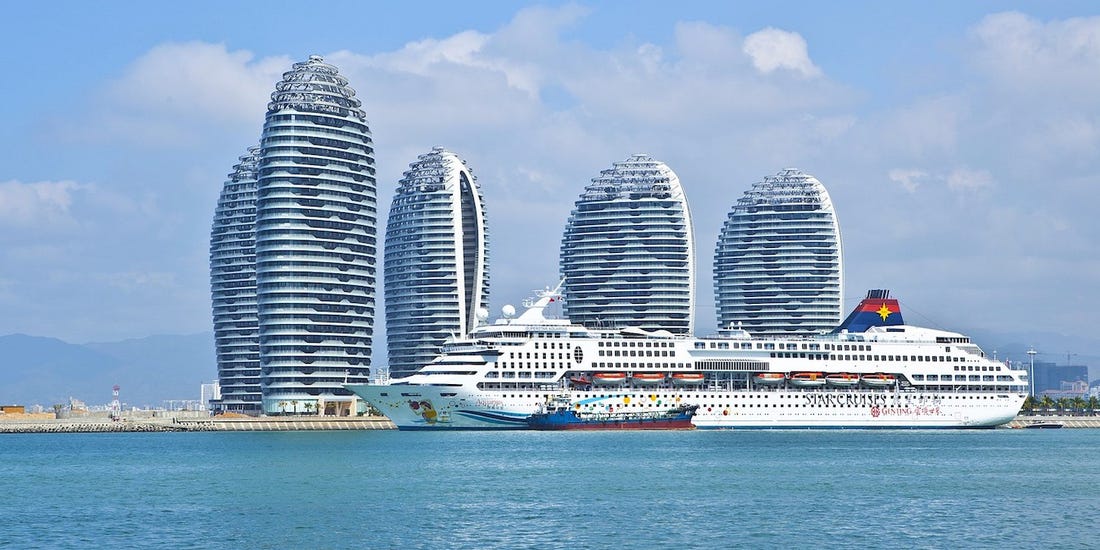 Hainan Free Trade Zone dubbed the 'Hawaii of the East,' is now made a hotspot for gambling, tech, and luxury.
On June 1, China released a master plan for a free trade port on the island province of Hainan, marking a new stage in the making of what has been called "high ground" in the country's opening-up to the world.
The Hainan Free Port, or HFP, is no ordinary free port. There are literally hundreds of free ports in the world, ranging from Trieste to Copenhagen to Singapore. Most, if not all, occupy a small area. By comparison, the HFP includes the whole province, with a land mass of more than 35,000 square kilometers and a population of around 9.5 million. It's 60 times the area of the free port in Singapore and 40 times that of Hong Kong.
The HFP also differs in the major economic sectors it will develop. Free ports elsewhere in the world are characterized by a high concentration of activities in processing, warehousing and transshipment. The HFP, by contrast, plans to focus on developing tourism, modern services and high-tech industries.
Hainan, dubbed the Hawaii of the East, is known for its white sandy beaches and lush coconut trees under blue skies. It is only natural that it's intent on preserving its pristine environment and beautiful natural scenery. To help develop its tourism industry, preferential policies will be implemented to make the province a shopping mecca for tourists. Chinese visitors will be allowed to spend up to 100,000 yuan ($14,000), annually in duty-free shops on the island, which compares favorably with 20,000 yuan for tourists in Hong Kong.
Will Hainan challenge Hong Kong as an international financial center? The HFP is not designed to play such a role, which in part reflects an appreciation by Chinese policymakers of the deficiencies of the province in the financial sector, both in infrastructure and talent. The development of HFP's financial sector is thus geared toward facilitating and supporting the liberalization of trade and investment on the island.
In what the Reuters described as part of a plan "to open up the province's economy to foreign investors," the blueprint calls for developing Hainan into a "globally influential and high-standard free trade port," with free movement of goods, capital and people between Hainan and the rest of the world. To this end, the best practices of other free ports were taken as a bench mark in its design.
The master plan has taken a leaf from the books of Hong Kong and Singapore, and even gone beyond their best practices in some important aspects, prompting commentators to describe it a "breakthrough."
To start with, the HFP will have a customs jurisdiction that is separate from the Chinese mainland. The island will be sealed off and placed outside the usual customs territory for tax purposes. A zero-tariff system will be put in place. All imports, with the exception of an extremely limited list of goods, will enter the HFP freely and pay no duties.
Further, to provide foreign businesses with easy access to China's huge consumer market, the "rule of origins" will be introduced. Under the scheme, goods made in Hainan using local components from encouraged sectors will be allowed to enter the interior free of tariffs, so are those goods made of imported components if the value-added in the manufacturing process on Hainan exceeds 30 percent.
An institutional innovation will also come in the area of investment. Under the master plan, a truncated "negative list" will be prepared and maintained, allowing a larger number of economic sectors to accept foreign investment than in the interior. What is more, a streamlined procedure of approvals will be created initially and then phased out over time. Eventually, instead of approvals and permits, the master plan envisions a wholly new system based on undertakings by investors.
What this means is that a foreign investor will be legally allowed to operate a business in the HFP based on his trustworthiness alone. Such an approach has never been ventured elsewhere in the world, and I suspect it will require a bit of reworking and refinement.
A special tax regime will be designed for Hainan, with highly competitive corporate and personal tax rates. Companies in the tourism, modern services and high-tech sectors will only pay a tax of 15 percent, substantially lesss that the 25 percent charged in China's interior or between Hong Kong's 15 and 16.5 percent.
In addition, companies in the above-mentioned sectors will be entitled to a tax holiday on their overseas earnings until 2025. The personal income tax rate will be capped at 15 percent, as opposed to 25 percent for the interior, 17 percent for Hong Kong and 22 percent for Singapore.
Last but not least, to facilitate the movement of people, visa waivers for short stays will be granted not just to tourists but also to businesspeople, sportsmen, entertainers and conference attendees. Work permits will be issued based on meeting the pay threshold. In an unprecedented move by China, overseas entities and individuals will be permitted to serve as legal representatives of local companies, including SOEs.
All these institutional innovations represent China's new effort to accelerate its integration with the global economy.
More important, Chinese leaders intend for the HFP to serve a test bed for the country's further reform and opening-up. In China, policy measures are often tried out in designated localities before being introduced nationwide. For this purpose, 17 free trade experimental zones have been set up across the country since 2003. These zones cover an area of approximately 1,000 square kilometers each, and are tasked with developing policies on specific aspects of the economy.
The HFP, however, has been given a much bigger mandate. The master plan calls for reshaping the current regulatory framework, removing institutional barriers to the free flow of factors of production and furthering opening-up through the adoption of new trade rules. Thirty-nine institutional reforms are planned.
In this connection, the HFP will be required to experiment with multiple policy measures in a comprehensive manner and converge with trade rules that are emerging outside China. It is also being asked to synthesize its good practices and come up with a complete system.
In short, apart from finding the right trail for its own development, the HFP is expected to blaze a new path for the country's reform and greater opening-up with a "Hainan model."
To create a world-class legal environment for the HFP and provide it with latitude and flexibility necessary for accomplishing its mission, China is taking a rare step. The national legislature has decided to enact a law designed exclusively for the HFP.
Clearly, the Hainan Free Port is a part of China's program for developing an open economy and supporting economic globalization — another testament to Chinese leaders' resolve to open the country faster and wider. At a time of rising trade protectionism, it is widely considered an antidote to the anti-globalization wave.
Of course, Rome was not built in a day. The development of the HFP is expected to take more than a decade to complete. But China is determined to lose no time in this endeavor. Despite enormous challenges, it is doubling down with intensive efforts both at the local and central government levels to construct a growth engine that will benefit both China and the global economy.