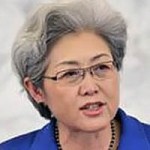 Fu Ying
Chair, Center for International Security and Strategy, Tsinghua University
Fu Ying is a former Vice Minister of Foreign Affairs of China. She is now a vice-chairperson of the Foreign Affairs Committee of the National People's Congress, and the chairperson of the Center for International Security and Strategy at Tsinghua University.
Mar 25, 2021

Fifty years after the great thaw in relations between China and the United States, the two have reached a new turning point, with little reason for them to return to conflict and confrontation. A positive outlook seems warranted, although the future remains uncertain. Will relations decline again, or will they stabilize?

Nov 16, 2020

The world hopes to see reduced friction between the United States and China in the post-pandemic era. If the next U.S. administration can invest seriously in international cooperation, new paths for joining hands and lifting humanity will emerge.

Oct 09, 2020

Any resolution of the nuclear issue must start with the recognition of the DPRK's deep concerns. While the six-party talks have not yet resumed and risks remain, China will remain critical to the future outcome.

Jul 20, 2020

China needs to figure out how to respond constructively to provocations by the United States, especially as the rhetoric heats up in a presidential election year. I have some suggestions.

Jun 28, 2020

A desirable prospect for future China-U.S. relations is that rational deliberations prevail and the two parties formulate a stable relationship of "coopetition." Unfortunately, the current U.S. administration has little interest in moving in that direction.

Apr 30, 2020

China is neither the former Soviet Union, nor intent on becoming the next America.

Apr 19, 2020

China's influence in the realm of public opinion needs to be improved. Its international discourse does not yet sufficiently reflect the rich fabric of Chinese society and culture. Nor does it quench the craving for knowledge by the rest of the world.

Mar 18, 2020

Coronavirus, unknown to mankind, appeared suddenly, but it showed that all countries in the world are in the same boat—— Intervew with Ms. Fu Ying,

Feb 23, 2020

The 56th Munich Security Conference was held on February 14-15, attracting 32 heads of state and government, 77 cabinet ministers among over 1,000 delegates from political, military, academic and business circles. I was invited to participate as a member of its advisory board, and have the following impressions to share.