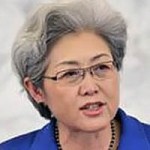 Fu Ying
Chair, Center for International Security and Strategy, Tsinghua University
Fu Ying is a former Vice Minister of Foreign Affairs of China. She is now a vice-chairperson of the Foreign Affairs Committee of the National People's Congress, and the chairperson of the Center for International Security and Strategy at Tsinghua University.
Jul 20 , 2020

China needs to figure out how to respond constructively to provocations by the United States, especially as the rhetoric heats up in a presidential election year. I have some suggestions.

Jun 28 , 2020

A desirable prospect for future China-U.S. relations is that rational deliberations prevail and the two parties formulate a stable relationship of "coopetition." Unfortunately, the current U.S. administration has little interest in moving in that direction.

Apr 30 , 2020

China is neither the former Soviet Union, nor intent on becoming the next America.

Apr 19 , 2020

China's influence in the realm of public opinion needs to be improved. Its international discourse does not yet sufficiently reflect the rich fabric of Chinese society and culture. Nor does it quench the craving for knowledge by the rest of the world.

Mar 18 , 2020

Coronavirus, unknown to mankind, appeared suddenly, but it showed that all countries in the world are in the same boat—— Intervew with Ms. Fu Ying,

Feb 23 , 2020

The 56th Munich Security Conference was held on February 14-15, attracting 32 heads of state and government, 77 cabinet ministers among over 1,000 delegates from political, military, academic and business circles. I was invited to participate as a member of its advisory board, and have the following impressions to share.

Dec 17 , 2019

The United States is trying to make high-tech a platform for strategic rivalry, which is not how China sees it. The reality in the field is a kind of constructive and strategic mutual dependency.

Nov 08 , 2019

In the ideal scenario of "co-opetition," China and the US should find a new model for interaction: maintaining necessary, mutually beneficial co-operation while managing unavoidable but benign competition.

Oct 14 , 2019

President Xi Jinping has pointed out that the world we live in is undergoing profound changes unseen in a century.