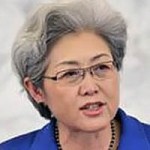 Nov 24, 2022

This is a highlight moment for ASEAN, with the ASEAN Summit, the G20 Summit and the APEC Economic Leaders' Meeting coming soon. By hosting these events, ASEAN will be able to demonstrate to the world its strong will and capability to unite the region and provide new impetus for the post pandemic recovery.

Jul 27, 2021

The Group of Seven (G7) Leadership Summit held last June was stated to be an occasion for the Western leaders to "reestablish" the international order after the COVID-19 pandemic. It was also for the U.S. to demonstrate its return "back at the table".

May 27, 2021

Chinese and U.S. interests are profoundly intertwined. Some 85 percent of the members of the American Chamber of Commerce in China have no plan to relocate. In fact, most plan to increase their investment, highlighting the importance of China-U.S. cooperation.

May 17, 2021

The principle should not be used to maximize the interests of any single party. When major countries follow the principles of multilateralism, they restrain themselves from seeking their own interests at the expense of others. Instead, they consider the overall good.

Mar 25, 2021

Fifty years after the great thaw in relations between China and the United States, the two have reached a new turning point, with little reason for them to return to conflict and confrontation. A positive outlook seems warranted, although the future remains uncertain. Will relations decline again, or will they stabilize?

Nov 16, 2020

The world hopes to see reduced friction between the United States and China in the post-pandemic era. If the next U.S. administration can invest seriously in international cooperation, new paths for joining hands and lifting humanity will emerge.

Oct 09, 2020

Any resolution of the nuclear issue must start with the recognition of the DPRK's deep concerns. While the six-party talks have not yet resumed and risks remain, China will remain critical to the future outcome.

Jul 20, 2020

China needs to figure out how to respond constructively to provocations by the United States, especially as the rhetoric heats up in a presidential election year. I have some suggestions.

Jun 28, 2020

A desirable prospect for future China-U.S. relations is that rational deliberations prevail and the two parties formulate a stable relationship of "coopetition." Unfortunately, the current U.S. administration has little interest in moving in that direction.

Apr 30, 2020

China is neither the former Soviet Union, nor intent on becoming the next America.