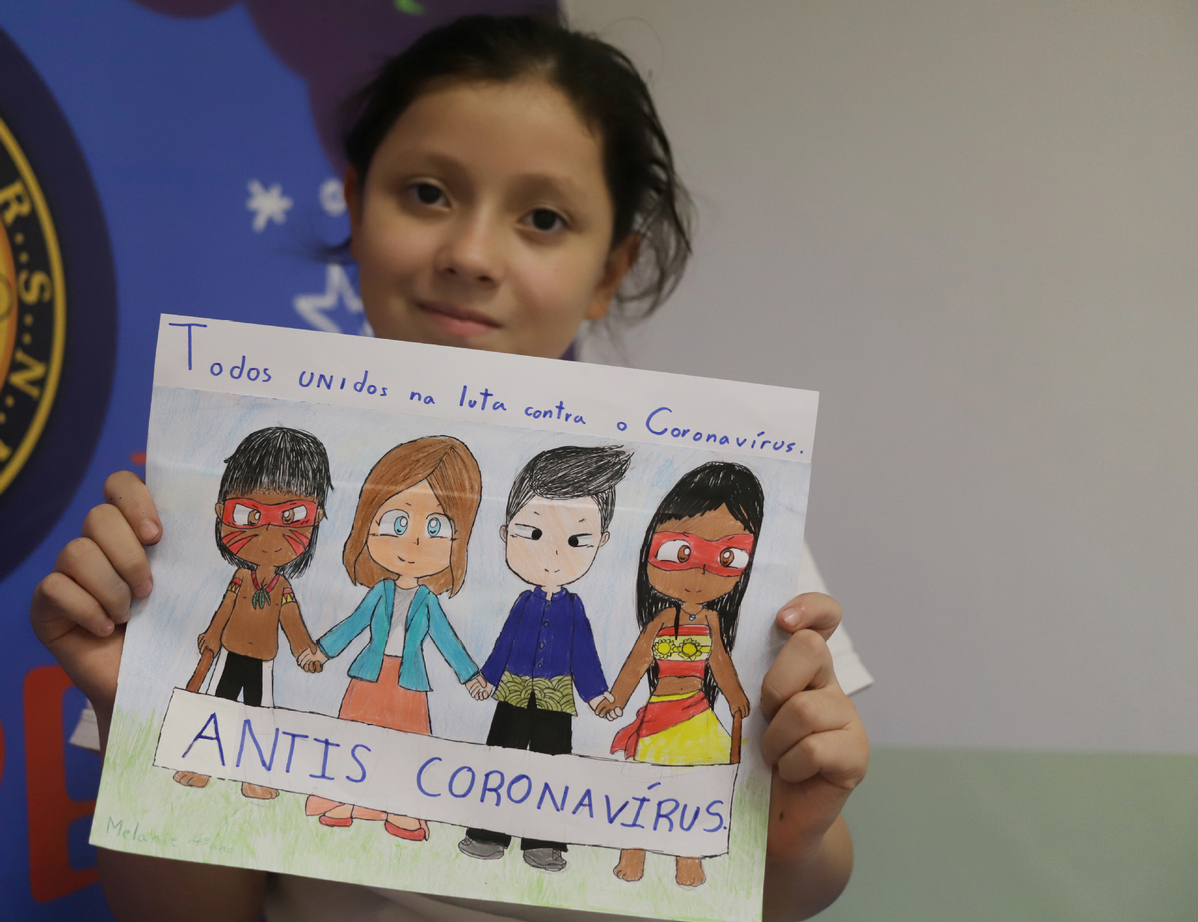 A 9-year-old girl holds a painting sending best wishes to the Chinese people in their fight against the novel coronavirus in Sao Paulo, Brazil on Feb 7, 2020.
The novel coronavirus has spread to more than 200 countries and regions across the world, with more than 800,000 infections as of the end of March. It is a serious threat to humankind, including China and America.
Yet, on a hopeful note, as the recent history of the relations between the two powers indicates, this common threat could force them to work together, and that in turn may stabilize relations. Cooperation in fighting this virus could be another turning point in China-U.S. relations.
The last two decades have seen various ups and downs, characterized overall by China's efforts to construct cooperative bilateral relations. The United States, on the other hand, has stuck to its Cold War mentality and adopted policies designed to contain China. It's concerned that China could surpass it as No. 1 in the world.
Now, fortunately, the U.S. may at last return to the track of cooperation after fostering confrontation for some time. The reason is simply that the two nations must face hard reality. With globalization, humans are living in a connected world, a global village, and are facing many common threats, from international terrorism to economic crises, climate change and pandemics — all of which are far more serious than what we call geopolitics.
The first two decades of the 21st century have already seen two of such threatening scenarios. The first was in 2001, just after 9/11, as the George W. Bush administration redefined its China policy.
Shortly after Bush took office in January of that year, his administration designated China a strategic competitor, and as a result China-U.S. relations plunged into difficulty. The U.S. increased its surveillance activities near China's border, and an air collision over the South China Sea in April, resulted in the loss of an elite Chinese pilot. This incident put China-U.S. relations into a tailspin.
Then came the 9/11 terrorist attack against the U.S. homeland. It was a disaster for Americans and the whole human community. The incident provided an opportunity for the U.S. to reverse its policy toward China. Jiang Zemin, then China's president, sent one of the earliest condolences to President Bush after the incident, which was appreciated by the U.S. side.
But what was most important was that 9/11 made the U.S. realize that its biggest threat was international terrorism. Fighting it would require cooperation from other members of the international community, including China.
China did vote for a United Nations Security Council resolution authorizing U.S. military action against terrorism in Afghanistan, and it cooperated in sharing information about international terrorism. China, as a host nation of APEC Summit that year, supported the U.S. in issuing a joint statement against terrorism. And cooperation in fighting this common threat has served to stabilize China-U.S. relations.
The two nations also joined in coping with the financial crisis of 2008. It was triggered during Bush's term but continued into Barack Obama's presidency. Cooperation between the two countries was a stablizing factor during Obama's first term.
It's true that Obama's policy toward China was similar with that of Bush at the beginning. Realizing China's growing role in the Asia-Pacific region, Obama launched a strategy called "pivot to Asia," or "rebalancing" in the Asia-Pacific. This pivot to Asia followed the logic of containing China.
But because of the financial crisis, the U.S. had to regard China as a major partner. China continued to buy U.S. Treasury securities and other dollar-denominated assets, and together the countries restarted the G20 mechanism to coordinate global macroeconomic issues.
China's efforts at cooperation were appreciated by U.S. politicians. Although pivoting to Asia, Obama's China policy had generally stayed on track with regard to some key issues and avoided violating certain foundational principles.
Nancy Pelosi, then minority leader of the U.S. House of Representatives, visited China in May 2009. During that visit, she refrained from criticizing China on various issues, such as human rights, instead spending almost all her time talking about economic cooperation and cooperation on climate change.
Now the appearance of COVID-19 could be another turning point in the relations between the two countries. Since taking office, U.S. President Donald Trump has also taken a confrontational approach toward China on trade, the South China Sea and Taiwan. By defining China as a strategic rival, Trump has taken an even tougher stance against China than his predecessors.
The Trump administration will have to cooperate with China in the virus fight — first for its own sake. The number of Americans infected by the disease continues to rise and will likely reach beyond initial expectations. China can share its experience in fighting the epidemic and offer help through supplies and other facilities.
Second, China and the U.S., the two largest economies in the world, need to take the lead in joint efforts to fight the global pandemic because the world is calling for them to do so.
Third, the pandemic is having a devastating impact on the world economy, which requires the two countries to cooperate in saving the global economy during and in the aftermath of the pandemic. Without such cooperation, it will be difficult for the world to escape the misfortune of global economic collapse.
China has never been a narrow-minded nation. Despite unreasonably blamed by the U.S., China has consistently called for cooperation. Shortly after the phone call between the presidents on March 27, some medical materials and facilities were flown to New York from Shanghai. And medical experts on both sides have continued to exchange information and expertise.
To sum up, the first 20 years of the new century have witnessed three U.S. Presidents adopting a more or less confrontational policy toward China, but the most recent two came back to the track of cooperation. It is hoped the Trump administration will not be the exception where COVID-19 is concerned.
In a globalized environment, China and the U.S. have many vital shared interests. Dealing with a shared threat should take priority over everything else.