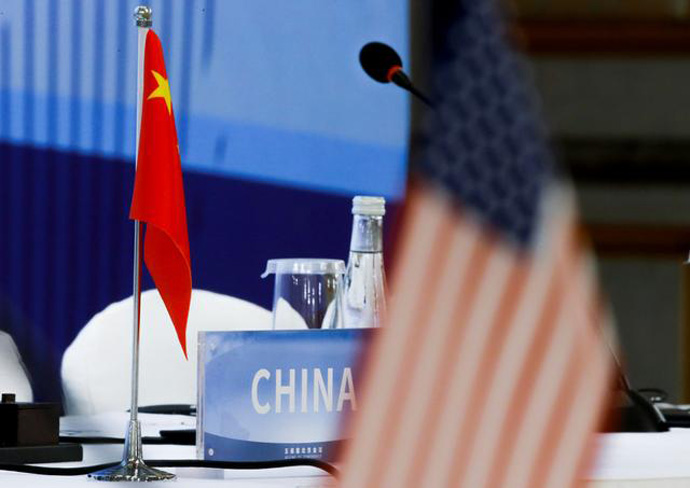 Despite combative opening remarks, the China-U.S. high-level strategic dialogue session between top officials in Anchorage, Alaska, bore some fruit.
The dialogue on March 18 and 19 was the first face-to-face talks between top Chinese and U.S. officials since Joe Biden assumed the U.S. presidency. The administration, while not recognizing the talks as a strategic dialogue, nevertheless did not rule out the possibility of more conversations and dialogues.
Speaking to journalists after the meeting, Yang Jiechi, described the talks as "constructive."
"The door for China-U.S. dialogue will always be open on the Chinese side," Wang Yi said.
During the meeting, the Chinese side explicitly countered the attempt by the U.S. to show a "position of strength" and moral superiority but still showed willingness to restore stability to China-U.S. relations, starting with small actions. The two sides discussed specific issues regarding the resumption of bilateral exchanges amid the pandemic. Chinese officials made clear their readiness to cooperate with the U.S. on three pressing issues — the pandemic, climate change and the global economic crisis. China-U.S. coordination on climate change was initiated through productive communication between Xie Zhenhua and John Kerry, the two countries' climate envoys, over the past month.
Above all else, the biggest outcome of the Anchorage meeting was that both sides were able to compare notes on major issues impacting bilateral relations under the Biden presidency. Both sides published their own news releases, which together constituted a list of their respective concerns.
Among the major concerns of the Chinese side are:
• U.S. interference in the country's internal affairs, which undermines the security of the ruling Communist Party of China and the stability of socialism with Chinese characteristics;
• U.S. moves to seek bloc confrontation and ideological competition that threatens China's commitment to continued reform and opening-up and playing a bigger role in global governance;
• the U.S. becoming increasingly wobbly on the one-China principle, sending incorrect signals to people in Taiwan who want independence;
• U.S. meddling in Hong Kong and backing Hong Kong independence forces;
• U.S. attacks and tarnishing of China's Xinjiang policies, applying double standards on anti-terrorism issues;
• frequent, dangerous, close-up reconnaissance and freedom of navigation operations (FONOPs) against China in the South China Sea region, intending to challenge China's sovereign rights and interests and adding to the risk of conflict between both militaries.
Concerns on the U.S. side, as presented by Secretary of State Antony Blinken and National Security Adviser Jake Sullivan, can be broadly grouped into four categories, which are in line with the general tenor of Bidenism, a doctrine that senior figures in the administration seek to develop.
First is "values-oriented diplomacy," which involves Xinjiang, Hong Kong, human rights and other issues on which the U.S. is attempting to take the moral high ground and which the Biden administration uses to rally allies and partners to contain China.
Second is "middle-class diplomacy," which involves issues such as economics and trade, intellectual property rights, supply chain security and cybersecurity. In this regard, the U.S. seeks so-called reciprocity and fairness, with the aim of safeguarding its edge in sci-tech innovation and manufacturing and creating conditions to enable economic stimulus, business recovery, increased employment and the overall healing of society.
Third is "strategic security diplomacy," which is related to global strategic stability and nonproliferation. In recent years, the U.S. has attempted to rope China into multilateral arms control talks dominated by the U.S. and Russia, partly to uncover China's true intentions and partly to set a limit on China's military buildup.
Fourth is "global diplomacy," which concerns matters related to climate change, the Iran nuclear issue, Afghanistan, the Korean Peninsula and Myanmar, among others. It echoes Biden's message to the world that "America is back," and entails cooperation with China.
The Anchorage meeting failed to effectively bridge the differences between the two sides on a wide array of issues. However, the meeting at least helped uncover which issues may become a future battlefield — thus necessitating stringent control — and which issues are of common concern to both sides to the extent that they can put divisions aside.
The Biden administration will increase its scrutiny of its China policy following the Anchorage meeting. President Biden started a thorough review of U.S.-China policy as soon as he took office. According to recent remarks by Biden and senior officials in his administration — as well as what is contained in a report titled Interim National Security Strategic Guidance, which was recently released by the White House National Security Council — the U.S. considers China its "most serious competitor," resolves to approach relations with China under a framework of "strategic competition," and will strived to add new tools to its policy basket of "competition," "confrontation" and "cooperation" to deal with China in an integrated and dynamic manner.
The Biden administration initiated the Anchorage meeting after it completed its first round of policy coordination regarding China with its allies and partners and held the summit of the Quadrilateral Security Dialogue (Quad), a coalition of the U.S., Japan, Australia and India. Before the Anchorage meeting, the U.S. extended sanctions on Chinese officials and institutions and added more Chinese tech companies to blacklists, with the aim of enhancing its bargaining leverage.
Next, the U.S. will determine the direction of its subsequent policy review in light of clues gained from the meeting, as well as measurable actions.
The Biden administration clearly failed to fulfill expectations that it could keep China down through a transatlantic consensus or through Quad coordination. After the meeting, Blinken reiterated publicly the need to approach bilateral relations with "patience" — a word he uses synonymously with "caution." Over the past few years, China-related issues have become increasingly vital to the U.S.'s global supremacy and have had a greater bearing on U.S. internal affairs.
When handling relations with China, the Biden administration needs to refrain from erratic approaches, such as those employed by Donald Trump, and also avoid being labelled as weak domestically.
The Biden administration's next step will be another round of efforts to enhance the common stance shared by its allies and partners and hold a "democracy summit" in an effort to prepare for coping with China. It will roll out its new Indo-Pacific Strategy, which will incorporate both Obama's Asia-Pacific rebalancing and Trump's Indo-Pacific Strategy, which is currently being prepared by the China Task Force, a newly established group at the Pentagon.
The Biden administration will also continue to seek dialogue and communication with China and is likely to focus talks on certain specific areas. Yet, even though it holds high the banner of values, it still cannot mask its utilitarian attitude — after all, it has repeatedly said that there would be no empty words with China and only dialogues that are results-oriented and practical.
Because the Biden administration's China policy review is still underway, China can play it by ear for the time being. It needs to closely observe and properly cope with the next U.S. moves. With a turbulent path ahead, the deterioration of China-U.S. relations is far from over, let alone any turnaround. In the coming months, every step and milestone in the Biden policy review will be accompanied by an intense struggle, either across the board or on a local scale, between China and the U.S. and its close partners.
The Biden administration has expressed determination to pursue long-term strategic competition with China. It has no intention of having such competition in every aspect of bilateral relations, and stresses that it does not want to create conflicts or wage a new cold war. But Biden will choose to prioritize some areas, such as science and technology, economics, the military, values, ideology and even global leadership, to have real "limited" competition with China.
Conceivably, even though bilateral relations will not be defined as "vicious competition," the rivalry between China and the U.S. will involve a wide range of areas and will advance on multiple levels. A new cold war is still a tinderbox waiting to be ignited. Indeed, the two most dangerous fuses are already burning. First, while the local, limited decoupling in science and technology is not comprehensive, it still has the potential to divide the world. Second, the U.S.'s reverberating rhetoric on values can provoke direct ideological conflicts, which is how the U.S.-Soviet Cold War began.
After the intense frictions of recent years, both China and the U.S. have built up a fixed mindset in their respective diplomatic strategies, and their policies toward each other has increasingly become part of their domestic politics, as evidenced by their growing lists of concerns. When adjustments are needed, the problem lies in how to handle the fixed mindset, because this process will require superb diplomatic skills.
The two sides can probably adopt a differentiated approach toward their complicated relations so that they can be competitive or cooperative as necessary. However, given Biden's limited policy basket there are only a handful of tools available for "cooperation," far fewer tools than for other topics.
Are China and the U.S. willing, patient and wise enough to flesh out and expand the basket? At present, they are jointly shaping their future relations through interaction. They can have healthy competition, which promotes the evolution of the two countries and embraces the development of other cultures, but they cannot be allowed to tumble into vicious competition featuring Cold War-style confrontation and conflict. In any case, the future of China-U.S. relations lies not only in the choice of strategy and policy, but the countries' interactions on a series of concrete issues.