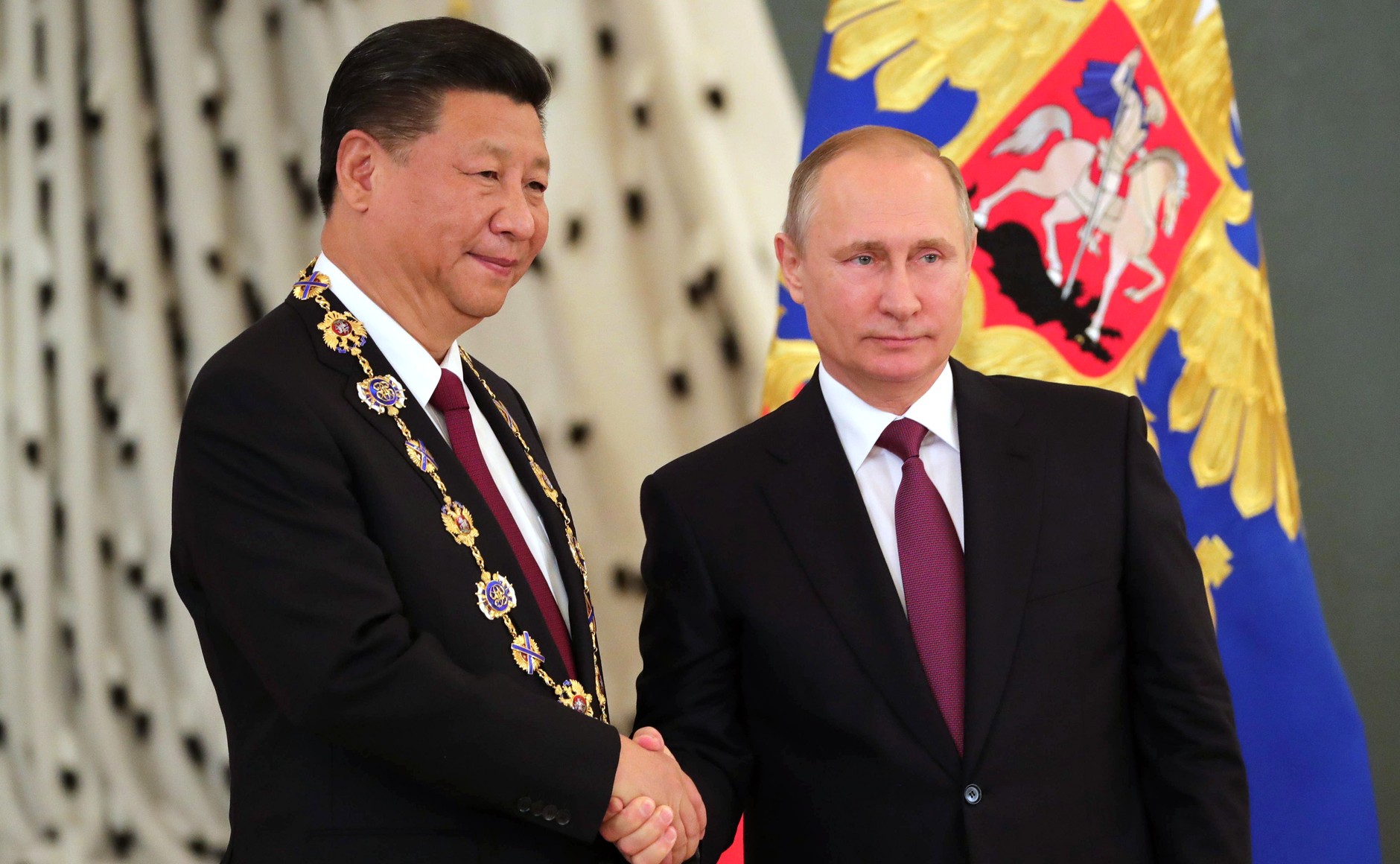 Vladimir Putin presents Xi Jinping with the Order of St Andrew the Apostle in July 2017
Over the last few months, defense and security ties between China and Russia have gained new momentum, with new high-level visits, mutual declarations of support regarding critical national security issues, and the realization of important arms sales.
Wei Fenghe, China's recently appointed State Councilor and Minister of National Defense, chose Moscow for his first official foreign trip in April. At a joint press conference with Russian Defense Minister Sergei Shoigu, Wei said his choice aimed to communicate the importance of the Sino-Russian relationship and send a clear message, especially to Washington, of the two forces' close ties, shared concerns, and common positions on key global issues. "We've come to support you," he told his Russian counterpart. Shoigu concurred that Wei's visit profiled the "special character" of the Sino-Russian defense relationship. Wei called Chinese-Russian defense ties "as stable as Mount Tai" and characterized the relationship as making a major contribution to international peace and stability.
During his speech to the Moscow Security Conference, an annual, high-profile multinational event sponsored by the Russian Ministry of Defense, Wei described China as a "contributor to world peace, a propeller of global growth and a preserver of international order." Besides reasserting Beijing's long-standing support for the concepts of common security, peaceful resolution of disputes, and win-win outcomes, Wei echoed Moscow's line about how globalization inexorably undermines U.S. power and promotes benign multipolarity. Wei also denounced U.S. support for Taiwan as interfering in China's internal affairs and disrupting cross-strait stability.
Wei's visit coincided with one by Wang Yi, Special Envoy of President Xi Jinping, State Councilor and Foreign Minister. During his March 8 press conference on the sidelines of the 13th National People's Congress, Wang also termed the Chinese-Russian partnership "as stable as Mount Tai," and added that "the sky is the limit" for the relationship's potential. When in Moscow, Wang told Russian Foreign Minister Sergey Lavrov that "President Xi Jinping sent me as a special envoy to visit Russia this time, demonstrating that China attaches great importance to the development of China-Russia relations and showing the priority of bilateral relations in respective diplomatic agendas."
Wang explained to President Putin that the high level of Sino-Russian trust results not only from "the wise political decisions" of the two presidents, but also "the long-term internal demands of both sides for their own development," a perhaps questionable proposition if one considers the economic as well as political needs of both states.
In 2013, Xi also made Russia the destination of his first overseas visit as president. In what surely is no coincidence, two weeks ago, presidential foreign-policy adviser, Wang Qishan, attended Putin's high-profile annual St. Petersburg International Economic Forum for his first trip as China's new vice president. He told the audience that China aimed to forge a multi-dimensional partnership with Russia based on "mutual trust and support as well as common prosperity and friendship for generations." In his meeting with Putin, Wang said that the two countries "have set a model of major-country relations in the current world," implying that Beijing wanted the same kind of relationship with the other great power, the United States.
Regarding regional nonproliferation challenges, the Chinese and Russian approaches toward North Korea and Iran have been harmonious. At the Moscow Conference, Wei, Shoigu and other officials from Russia and China portrayed U.S. threats and sanctions as ineffective in resolving the Korean nuclear crisis. Russian Ambassador-at-Large Oleg Burmistrov cautioned against expecting a rapid resolution to the Korean crisis. He saw the decreased duration and scale of the recent ROK-U.S. military exercise—which he still criticized—as "the first stage of the Russian-Chinese road map stipulating a gradual reduction of military activities.
Chinese commentators welcomed the high-level Chinese visits to Russia, expressions of mutual support, and other cooperative initiatives to further deepen what they describe as their "comprehensive strategic partnership of coordination." They have interpreted these measures as a logical demonstration of solidarity in the face of mutual challenges. Sun Zhuangzhi, an expert on Sino-Russian relations from the Chinese Academy of Social Sciences, said that, "Increasing military exchanges would deepen mutual trust and deter forces that may threaten domestic and regional peace."
Chinese and Russian experts argue that U.S. pressure on both countries is driving them together. Yang Danzhi of the Chinese Academy of Social Sciences cited the need for greater Sino-Russian security collaboration against "the strategy of the United States and other Western countries…to contain and oust China and Russia." Gao Fei, a professor of Russian studies at the China Foreign Affairs University, told the Global Times that, in his opinion, warming ties between China and Russia are due to the fact that "Western countries are putting political pressure on Russia and the U.S. is provoking China into a trade war."
The impact of the growing Russian-Chinese military relationship is evident in the deployment of China's new Sukhoi Su-35S (NATO's reporting name: Flanker-E) for patrols around Taiwan. On May 11, these newly acquired, top-line Russian air superiority planes escorted China's Xian H-6K bombers, J-11 fighters, and other aircraft near the island. Russia is also providing the PLA with advanced S-400 surface-to-air defense systems. Meanwhile, Russian officials and analysts have favorably described growing Chinese military capabilities, including the new PLA aircraft carriers, as helping to balance U.S. military power.
The Chinese and Russian statements and commentary suggest that the two governments have embraced the logic of the recent U.S. national security documents, which see a revival of great power competition between the three governments as the dominant axis of international affairs. At last weekend's Shangri-La Dialogue, an annual security conference in Singapore, U.S. Defense Secretary Jim Mattis argued that a China-Russia alliance was improbable due to a "natural non-convergence of interest." He saw both China and Russia having more in common with the West than with each other.
Even so, the current U.S. approach towards both countries seems excessively risky — a more prudent approach would look for opportunities to avert their strategic convergence or weaken it rather than downplay or dismiss the challenge.