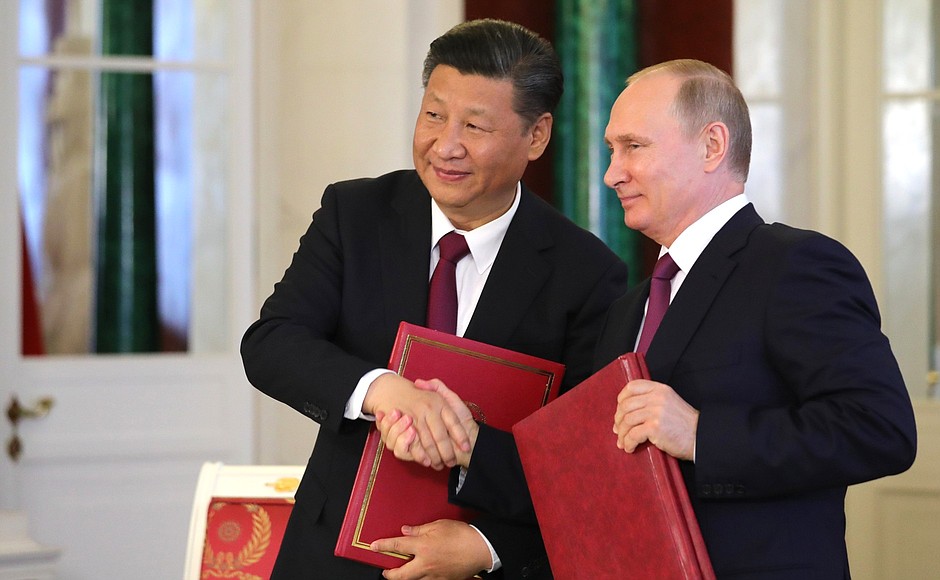 Strongman Vladimir Putin was re-elected as President of the Russian Federation with over 76% of the vote. Then the next question is: How will Russia handle its relations with China and the US?
Putin's eighteen years in office suggest that he handles relations with China and the US on the basis of the country's current needs and its views of the world. And the track record has been one of increasing closeness to China and growing estrangement with the US. After his re-election, Russia-China relations will undoubtedly continue developing and deepening. Those with the US will also develop, albeit with greater difficulties.
The most important reason for this the deepening of Russia-China relations is the fact that both countries are committed to the historic mission of rejuvenation and there is a certain similarity in their leaders' statecraft. While congratulating Putin on his election, President Xi Jinping said that he 'very much agrees' with Putin on the latter's views on building the nation, improving people's livelihood, and engaging in technical innovations revealed in his state of the union address. And when sending his congratulatory message to Xi on the latter's re-election, Putin described the series of decisions made by the Chinese National People's Congress as 'extremely correct' and expressed Russia's 'congratulations and firm support.'
It should also be pointed out that for a rather long time the leaders of China and Russia have respected each other's historical traditions, values, and choices and prevented ideology from influencing state-to-state relations. At the same time, both countries have been seeking an optimal international environment but have encountered external interference. This means they need each other's support.
Such a joining of hands has endured for the past 20 years. Since the beginning of the new century, Russia-China relations have featured sincere and productive strategic collaboration, setting an example for a new model of major country relations. The principles of amity, sincerity, mutual benefit and inclusiveness in conducting neighborhood diplomacy, the Belt and Road initiative and the proposal to development a community of shared future for all mankind advocated by China more recently have all been informed by the experiences of relations with Russia.
Mutual trust is the engine driving deepened China-Russia relations. The two heads of states met each other five times in 2017. They will continue having frequent contact with each other to exchange views and coordinate actions on bilateral and multilateral cooperation as well as major international issues.
The economic and trade relationship is the relatively weak link. China and Russia certainly will work hard to improve it, by inter alia transforming economic cooperation from being scale- and speed-based to more quality- and performance-oriented, deepening cooperation in areas like energy, aviation and military industrial technologies, and strengthening regional cooperation. The year 2018 has been designated as year of regional cooperation and exchange with this purpose in mind.
Leaders of China and Russia agree that their strategic collaboration is at its best in history. The mature and stable relationship not only serves as a guardian of the two countries' respective security and development but also constitutes a force for world peace and stability.
On the other hand, Russia-US relations have been more volatile. There is evidence that Putin wanted to establish a relationship of strategic cooperation with the US. During Putin's visit to the US in November 2001 and George W. Bush's visit to Russia in May 2002, joint statements on a 'new strategic' relationship were made and it was claimed that the two countries would enter into 'a new age of friendly relations'.
However, the relationship soured due to NATO enlargement, color revolutions, and US deployment of missile defense in Eastern Europe. And the Ukraine crisis in 2014 drove it to freezing point.
Some people might remember that Russia extended its lease over the Port of Sevastopol by 25 years in 2011 to 2042 (it was set to expire in 2017). In other words, at that time, there was no reason for Russia to take back Crimea, which was given to Ukraine in 1954. But Kiev's Independence Square incident in February and March 2014 gave Russia an opportunity.
Russia-US relations are now beset by sanctions. Nonetheless, violent confrontation seems unlikely and their discussions remain critical to many major international difficulties. In his congratulatory message Trump discussed the situations in Ukraine, Syria, and the Korean Peninsula with Putin and proposed to meet soon. It was a positive signal, though it may not come true immediately.
China-US relations do not depend on Russia-US relations but the latter does influence the former. Moves taken by the US oftentimes pushes the other two countries closer together.
It has been nearly 40 years since China and the US established diplomatic ties. The relationship has been moving forward amidst twists and turns. Now that the two economies are intertwined, with profound converging interests, any rash act only results in mutual harm. In varying attempts to exert pressure on China, the American authorities recently announced a trade war and passed the so-called Taiwan Travel Act. It is common sense that there is no winner in a trade war and that the person lifting a rock will only drop it on his own toes. As the Taiwan Travel Act is in serious violation of the one-China principle and the three China-US joint communiques, the US will only draw fire upon itself with this move.
There are both subjective needs and objective preconditions for the three countries to get on with each other peacefully. If the American authorities still view Russia and China as targets to attack, 'punching others with two fists' will only bring the US into a more awkward position.