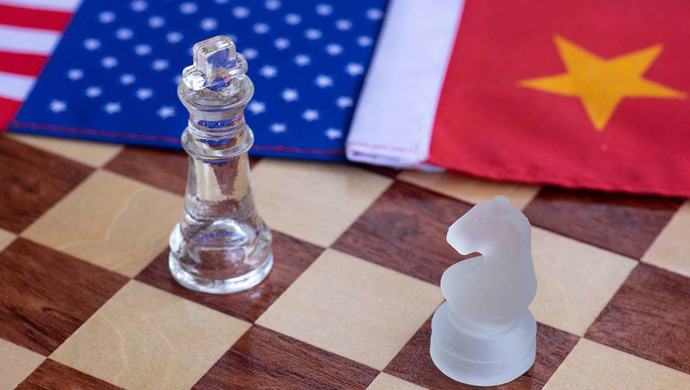 Many scholars of international relations in China now believe a consensus about China policies has taken root in the United States that is bipartisan and has spread from political offices to the business community and academia. Such documents as the National Security Strategy produced by the Trump administration, as well as speeches by Vice President Mike Pence and Secretary of State Mike Pompeo, all showcase the consensus, they believe.
I believe that's not the case. One can at least say that Americans have, and have not, reached a consensus about China.
The consensus, such as it is, covers two points: first, that China's challenge to liberal capitalism calls for tough responses and, second, that neither China nor the U.S. can subdue the other. Dr. Henry Kissinger has expounded that second point clearly of late. Yet American society lacks consensus on a series of topics, such as how to respond strongly to challenges from China, whether the trade war benefits or harms the U.S., whether China intends to take America's place on the world stage, whether China-U.S. ideological competition is one for survival or for influence and whether the two countries can decouple in cultural and people-to-people exchanges.
The nuances were evident in an open letter in July initiated by Ezra Vogel, J. Stapleton Roy, Susan Thornton, Michael Swaine and M. Taylor Fravel. It was signed by nearly 100 former government officials and China experts and addressed to President Donald Trump and members of Congress.
In developing its title — "China is not an enemy" — the letter explicitly stated: "There is no single Washington consensus endorsing an overall adversarial stance toward China."
More scholars and former government added their signatures later. Many high-ranking former officials, business elites and think tank experts criticized the Trump administration's China policies, saying the trade war was dead wrong. In short, debates over China policy have never stopped in the U.S. Of course, we must honestly accept the fact that opinions critical of the present administration are not mainstream.
Many things have changed in the 40 years of China's reform and opening-up, but certain fundamental principles have not changed. China's pursuit of a great national rejuvenation is a protracted battle. It remains in the preliminary stage of socialism, and overall Chinese foreign policy is still targeted at creating a favorable international environment for modernization, preserving world peace and stability and promoting humanity's common prosperity.
China walks a path of peaceful development, has no confrontational foreign policy and follows Deng Xiaoping's instruction to "unhurriedly develop friendly relations with all countries on the basis of the five principles for peaceful coexistence." The U.S. remains the biggest external variant China has had to cope with during its rise, and it must still exercise extreme caution.
China-U.S. relations are in a process of transition because of changes in U.S. policy toward China. In this process, the two countries cooperate while disagreeing, and competition and all-around wrangling have become the new normal. The competition covers multiple realms and may take various forms at different times. This is a transitional stage for relations, and in the process of competition and gaming, the two countries may compromise, adjust and adapt to each other. Over time, the two countries will form a new model of interaction.
During this transitional period, China should avoid acting on impulse, resist the temptation of a strategic showdown with the U.S., try its best to reduce and ease frictions, manage and mitigate competition and preserve the overall stability of the relationship.
China and the U.S. are close to adopting a phase one agreement on trade, which again proves that both win when they cooperate and both lose when they fight. It may to some extent improve the atmosphere for bilateral relations. But negotiations in the next stage will be more difficult, and the agreement's impacts on relations will be limited. Therefore, in the near future, I'm not very optimistic about China-U.S. ties. From a mid and long-term perspective, however, I am not pessimistic. I have five reasons for optimism:
First, China is the formulator of China-U.S. relations, and as Chinese national strength grows, it has stronger capabilities and means for doing so. Over the past 40 years, China's reform and opening-up was the main driver of relations, and that has only deepened. Reform and opening-up has not stopped in China but is rather heading toward the deep-water zone. We continue to move actively, for example by enacting a new law on foreign investments, opening up the financial market next year, widening market access to manufacturing and enhancing intellectual property protection. These are meant to shape China-U.S. relations and appeal to U.S. businesses.
Second, we actively develop the positive aspects of bilateral ties. That some negative aspects are on the rise now doesn't mean the positive ones have disappeared. China-U.S. relations don't affect only the two governments but also the two societies at many levels and in numerous aspects. Relations at the central and federal levels are certainly the most important, but they're not the only ones, especially because the U.S. is a federal regime and local governments can still do many things even when the federal government doesn't.
Many state governments, with California taking the lead, are actively responding to climate change, for example. Kentucky is particularly enthusiastic about enhancing local economic and trade relations. The enormous potential of China-U.S. cooperation at the local level is far from being fully exploited.
Third, over the past 40 years, China has patiently developed friendly ties with all countries, actively participated in global governance and provided public benefits. It has thus created a positive international environment, especially in its immediate neighborhood.
China's economy is highly interdependent with those of Europe, Japan, Russia and Southeast Asia. It is also enlisting new cooperative partners, deepening cooperation with countries in Africa and South America as it promotes the Belt and Road framework. These will also act as constraints on U.S. policies toward China.
Fourth, the U.S. won't be able to organize a united front to contain China. The Trump administration has tried very hard to prevent allies from cooperating with Huawei in 5G development, for example, but to little avail. At the latest NATO summit, Trump again peddled his China policies, but the NATO statement concluded only that China's rise represents both opportunity and a challenge, which is far from what Washington wanted. Obviously China has room to maneuver.
Fifth, trends in economic globalization and the multi-polarization of international politics are irresistible. They also provide a macro background for preserving the overall stability of the China-U.S. relationship. As long as the two trends persist, the international situation will not head toward confrontation between China and the U.S.
So, all in all, we don't need to be too pessimistic about China-U.S. relations. We shouldn't lose confidence.