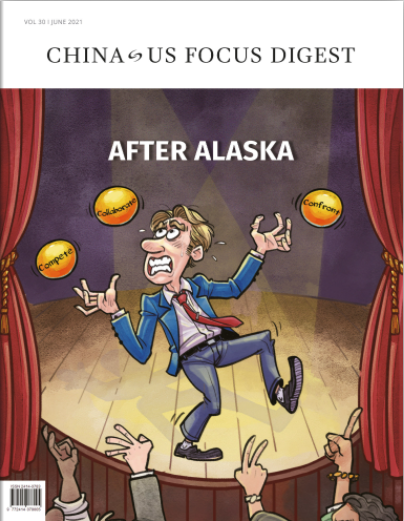 Click to Read the latest China-US Focus Digest
Nearly half a year has passed since Jan. 20, when Joe Biden was inaugurated, and his main domestic and foreign policies have gradually unfolded. His starting moves were generally steady and smooth, and some were successful. But America's deep-rooted political and social contradictions are also presenting themselves, and will greatly constrain Biden's performance during his presidency.
At home, Biden identified four priority areas —containing the pandemic, revitalizing the economy, ensuring equity, coping with climate change — and made progress in all of them. He took a series of measures to deal with the pandemic as soon as he assumed office, and the situation in the U.S. has by and large come under control, with daily confirmed infections dropping from 200,000 at the peak to around 20,000 now. The U.S. has led developed nations in vaccinations, with almost 60 percent of adult Americans having had at least one vaccine shot.
The conspicuous improvement in the pandemic fight has laid the foundation for society's reopening. Economically, the Biden team has come up with multiple stimulus programs tailored to the situation, which have led to evident increase in both domestic consumption and business investment. The U.S. economy has begun returning to normal operation. First quarter U.S. GDP grew by 6.4 percent, and the numbers for Q2 and Q3 are expected to be higher.
The Biden administration has also placed considerable weight on tackling problems of social equity, the effects of which remain to be seen. Biden is currently focused on the racial issues that have perplexed the U.S. for decades, and at the same time is seeking to rectify the widening wealth gap. His American Jobs Plan, American Families Plan and his budget plan for the federal government in fiscal 2022 are not only targeted at economic growth but are more concerned about the fairness of growth, emphasizing government input in such fields as education and public health.
On climate change, Biden has set up the White House Office of Domestic Climate Policy, appointed a special presidential envoy for climate and incorporated climate change into the framework of domestic and foreign policy. In addition to such institutional changes, Biden has made a domestic plan worth dozens of billions to develop clean energy. He proposes to achieve 100 percent clean power and a nation of electric vehicles by 2035. Internationally, he presided over a virtual summit on climate, pledging to cut U.S. carbon dioxide emissions in half by 2030. Although the outcomes are yet to be seen, he has indeed kick-started a new climate politics.
Biden's foreign policy layout has also become clear, as the focus of his administration — restoring U.S. international influence — has seen more progress than his domestic policies. The destructive impact of four years of Donald Trump and the COVID-19 pandemic's blows to U.S. international image have presented unprecedented challenges for the U.S. Biden has again followed the "diplomacy first" line, focusing on improving relations with allies, returning to multilateral organizations, seeking to rebuild the foundation of U.S. international influence and showcasing the theme "America is back."
In the Indo-Pacific, Biden has enhanced alliances with such traditional allies as Japan and South Korea, continued with the "quadrilateral mechanism" and realized the first U.S.-Japan-India-Australia leaders summit. Via such serial diplomatic moves as participation in the G7, NATO and U.S.-EU summits, he has sought to improve ties with America's European allies and to affirm U.S. leadership in the Western camp.
Both Pew and Gallup data have shown that U.S. trustworthiness among major allies has increased remarkably. Meanwhile, Biden has put considerable emphasis on multilateral institutions. Besides returning to such international treaties and organizations as the Paris agreement, the WHO and the UN Human Rights Commission, the U.S. has formed mini multilateral mechanisms in various fields under the banner of "shared values," "supply chain security" and "international rules." It has promoted cooperation among "like-minded" countries. Such moves have had the preliminary effect of repairing the U.S. image and displaying the progressive characteristics of Biden diplomacy.
China factors have gained significant traction in Biden's overall diplomatic layout. As evident in the proposed U.S. Innovation and Competition Act 2021, China is omnipresent in the Biden administration's global strategic layout. Strategic competition with China has also become a common denominator in uniting the Democratic and Republican parties in foreign policy. Judging from Secretary of State Antony Blinken's idea of "competition-cooperation-confrontation" in March, and by White House Indo-Pacific coordinator Kurt Michael Campbell's claim at a May symposium at Stanford University that U.S. engagement with China has come to an end, and the U.S. Defense Department's China working group's recent review of China policies, the Biden administration's China policy framework has become clear.
Promoting global strategic layout in light of China factors, and pushing forward strategic competition with China through implementing a global strategy, have become important characteristics of Biden's foreign policiy. In such circumstances, the dynamism of major country relations, with China-U.S. strategic competition as its main axis, may undergo a new round of adjustment and transmutation.
Implementation of Biden's domestic and foreign policies will inevitably be subject to profound constraint because of all sorts of contradictions at home, and the effectiveness and sustainability of his "America is back" diplomacy will certainly face challenges. A series of "de-Trumpifying" domestic policies have already been targets of violent attacks by Republicans, and the two parties' quarrels over such issues as voting rights, infrastructure and budget have escalated. For Biden, who is anxious to resolve domestic problems, partisan contradictions remain long-term constraints for governance.
At the same time, the progressives within the Democratic Party have spared no effort in shaping Biden's policy agenda, which will also constrain his overall plan for bipartisan solidarity and hence "build back better." In terms of the interconnectedness of domestic and foreign policies, once key initiative, the infrastructure legislation initially failed to pass congressional scrutiny, though a deal was struck later.
The side-effects of financial stimulus have become prominent, and the potential risks of certain domestic policies will also affect the implementation of Biden's foreign policies. In addition, Biden's return to the Democratic Party's traditional line of dealing with China via improved alliances also faces the significant test of changed and changing conditions. Amid the grand international trend of concentrating on pandemic containment and seeking peace and stability, such habitual U.S. tricks as offshore checks and balances, values diplomacy and exclusive "small circles" will be increasingly out of sync with the times, making the long-term policy appeal difficult.