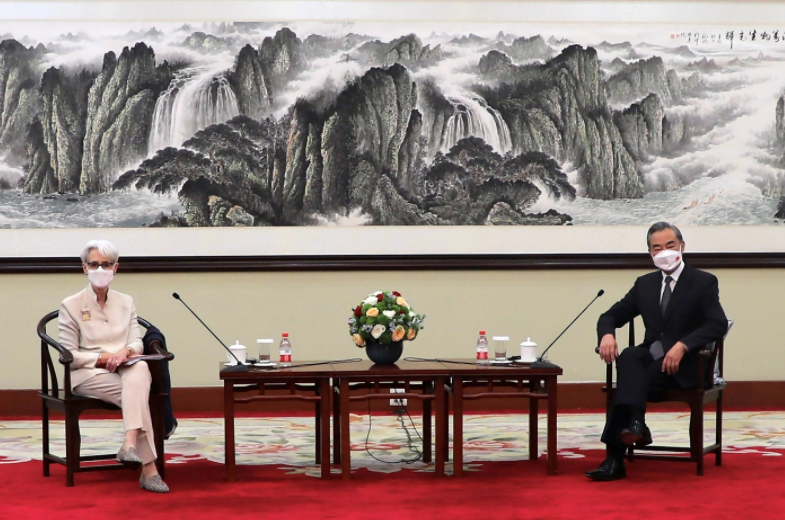 U.S. Deputy Secretary of State Wendy Sherman and Chinese Foreign Minister Wang Yi hold talks in Tianjin on July 26, 2021.
U.S. Deputy Secretary of State Wendy Sherman arrived in Tianjin on July 26 for talks with Chinese Vice Foreign Minister Xie Feng and a meeting with State Councilor and Foreign Minister Wang Yi. This was the second face-to-face meeting between Chinese and U.S. diplomats since the high-level talks in Anchorage, Alaska. Like the last meeting, this time again featured heated exchanges. But underneath was the Biden administration's China diplomacy slowly entering another stage, turning the stage of strategic patience into a stage of interactive running-in.

Unlike the Anchorage talks, the U.S. side displayed more initiative in Tianjin. The talks were proposed by the U.S. side — a model in which the U.S. wanted to talk, and China agreed. Why had the U.S. suddenly taken the initiative for high-level contacts and negotiations? Because, since taking office months ago, the Biden administration has basically completed first-phase preparations for negotiations with China.
An important distinction between the China policies of Donald Trump and Joe Biden lies in the latter's values-oriented approach and readiness to work with allies rather than acting alone. So the Biden team first mended fences with allies, and unified stances on China. Biden participated in the G7 summit in the United Kingdom in early June and attended the NATO and U.S.-EU summit meetings on June 14 and 15. During his trip to Europe, Biden met and exchanged views with dozens of European leaders, greatly improving U.S.-EU relations.
In mid-June, Biden met with Vladimir Putin in Finland, and maneuvered to gain proper control and improvement in U.S.-Russia relations. Besides efforts to forge closer alliance with the European Union and stabilize relations with Russia, the Biden administration has conducted further strategic cleanup of regional hot spot issues in which the U.S. has sunk deeply, including withdrawing U.S. forces from Afghanistan and negotiations on the Iran nuclear issue.
After a series of diplomatic interactions with allies and partners, the Biden administration's diplomatic focus has returned to the Asia-Pacific, and to China and its periphery. This includes Sherman's visits to Japan, South Korea and Mongolia before visiting Tianjin, as well as U.S. Defense Secretary Lloyd Austin's trip to Vietnam, the Philippines and Singapore that began on July 23. Secretary of State Antony Blinken visited India on July 26. The U.S. also plans to hold a U.S.-Japan-India-Australia summit in Washington in September, which has been called a "full-court press" against China.
Therefore, in a certain sense, the Biden administration's China diplomacy will enter a phase of offense, and the two sides will turn from watching each other to a substantive stage of interactive running-in.
Judging from the outcome, the two sides had candid exchanges on certain subjects but saw little broad progress. Sherman made no positive comment on the talks afterward but said only that "open communication is of critical significance to diplomacy" — indicating the U.S. side's relative coldness to the talks. Due to Sherman's position as Deputy Secretary of State, perhaps the two sides didn't have exchanges at the strategic level. The U.S. side proposed to "responsibly manage bilateral relations," but it is unrealistic for dialogue at Sherman's level to define strategic positioning of bilateral ties or set guardrails for the relationship.
U.S. National Security Adviser Jake Sullivan may be a better choice for the discussion of strategic issues. Considering Sherman's experience — having been a policy coordinator on the Korean Peninsula issue during the Clinton presidency and a U.S. representative in negotiations on the Iran nuclear issue during the Obama administration — the expected yield of her Tianjin visit was likely focused on certain international issues, with hope that China would cooperate with the U.S. on such international subjects as climate change, the Iran nuclear issue, Korean Peninsula, Myanmar and drug trafficking, as the two sides mentioned. There is room for bilateral cooperation on such issues.
Yet, as the Chinese side pointed out, the U.S. side can't on one hand harm Chinese interests, while on the other hand hope the Chinese side cooperates unconditionally. The Chinese side put forward two lists to the U.S. Obviously the road to bilateral collaboration on international affairs will not be smooth.
Though the Tianjin talks per se didn't produce specific results, the fact that the U.S. side proposed to "responsibly manage bilateral relations," and the talks themselves showed that both parties are trying to manage competition, indicates — despite their differences on specific matters — that at least they still have consensus on the strategic goal of managing competition.
Of course, the two sides have many divergences on how to accomplish the strategic goal. The "three bottom lines" the Chinese side put forward in the talks are China's basic goals in managing competition. The Chinese stance is resolute, explicit and defensive, showing that China has taken a proactive step in structuring relations. The U.S. side has yet to clarify its goals as to how to manage competition. It remains obsessed with blaming China over domestic affairs, asking China to follow so-called international rules and conventions.
Obviously the Tianjin talks alone won't resolve the significant conundrum of how China and the U.S. should manage their competition. But at least they established a strategic consensus on managing competition. In this sense, it can be expected that various levels of China-U.S. talks will gradually take place following the Tianjin talks — even amid quarrels.