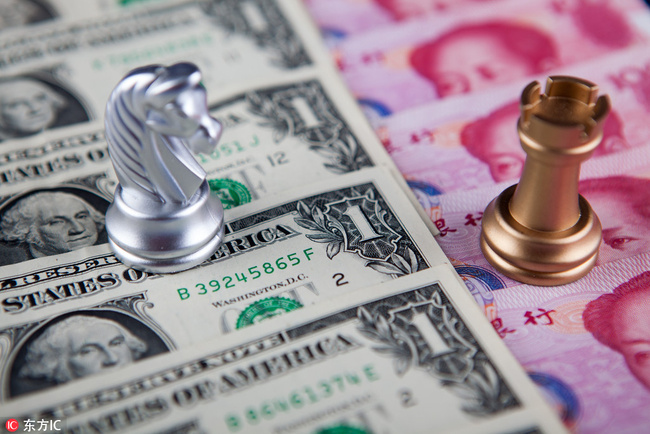 On August 14 President Donald Trump signed a memorandum authorizing US Trade Representative Robert Lighthizer to examine whether China should be investigated for unreasonable or discriminatory policies that harm American intellectual property rights, innovation, or technological development. Lighthizer likely will invoke section 301 of the US Trade Act 1974 to investigate China.
Though it's too early to tell if this action will start a trade war between the two countries, it does send an unfriendly signal. Trump should think twice about this move.
In terms of the trade action tools, Section 301 is designed to eliminate unfair foreign trade practices that adversely affect US trade and investment in goods and services. Under the procedure, the US trade representative will first seek consultation with the Chinese government on trade compensation or the elimination of trade barriers. If this fails, the US government may impose tariffs or other trade restrictions to protect American companies. A Section 301 investigation is unilateral in nature. Since the World Trade Organization was formally established in 1994, the frequency of section 301 investigations has declined significantly. So it's worrying that the Trump administration has decided to resort to it now.
The core members of Trump's economic team, who all have business experience, understand that such measures against China are a double-edged sword. From 2009-12 the Obama administration implemented a three-year special safeguard measure for passenger cars and light truck tires imported from China, changing the tax rate from 4% to 35% for the first year, 30% in the second year, and 25% in the third. A study by the Peterson Institute for International Economics found that those tariffs saved 1,200 domestic jobs, but US consumers paid over $1.1 billion more as a result. US consumers spent more money on the purchase of tires, which produced a crowding out effect, and the US retail industry lost 2,531 jobs. The net loss was 1,331 jobs.
Whilst Trump has labeled China a currency manipulator and pledged to impose import tariffs of 45% on Chinese products, his actions have been a bit more circumspect.
In April, Trump signed an executive order asking Commerce Secretary Wilbur Ross to lead the section 232 investigations on steel and aluminum imports. China is on the investigation's radar. The investigation should have been finished by the end of June, but there has been no follow-up. It's said that some US government officials and business groups have big concerns about the repercussions of such an investigation. Perhaps that's why no further action has resulted.
Also in April, the US Trade Representative's Office released a "Special 301" report. The report accused China of stealing intellectual property and forcing transfer of proprietary technology, claiming US firms have long been subject to this "outrageous abuse." China actually expected Trump to sign the memo authorizing the section 301 investigation on August 1. In order to win China's support on DPRK sanctions, however, Trump postponed it.
So far, China hasn't overreacted to these provocations, but it will be vigilant. It has made its position and its opinions on the matter very clear.
First, it has emphasized that protectionist measures are no way to resolve the US trade deficit with China. Instead, the US should implement a package of adjustment measures and long-term policies to improve American competitiveness.
Second, trade disagreements should be resolved through negotiation. China is willing to help the US reduce the trade imbalance, and in return America should relax restrictions on high-tech exports to China.
Third, China is not afraid of Trump's bullying trade threats and retains the right to retaliate, but a trade war won't solve the China-US trade imbalance, as there will be no winner. China will work with other countries and organizations against Trump's protectionist policies, in the name of global free trade.
Though Trump signed the memorandum authorizing a section 301 investigation of China, there is still room to maneuver. Trump signed a memorandum, not an executive order. In the memo, Trump asked Lighthizer to examine whether China should be investigated. No conclusion has been reached, and no action against China has been taken yet. Also, this time no time line for the investigation has been set - it could take as long as a year before conclusions are reached on any remedies. Before then China and the US could negotiate and cooperate. It is highly possible that the section 301 investigation won't, in fact, result in any trade sanctions against China.