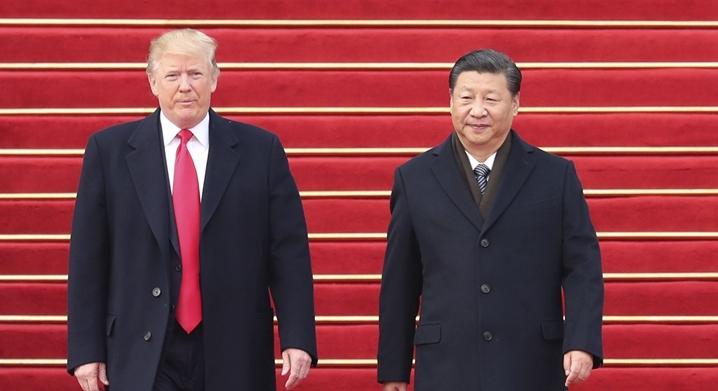 During US President Donald Trump's first visit to China, trade and the economy were high on his agenda. Economic ties have long been the ballast of China-US relations. As such, efforts to develop a new economic relationship will be of great significance.
Undoubtedly the changes the two countries are experiencing have been new for decades. Their strategic interaction has experienced some rebalancing. The rebalancing process has economic, commercial, and security implications at bilateral, regional, and global levels. On economics and trade, both countries desire to expand their common interests, increase win-win opportunities, and reduce friction and conflicts. More importantly, they need to develop cooperation frameworks centering on common interests and to expand bilateral relations.
As the largest emerging developing country and the largest developed country, China and the US have the world's largest markets. Their two-way trade and foreign investment aboard account for about 25% and 30% of the world total respectively. They are each other's most important global trading partner. China-US economic ties are characterized by interdependence, and are complementary and mutually beneficial.
The US has the world's largest trade deficit, which is caused not by trade dumping by China or any other country but rather from longstanding structural imbalances in the American economy. There are many reasons behind these imbalances. They are related to both its domestic economic structure and its industrial policy choices, as well as the division of labor along the global industrial value chain.
Nevertheless, the trade imbalance remains central to trade conflicts and friction between China and the US. As a matter of fact, the Chinese government has repeatedly announced that it will not deliberately pursue a trade surplus. The world may well expect more open economic policies from China after the 19th Party Congress as a result of proactive actions.
Ultimately there are two ways to reduce the China-US trade imbalance: restricting imports or expanding exports. The former represents a zero-sum game in which the interests of one party is protected at the expense of the other party and retaliation leading to mutual harm is likely to result. The latter, expanding exports, is more desirable. For the US, increasing the export of products it has a comparative advantage in producing will effectively reduce the trade deficit and create more jobs. According to a Department of Commerce estimate, about 6,000 jobs can be created for every $1 billion in additional exports. For China, importing American products helps satisfy higher consumer demand and brings in new technologies, especially in the fields of aviation and robotics, which have been under American export restrictions.
Expanding American exports to China has many advantages. The US could ask China to increase imports of American agricultural products (e.g. soy beans, cotton, oranges, beef, timber), enhance energy cooperation (more imports of shale oil and natural gas), and advance infrastructure cooperation (e.g. oil and gas pipelines, transportation).
There are three ways to deepen economic cooperation.
The first is to reactivate negotiation of a bilateral investment treaty (BIT) as soon as possible. The two sides need to gradually remove market barriers and discriminatory trade policies and treat all investors with an open trade policy, fairness, and justice. They should also work together to improve their business environment, national security review, and protection of intellectual property rights, making the rules fairer and more transparent. The difficulty of BIT negotiation lies in the two countries' different levels of openness. In 2015, however, China published an Opinion of the State Council on Measures for Opening Wider to the Outside World and Active Use of Foreign Investment. Foreign capital is now expressly allowed to take part in the Made in China 2025. The telecommunications, law, insurance, finance, digital services, and intellectual property markets can also be opened up.
The second option is to jointly promote bilateral trade in high-tech products. The US government may consider setting up an inter-agency working group. The working group should be tasked with conducting a comprehensive assessment of existing trade in high-tech products and regularly update and amend the list of controlled items for the regulatory authority. More importantly, efforts should be made to promote integration of various quality production factors and resources for innovation between the two countries, relax export restrictions in high-tech fields, and deepen cooperation in the high-tech market. This will benefit both countries.
The third option is to accelerate infrastructure investment and multilateral development financing mechanisms such as the AIIB. The two countries may jointly explore third-party markets. For example, development of and extensive cooperation on third-party markets under the Belt and Road framework could lead to enormous new growth in China-US trade and the world economy.