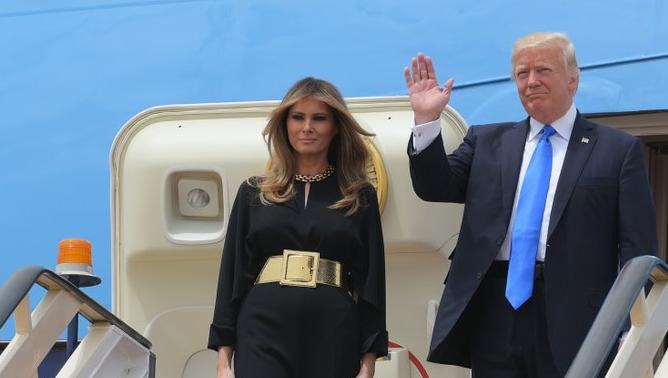 In spite of uncertainty surrounding the Trump administration's policy towards China, we still find some continuity and positive features. The idea of getting tougher on China started in the George W. Bush administration, was suspended by the war on terror, was resumed by Obama's Asian pivot, and is now continued by the Trump administration. It is a general trend, reflecting the concerns of Americans about the impact of China's rise on America's global leadership, alliance system, development model, and democratic values. However, after the Mar-a-Lago meeting, President Trump's moves towards China have generally been prudent. In the nine months since he took office, the two meetings and seven telephone calls between the two heads of state have helped reorient the course of China-U.S. relations.
As President Trump's first visit to China is around the corner, China should actively respond to major American concerns, make its views understood, and do its utmost to achieve more fruitful results.
First, China needs to address American concerns. On economy and trade issues, the Chinese side might let Americans understand that China needs many of US commodities and services, which will benefit it. China will open more of its market, and invest more in the U.S. to help its infrastructure construction; while the U.S. should release some of its export controls. On the DPRK nuclear issue, discussions should focus on denuclearization and de-escalation. China might urge the U.S. to stop provocative rhetoric and military actions, encourage direct dialogue between the U.S. and North Korea, and the international community could provide security guarantees for the DPRK and facilitate its economic reform. On countering terrorism, China and the U.S. might cooperate to promote political reconciliation and economic reconstruction in Afghanistan and Syria, and prevent and combat cross-border flows of terrorists. The two sides should exchange views on terrorism to reach more consensuses. On cyber issues, the two sides might work together to boost the digital economy, protect key infrastructure, prevent the proliferation of cyber weapons, and formulate international codes of conduct.
Second, China can also share experiences and lessons in governance. Recently, the U.S. has been inflicted by social inequalities, hurricanes, forest fires, and chaotic public opinions. China might offer to share experiences in addressing similar problems, such as civil-military integration when responding to natural disasters, practices in cyber management, and monitoring of online contents to control the dissemination of hatred and fake information.
Third, China should make its core concerns clear. The Chinese side might reiterate that the Taiwan issue is non-negotiable, and object to U.S. elevation of military contacts with and arms sales to Taiwan, and reaffirm that island construction in the South China Sea and building of necessary defense facilities on these islands is a rightful exercise of its sovereignty. China can also offer to open some public goods facilities in the South China Sea. China should also warn the U.S. side that its increasing "freedom of navigation" operations in the South China Sea would increase the probability of clashes between their two navies.
Looking into the new era, China and the U.S. should work to build a healthy and stable relationship. They might agree to negotiate on economic issues, and agree to disagree on political issues. So long as the military and security domains remain stable, China-U.S. relations should be strong.
To maintain the stability of bilateral security relations, first of all, the two sides should strengthen strategic communication. Both China and the U.S. should reassure the other side on strategic intentions, common interests, and global obligations. China should learn to make better use of its growing power to safeguard peace, promote prosperity, and to participate in global governance. The U.S. should understand that American "primacy" does not conform to the times, and it should learn to share power and coordinate with emerging countries. Both China and the U.S. should honestly face up to their own limitations and difficulties, push forward domestic reforms, and join efforts to "co-evolve" peacefully.
Second, China and the U.S. should attach importance to crisis prevention and management. The two militaries should not confront each other, and should pay attention to the management of crises caused by third parties. Specific suggestions might include: making good use of existing communication channels and improving mutual notification of major military events; gradually building crisis-management mechanisms at the strategic and tactical levels; jointly evaluating hotspot issues and formulating plans for joint responses and mutual coordination; increasing ship-to-ship and plane-to-plane exchanges to familiarize the commanders with crisis response procedures; drawing necessary "red lines"; and planning dialogues on nuclear, missile defense, cyber, and outer space issues.
Third, China and the U.S. should attempt to achieve win-win competition. Cooperation usually leads to win-win results, while competition might not necessarily mean a zero-sum game. For example, political differences might induce discussions on the universality and variation of democratic values, boundaries of civic rights, and balancing information management with civil freedom, and economic and trade frictions might stimulate domestic economic transformation.
Last but not least, compromise and cooperation is key. If crisis management and win-win competition are meant to prevent conflict and confrontation, and strategic communication is to cultivate mutual respect, then practical cooperation will seek to accumulate mutual trust. This is a way to overcome the "Thucydides Trap" and maintain enduring peace and prosperity.