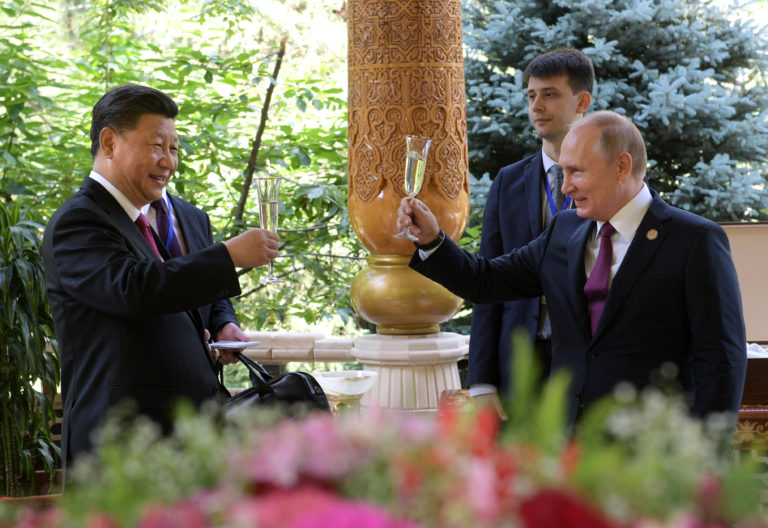 Russian President Vladimir Putin (R) toasts with Chinese President Xi Jinping while congratulating him on his birthday before the Conference on Interaction and Confidence-Building Measures in Asia (CICA) in Dushanbe, Tajikistan June 15, 2019. (Sputnik/Alexei Druzhinin/Kremlin via REUTERS)
On June 5-7, President Xi Jinping of China paid a state visit to Russia and attended the 23rd St. Petersburg International Economic Forum with Russian President Vladimir Putin. During the visit, the two heads of state signed two joint statements — one on "Developing Comprehensive Partnership and Strategic Interaction Entering a New Era," and another on "Strengthening Global Strategic Stability in the Modern Age." The two leaders also witnessed the signing of a number of bilateral cooperation documents. It was the fifth such meeting designed to strengthen ties between Russia and China, and it is expected to position the Sino-Russian relationship as a key partnership going forward. This new orientation reflects the changes in the current international environment, while giving the two countries more capacity to develop bilateral relations and expressing confidence and determination to seek new breakthroughs together,
First of all, China and Russia hope to break through past instability and uncertainty, and seek for their partnership to become an important force for maintaining world stability amid global changes.
The world is undergoing a new set of major developments, changes, and adjustments, to an extent not seen over the past century. Emerging market economies and developing countries have accelerated their development, major changes have taken place in the international balance of power, and globalization continues to develop. However, there is still uncertainty with regard to the recovery of the world economy. Unilateralism and trade protectionism have reasserted themselves; the basic norms of international relations are under attack; deglobalization is becoming increasingly prominent; the global governance system is undergoing changes; and global strategic stability and balance are threatened. This is an era full of opportunities and challenges. In the backdrop of such complicated, large-scale changes, China and Russia ushered in the 70th anniversary of the establishment of diplomatic relations. At this historic juncture, the two heads of state held their eighth formal meeting since 2013 and met for the 30th time overall. China — the world's second largest economy, and Russia — a nuclear weapons state second only to the United States — will undoubtedly affect the world's strategic structure. It is precisely because the interests of these two major countries are intertwined all over the world that they form a community with a shared future. China and Russia adhere to multilateralism in the United Nations and other international organizations, actively participate in global governance, and advocate constructively for the creation of new, sound cooperation mechanisms. China and Russia inject a strong positive energy into the fair and reasonable settlement of international issues. The two countries advocate the use of uniform and applicable rules to understand right and wrong, promote peace, seek development, adapt to new changes in the international balance of power, and reflect the concerns and demands of all parties. This stance is in line with the long-term and fundamental interests of China and Russia, and will also ensure greater Chinese and Russian contributions to the international community, which will help the world be more peaceful, stable, and prosperous.
Secondly, it is hoped that the bilateral relations between China and Russia will help each other, deepen integration, pioneer innovation, and bring win-win results to all. Cooperation in the main areas of politics, security, pragmatism, culture exchanges, and international cooperation will be comprehensively upgraded, with greater breakthroughs.
The length of the first joint statement on strategic partnership, 10,000 words in total, shows the importance of this new document. Like a manual to guide the development of bilateral relations, it is a roadmap for action in various fields. It reflects the determination to resolve problems in the bilateral relationship by respecting the other side's interests as each country protects its own interests. The statement pointed out that recently China and Russia have offered greater political mutual trust, given each other firmer and stronger strategic support, supported their own development path and core interests, strengthened security cooperation, conducted close coordination and strategic cooperation on the development strategies of the two countries, and expanded economic and trade cooperation, tapping the cooperation between China's Belt and Road Initiative and Russia's Eurasian Economic Union. As the statement indicates, the capacity of the China-Russia comprehensive strategic partnership will be further expanded, and within its framework, China and Russia will reach a level of cooperation that is nearly all-inclusive, and jointly open a new era of more harmonious bilateral relations and greater development.
Finally, it is hoped that the two countries will be able to consolidate the social foundation of bilateral relations and achieve greater breakthroughs in people-to-people connectivity.
China and Russia are neighbors, sharing the longest border in the world. Due to their differing natural resource endowments and distinct traditional cultures, the two countries have their own unique national interests and concepts. The statement clearly expressed that it is necessary to give full play to the coordinating role of the China-Russia Committee on Cultural Cooperation and strengthen cultural cooperation and exchanges; expand exchanges and cooperation in education, culture, sports, tourism, media, and youth; promote the communication of ideas, cultural integration, and people-to-people connectivity; and jointly pass on the friendship between China and Russia for generations to come. It also stated that the two countries should never be enemies, so that the friendship between the two peoples will always be rock solid.
In short, a new era means a new starting point. The two countries will regard strengthening bilateral relations as the call of the times and the unshakable strategic choice of both parties. China and Russia hope to work side by side and help each other to build a human community with a shared future by injecting positive energy into the world for peace and stability.