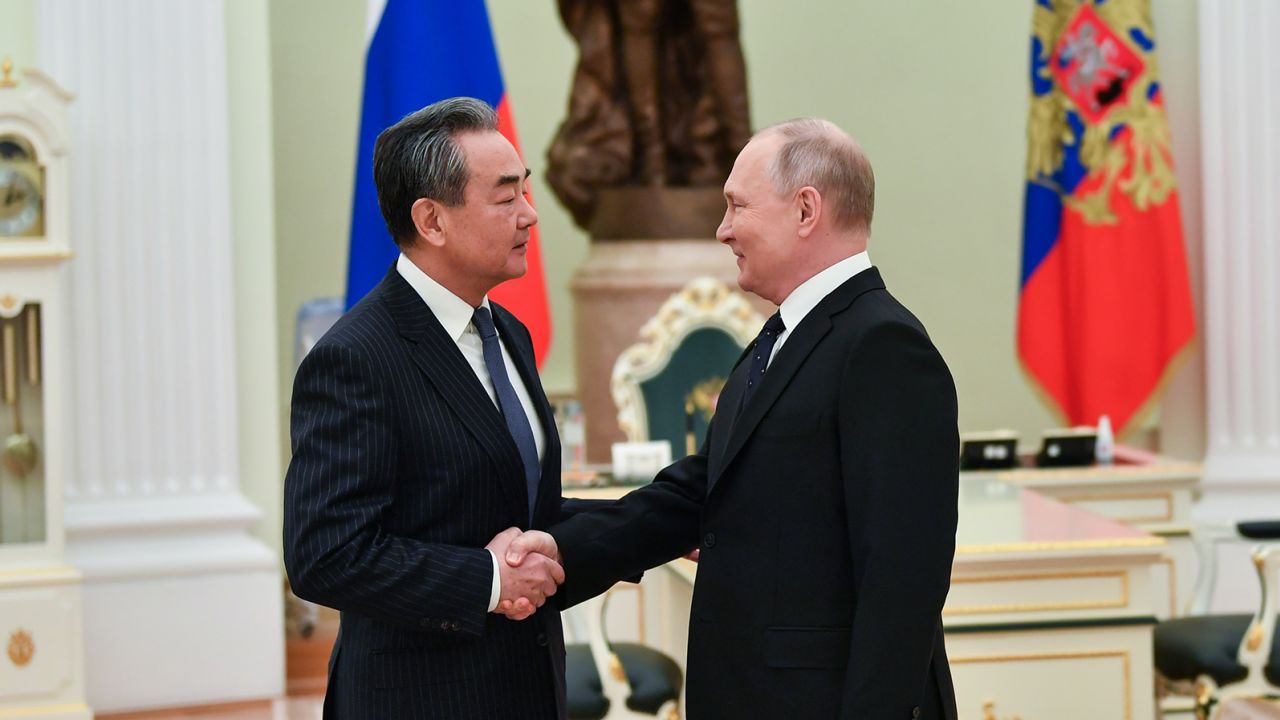 Russian President Vladimir Putin meets Wang Yi, a member of the Political Bureau of the Communist Party of China, in Moscow on Feb. 22, 2022. (Cao Yang/Xinhua)
China's Ministry of Foreign Affairs published the country's position regarding political settlement of the Ukraine crisis in a paper on Feb. 24 listing 12 ways to end this poignant armed conflict, including a cessation of hostilities, a resumption of peace talks, resolution of the humanitarian crisis and promoting post-conflict reconstruction. The paper said that nuclear weapons must not be used and nuclear wars must not be fought, and that China opposes the research, development and use of chemical and biological weapons by any country under any circumstances.
The country's top diplomat, Wang Yi, arrived in Moscow on Tuesday with a plan for peace — part of a significant effort by Beijing to prevent the Ukraine crisis from deteriorating or spiraling out of control. And yet it seems that the parties directly involved in the crisis are preparing for larger-scale warfare. Senior officials from Ukraine, the U.S. and NATO said Russia had deployed tens of thousands of troops for a spring offensive to storm and capture the Donbas region and turn around its current disadvantageous situation.
After several months of secret scheming, U.S. President Joe Biden made an unusual journey to Kyiv, where he declared unflinching resolve to support Ukraine. In a speech from Warsaw afterward, he said, "Ukraine will never be a victory for Russia — never." NATO is more united and more unified than ever before, he declared, accusing Russia of having committed crimes against humanity.
Biden's Warsaw speech embodies strong symbolic meaning. Poland is viewed by Western countries as at the forefront of efforts to counter Russia. It firmly maintains that Russia must be "defeated," and its military spending accounts for 3 percent of its GDP — higher than the 2 percent proportion of other NATO member states.
During the Cold War, in 1955, the Soviet Union created the Warsaw Pact to counterbalance NATO. The standoff between the two sides have left many European nations, including Poland, with poignant memories. The Warsaw Pact disappeared with the dissolution of the Soviet Union. Nowadays, Poland, the Czech Republic, Romania, Lithuania and other countries formerly in the Soviet sphere, take Russia as their biggest geopolitical threat. The Ukraine crisis has further pushed them into the U.S.-dominated camp, as they try to shore up NATO's eastern flank.
Apart from Biden's prepared speech, the U.S. has been increasing its substantive assistance to Ukraine by continuously shipping a huge number of weapons. Since the Russia-Ukraine conflict broke out in February 2022, the U.S. has provided $46 billion in military support to Ukraine, including $27.2 billion in security assistance. The Biden administration will provide some $10 billion more in economic support in the coming months.
Washington has advanced the Ukraine Security Assistance Initiative and other mechanisms that provide massive military support for Kyiv. Anticipating this year's spring offensive, the U.S. is sending more heavy weapons — and new weapons — including the ground-launched small diameter bomb, which has a 150-kilometer range and will further weaken both the Russian military's forward presence and rear supply.
Military support for Ukraine from European states is also undergoing fundamental change. Germany, the UK, Italy and several other countries have agreed to send multiple-launch rocket systems, an air-defense missile system, armored vehicles and battle tanks to Ukraine. Hence, the large-scale land war that took place on the European continent during both world wars will likely happen again.
According to reports, around 10,000 Ukrainian soldiers have received training in the UK since last summer, while the British government has announced that it will train 20,000 more infantry, tank and artillery personnel this year.
All this is only part of NATO's training plan for Ukrainian troops. It is estimated that approximately 60,000 total soldiers from Ukraine have been or will be trained. As advanced weapons being sent to Ukraine are from different countries, Ukrainian troops need to master more complex military skills.
There is no doubt that the Ukraine crisis is no longer a wrestling match between Russia and Ukraine alone. The U.S.-led NATO member states have nudged toward direct conflict with Russia, which will also increase the risk of a nuclear conflict. Russian President Vladimir Putin said in a state of the nation address on Tuesday that the West is "using Ukraine both as a battering ram against Russia and as a training ground." In addition, Putin accused the U.S. and other NATO members of accelerating their expansion of military bases and biochemical labs near Russia and of developing new battlefields for their future special military operations.
Russia's "special military operation" in Ukraine does not seem to have gone well. Russia underestimated Ukraine's will to resist and, meanwhile, overestimated the internal divisions of NATO member states. Although Putin claimed that the "economic war" waged by the West had failed to defeat Russia, it's hard for Moscow to engage in a protracted war of attrition.
Russia might be hoping to gain some bargaining chips for an ultimate political negotiation with its spring offensive. According to a Foreign Policy report, Russia already has 1,800 tanks, 3,950 armored vehicles, 2,700 artillery systems, 810 Soviet-era multiple-rocket-launch systems, 400 fighter jets and 300 helicopters ready for the new wave of attacks.
In addition, the country has expanded its military investment, increased the capacity of its military-industrial enterprises and reshuffled its military command. If Russia fails to make military breakthroughs in the next few months, it will face a more difficult situation. By then, it will have to make preparations for more attacks on its own territory.
It's not hard to see that the turning point for the peaceful settlement of the Ukraine crisis is nowhere near, and every party involved is ready to take a gamble to gain an advantage on the battlefield. Under such circumstances, it's unrealistic to expect that China could bring a lull to the war.
Unfortunately, the U.S. and other NATO members are attempting to focus international attention on China. Antony Blinken, the U.S. secretary of state, and NATO chief Jens Stoltenberg implied that China intends to provide Russia with military supplies. The Biden administration just added Chinese entities to a new trade blacklist for allegedly supporting Russia. The U.S. claimed that parts, chips and other equipment China exports to Russia have military value.
In a nutshell, the Ukraine crisis is adding drag to China's diplomacy. The trilateral gaming of China, the U.S. and Russia — added to China, U.S. and Europe — are getting more complicated. It's necessary to make every preparation to prevent this geopolitical conflict from further raging toward China.
Beijing has only limited influence on the Ukraine crisis. Washington and NATO should not have unrealistic expectations about what it can do, neither should they view China-Russia ties through the lens of Ukraine. In any case, stopping the crisis from developing into a global confrontation — to prevent human society from lapsing into a third world war and a nuclear conflict — is in everyone's interest.