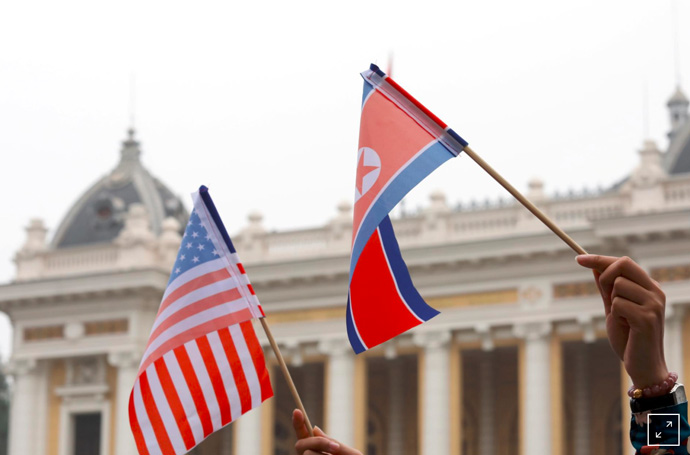 Following three meetings between the leaders of the United States and the Democratic People's Republic of Korea this year, tensions on the Korean Peninsula have been notably eased. But many uncertain factors may emerge going forward.
First, the DPRK has expressed concerns and disappointment over America's insufficient measures to reach a peace treaty. Signaling its displeasure, it test-fired missiles and new artillery in recent months. Given its stronger strategic capabilities, it now has new bargaining chips for negotiations on equal footing and can afford to exercise patience. In other words, it's in no rush to reach a formal treaty and probably is looking for more favorable conditions. In addition, the North is not likely to use nuclear weapons first, but may do so in desperation if it discovers threats to the regime. The country will not abandon its nuclear programs as long as it senses external threats from the United States.
Second, U.S. President Donald Trump has come to realize the complex, difficult and persistent nature of the Korean Peninsula issue. On one hand, he wants to maintain the momentum behind the easing of tensions as part of his effort to create the most important political legacy of his first term. On the other hand, he is anxious about the fact that tensions have not subsided as expected. The question before him is that if the nuclear issue is not addressed, he will be under fire at home, despite signs of easing tensions in the region. And if other crises emerge, he may lose all the political capital he has gained.
As a result, Washington finds itself in a dilemma. With its global presence, the U.S. may find it difficult to devote strategic resources to a specific region. With its Indo-Pacific strategy in place, it has shifted focus toward the Indian Ocean. Meanwhile, the Middle East remains mired in a mess, and the China-U.S. trade dispute makes the strategic situation in which it operates even more difficult to navigate. Therefore, U.S. policy toward North Korea needs adjustment. It is reported that the U.S. will resume joint military exercises with South Korea this year, which may raise new crises in the region.
Third, the Korean Peninsula will remain stable despite growing uncertainties and potential crises, as the risks are still controllable for the following reasons:
First, although Trump will exert maximum pressure in the form of military exercises and economic sanctions, he does not want to lose his political bargaining chips in the coming domestic election, which a new Korean Peninsula crises could jeopardize. His moves, if any, will be designed to increase pressure on North Korea and will be addressed before they spiral out of control.
Second, following the fourth plenary session of the DPRK's Seventh National Congress in April 2018, the country has adjusted its foreign policies and begun to focus on domestic economic development and improvement of relations with major countries, including the United States. It hopes to maintain contact, despite its unhappiness with American behavior.
Third, China is a strong force for stability and easing of tensions in the region. Its "dual suspension" proposal and improved relations with the DPRK can contribute to denuclearization efforts.
Fourth, the Tokyo Olympic Games, which will kick off in July 2020, will act as a catalyst that spurs countries to adopt conciliatory policies.
All things considered, the situation on the Korean Peninsula in 2019 is easing, and disturbing factors are controllable. But while potential crises may be under control, there could be unexpected outcomes. To solve the nuclear issue and avoid any new crises, China's "dual suspension" proposal must be leveraged. More important, success must be ensured on two fronts:
1. The Korean nuclear issue must be addressed in the context of multilateral security mechanisms, and the DPRK and others must have security guarantees.
2. The nuclear issue must be resolved in an integrated manner that gives the DPRK new opportunities and spaces for economic reform to drive its economy. For Pyongyang, as long as the stability of the regime is ensured, it will work to grow the economy. Economic development, in turn, can soften the country's foreign policy stance. After all, peace is critical to economic development.