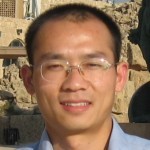 Wang Zhen
Research Professor, Shanghai Academy of Social Sciences
Wang Zhen is a research professor at the Shanghai Academy of Social Sciences. He holds a PhD in law.
Oct 13, 2021

What is the role of the SCO in stabilization and reconstruction? The capacity of its members may be limited, but the U.S. withdrawal presents an opportunity to build credibility. Failure to act may invite skepticism in the international community about the group's ability to participate in international affairs.

Sep 07, 2021

The future of the anti-terror campaign in Afghanistan rests both on the Taliban's own endeavors and the support of the international community. If the lessons of the 20-year campaign against terror can be learned, there is reason to hope.

Sep 06, 2021

There is lots of room for China-U.S. cooperation, but it won't happen automatically. A concerted effort by both is needed. The Americans should recognize that China is a trustworthy partner, not a rival, when it comes to Afghan affairs. China, too, will need to change its thinking.

Aug 10, 2021

The fears are not baseless. For a century, Afghanistan has had deep connections with various transnational jihadist forces. One noted scholar calculates that some 100,000 extremists have connected with Pakistan alone and formed a vast international network.

Jul 22, 2021

American troops are leaving, but the troubles brought by the war on terrorism in the country are far from over. U.S. President Joe Biden says the move is to shift resources to better compete with China. But if the U.S. fails to learn its lessons, it will surely pay a hefty price anew in the future.

May 12, 2021

Some abrasive and unfair claims have been made in the West about China's measures to achieve stability in the Xinjiang Uygur autonomous region. Population figures alone show conclusively that the outrageous accusation has no merit.

May 08, 2021

Pulling out of Afghanistan is a fraught prospect. The country is awash in terrorists, and groups will rise quickly again. A hurried withdrawal may also trigger a humanitarian crisis, resulting in greater damage to the international status and image of the United States.

Mar 11, 2021

China bashing has become a new form of political correctness in the United States. Despite Biden's rhetoric, it's not clear that he can do away with Trump's toxic legacy and rebuild the political and social basis of China-U.S. relations.

Mar 10, 2021

The coronavirus crisis will eventually be a thing of the past, but in the post-COVID era, serious questions remain. What kind of human rights and what international moral standard serves humanity best?

Nov 20, 2020

Reaching out to improve the lives of minority groups has proved effective in China's fight against terrorism. That might be a good place to start for France, which continues to suffer at the hands of vengeful radicals.