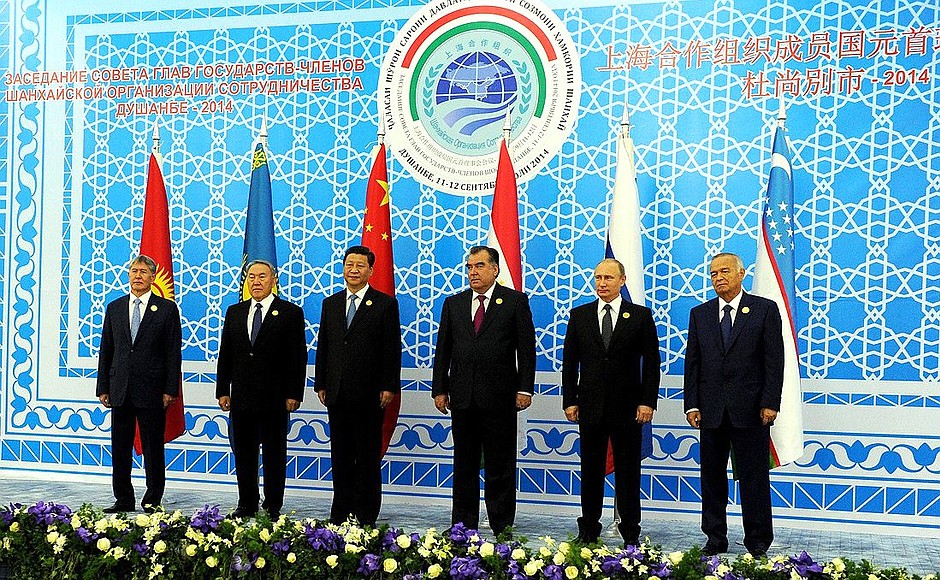 Shanghai Cooperation Organisation summit in 2014 in Dushanbe, Tajikistan.
Since the early 1990s, the Shanghai Cooperation Organization (SCO) has organized a number of quasi-military exercises, involving a combination of military and paramilitary forces. The most significant of these SCO drills have been the "Peace Mission" series, which occur every other year. At times, these drills have drawn substantial international attention and even alarm. Due largely to these exercises, the SCO, which is jointly led by Beijing and Moscow, has become the most prominent Eurasian regional security organization. Even so, its defense and institutional capabilities lag behind those of NATO. The SCO remains better suited for counterterrorism, intelligence-sharing, and collective law enforcement than conventional defense missions.
During the past two years, the Chinese government has become more supportive of long-standing Russian efforts to strengthen military collaboration within the SCO. Before then, Chinese policymakers limited the SCO's military capabilities and activities, keeping the organization focused on fighting terrorism and other transnational threats and constraining its more overtly military activities. The SCO exercises since 2014, including the September 2016 Peace Mission wargames in Kyrgyzstan, saw a reduction in the number of participating troops and other activities. Beijing also constrained the SCO's ties with India, excluding potential challenges to China's influence within the SCO even at the cost of its collective capabilities.
With Chinese support, however, the organization has in the last year promoted India to full SCO membership and established a working group of military advisers to analyze collective defense issues and propose recommendations for improving members' joint responses. At this June's 18th SCO Summit in Qingdao, the leaders of the SCO governments adopted a 2019-2021 program to increase "pragmatic cooperation" between member states to combat terrorism, extremism, and separatism by, among other members, educating youngsters that are susceptible to dangerous ideologies, countering online radicalization efforts, and using the SCO's Regional Anti-Terrorism Structure to counter terrorism on a regional and global scale. Members also called for the SCO to become a driving forced in mediating conflicts in Afghanistan, Syria, the Middle East, and Korea through political and diplomatic means. In his speech as host of the summit, Chinese President Xi Jinping emphasized the Shanghai Spirit of mutual trust, benefit, equality, consultation, and respect but also joined other SCO leaders in criticizing various U.S. economic and security policies.
Telling, this year's Peace Mission exercise, which ran from August 22-29, was expanded to include more participants and missions. Of note, India and Pakistan, which were elevated to full SCO membership last year, made their first appearance at the wargames, while Uzbekistan sent military observers for the first time since 2010. This year's Peace Mission, which took place in the Chelyabinsk region of the Ural Mountains, involved some 3,000 troops in total. This included around 1,700 Russian soldiers, 750 PLA officers and service personnel, as well as some 500 pieces of military hardware.
Chinese and Russian scholars, citing the logic of further integration and common security challenges – ranging from terrorism to implied U.S. threats – have backed greater Chinese-Russian defense cooperation within a SCO framework. Dr Yang Danzhi of the Chinese Academy of Social Sciences has written that, "At the current stage of the SCO's development there is a need to further strengthen its structure. Military and defense cooperation is…an important measure and indicator of the effective functioning of the organization." Vladimir Evseev, a Russian expert on Eurasia, predicted that the upcoming Chinese chairmanship of the SCO would see Sino-Russian projects aimed at strengthening the military component of the SCO and a transition from a focus on the fight against terrorism and extremism to a wider range of more traditional common security threats.
Nonetheless, the SCO cannot compare with NATO, which represents the premier U.S. collective military alliance. Despite the media's harping on its members' disagreements at the July 2018 Brussels Summit, the meeting yielded dozens of initiatives to boost defense spending, counter Russia, fight terrorism, negate cyber- and hybrid warfare threats, and improve force mobility. The new NATO Readiness Initiative will prepare 30 naval combatants, 30 heavy or medium maneuverable battalions and 30 air squadrons for deployment within 30 days of their mobilization. These land, sea, and air forces will provide deterrence and defense capabilities for either rapid military crisis intervention or high-intensity warfare. A related Enablement Plan for the Supreme Allied Commander Europe's Area of Responsibility aims to improve infrastructure in Europe to strengthen and speed the mobility of forces and equipment within, to, and from Europe. To assist in this effort, NATO will establish a Joint Support and Enabling Command, accelerate clearances for border crossings by Allied forces, and provide new military transport and communications conduits.
Unlike the Atlantic Alliance, the SCO has never engaged in an actual military, anti-terrorist, or even peacekeeping operation. Since the SCO lacks NATO-style standing military command structures and formations, in an actual crisis requiring their urgent military action, SCO members would have to cobble together an intervention force based most probably on a Chinese-Russian bilateral agreement.
Surprisingly and presumably inadvertently, the Chinese and Russian defense ministries undercut international interest in Peace Mission 2018 by announcing that, for the first time, the PLA would participate next month in Russia's largest military exercise in decades. According to Defense Minister Shoigu, the upcoming Vostok 2018 drill in the Russian Far East will involve hundreds of thousands of Russian soldiers as well as about 3,000 PLA soldiers with almost 1,000 pieces of military hardware and several dozen rotary and fixed-wing aircraft.
With Xi Jinping and Vladimir Putin both attending the Eastern Economic Forum in Vladivostok, it is possible that both presidents will travel to the nearby joint drills for a photo opportunity to showcase their burgeoning bilateral strategic partnership to their regional rivals in Washington, Tokyo, and New Delhi. Their growing military ties have considerably greater potential to challenge the vital security interest of the United States and its allies than the multilateral SCO.